Waking up in Julian on a Tuesday forced us to consider greener pastures (locals assured most businesses are closed on Tuesdays and Wednesdays).
In this case, I guess we chose dryer pastures since I set my eyes on Borrego Springs, a village located 30 miles northeast of Julian.  Ohh, did I mentioned Borrego Springs is surrounded by Anza-Borrego Desert State Park?
Therefore, our mini road trip scenery, vegetation and elevation presented quite striking changes.
We started by descending the mountains thru Highway 78.  The sight of pines and oaks growing abundantly on deep valleys took my mind off the sharp, winding curves.
Sooner than later we arrived at a flat area where open spaces, covered in succulents and cacti, continued to appear after every bend.  At one point, I couldn't resist the desert colors and got out of the car to take pictures.  I saw a group of butterflies, then another and another.  I was surrounded by a cloud of these insects which felt like a scene of a fairytale.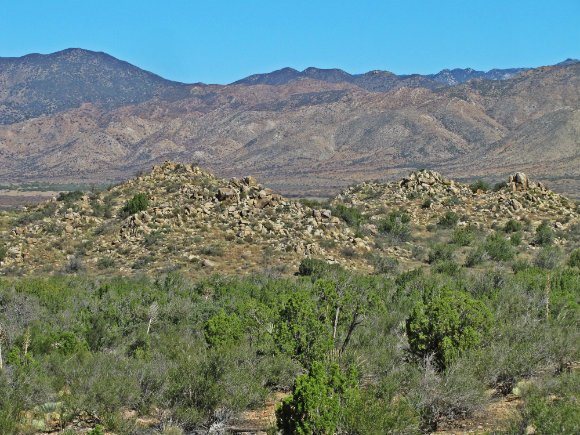 A sign welcomed us to Anza-Borrego, California's largest state park. Since the park surrounds our final destination, we had to gain elevation once again driving thru a road called Yaqui Pass.  The features in the valley floor started to appear minuscule which made realize the mountains around here are very high.
In a matter of minutes, we started to descend, one again, and I was able to see Borrego Springs.
This is where I felt like my sight started to fail.  In a sandy lot cover in low bush, a metal elephant sculptures appeared.  Then, I saw horses and an eagle.  What was going on?
I am being dramatic in here.  In Julian, I saw flyers promoting the sculptures of Borrego Springs and, of course, they were one of reasons that made this village attractive (you know my travel style). Now, I was not expecting to get captivated by the details, expressions and textures of something created out of metal.
Borrego Springs is small, isolated and dusty. There are zero stop lights and the houses (and businesses) are scattered all around.  Two 'malls' can be found close to the center of town.  In these areas, the term mall or shopping center can be used as a joke.
Everything comes alive during the high season, the time when the temperatures cool down.  Unfortunately, we arrived a week before the official start of the high season.  That meant the Anza-Borrego Park headquarter, stores, restaurants and other businesses were closed.  The lady in the visitor's center wasn't sure about the hiking conditions in the park because there had been terrible floods in the months before.
But the sculptures, the sculptures are always there.  The mind behind the project (and responsible for giving Borrego new life) was named Dennis Avery.  If that name sounds familiar it is because he was the son of the man who invented the self-stick label (and the one who inherit his fortune).
Dennis was a philanthropist at heart and during his life contributed to many causes in different countries.  Attracted by the small town feeling, he lived in Borrego Springs from 1990-2001.  His love for the town made him contribute to several community projects.  He even purchased three square miles of non-contiguous land and called his property Galleta Meadows.
By chance, in 2007, he met artist Ricardo Breceda, known for his realistic metal creations. Avery, eventually, commissioned 131 sculptures and placed them at different sites in his property.  The sculptures have attracted visitors and boosted the local economy.  Dennis Avery legacy will continue to impact generations to come (he died last year).
The area were the sculptures are placed is big.  A map to get oriented can be obtained in the visitor's center.
Try not to miss the mythological dragon, which has become the symbol of Borrego Springs.
Avery was a paleontology enthusiast so expect to see dinosaurs and ice age mammals.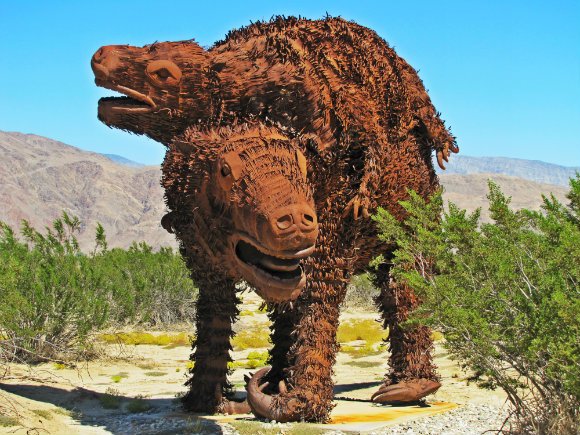 My visit to Borrego Springs was short but sweet.  Hopefully, I can stop by town once again (during high season).  If operation are not moving at my pace, at least I know the sculptures are going to be there waiting for me.
Have you visited the Borrego Springs' sculptures?