This article explores how to spend fall in San Diego!
Do not be fooled!  Sunny San Diego has its fair share of fun things to do during the fall (including apple picking, pumpkin patches, colorful foliage, Day of the Dead celebrations, Halloween activities, and much more).
America's Finest City has enviable weather all year long but with fall temperatures in the mid-70s (and almost no precipitation), there is no excuse to enjoy eye-catching natural wonders, hit the road, or make the most of seasonal activities.
So get ready to learn the absolute best ways to spend fall in San Diego.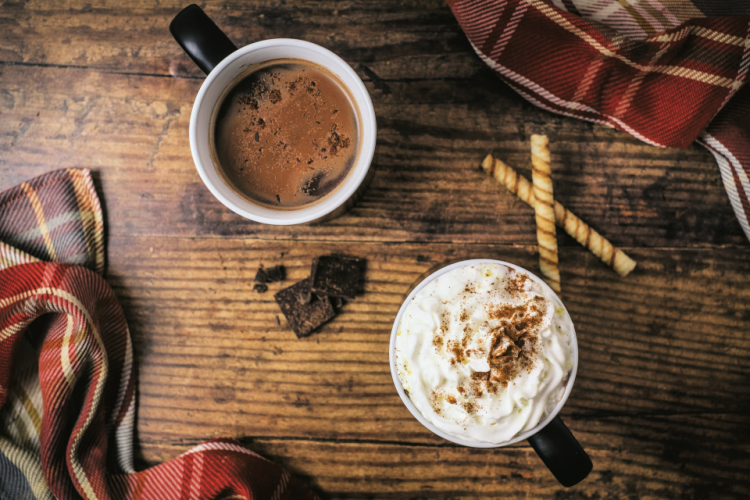 About this Article
Before getting deep into how to spend fall in San Diego, I want to make sure we are on the same page.
The term "San Diego" can be interpreted in many ways.  For this article purposes, we will be discussing the county of San Diego with the occasional day trip and road trip suggestion.
The fall season goes from late September to mid-December with most activities taking place in October and November.  Plan accordingly so you do not miss the things you are more interested in.
If you want to discover more about how to spend the fall season in Southern California, I recommend reading the following articles:
Fall in Southern California: The Greatest Seasonal Escapes
Things to Do in Los Angeles During the Fall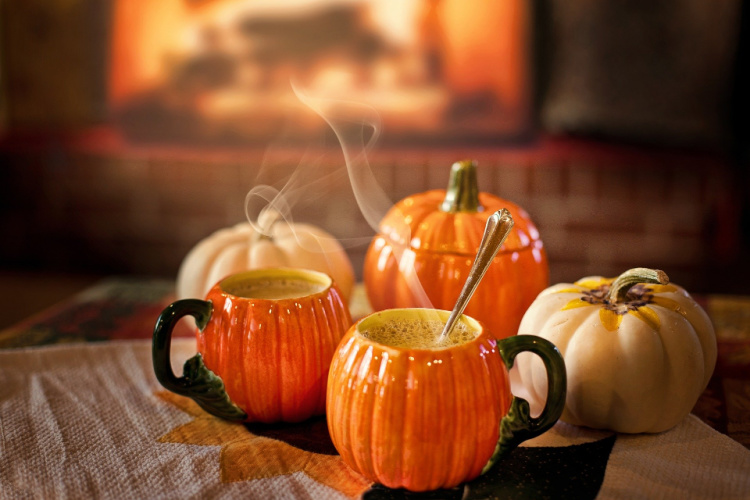 Go Apple Picking
I have no qualms saying Julian is an essential place to visit during fall in San Diego.  The town is mostly associated with apples and apples scream fall loud and clear.
Having said that, apple picking is one of the favorite family activities in the fall.
Here are some of the best apple picking spots in the area:
Apple Starr Orchard
1020 Julian Orchard Drive (Julian)
Open every weekend from 10 a.m. – 5 p.m.
The original orchard at Apple Starr was planted by the Farmer family after whom "Farmers Road," the road leading to the orchard, is named. Parts of the land were used as a milk dairy, and the old barn was constructed in the early 1900s.
Volcan Valley Apple Farm
1284 Julian Orchards Drive (Julian)
Open Friday-Monday from 9:30 a.m. – 4:30 p.m.
Julian's largest orchard, Volcan Valley Apple Farm, attracts big crowds every year with 7,000 trellis-grown apple trees of red and green apples ready to pick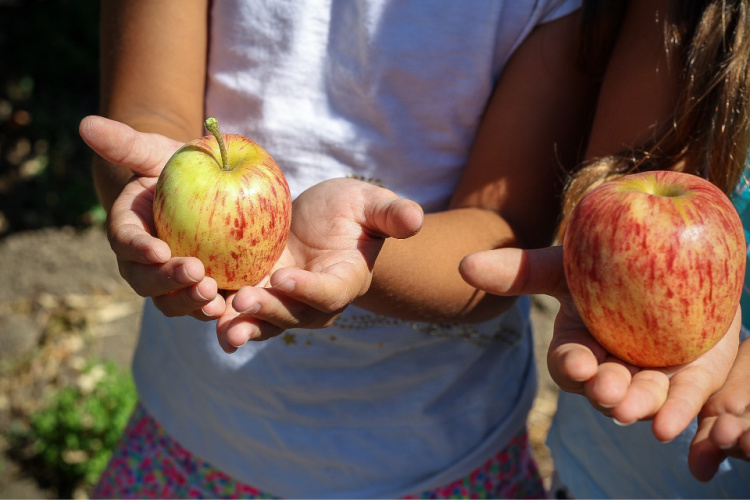 Julian Farms and Orchard 
4444 State Hwy 78 (Julian)
On Saturdays and Sundays, from 10 a.m. to 5 p.m., you can go apple picking at the Julian Mining Company, or pick raspberries and blackberries at the Julian Farm & Orchard
Calico Ranch
4200 Highway 78 (Julian)
Calico Ranch is a family-run apple and pear orchard located just outside Julian. The farm has remained in operation since it was first planted in the early 1930s and is one of the oldest remaining farms in the Julian area.  Please call (858) 586 – 0392 ahead of time for information about opening times. 
Read More: Things to Do in Julian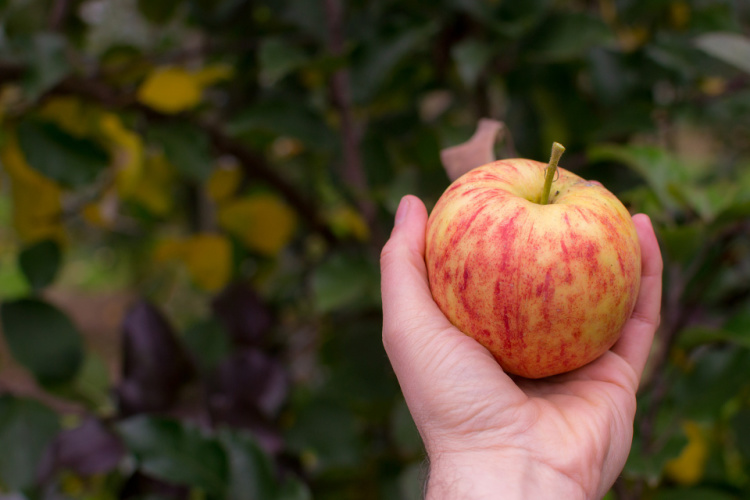 Eat Pie – Fall in San Diego
Once in Julian, you cannot miss trying the scrumptious apple pies baked in town.
I am not even a pie person but I am crazy about the offerings in the town.  The pastry is buttery and flaky and the filling has the right balance of sweet and tart.
There are many pie flavors such as classic apple, dutch apple pie (my favorite), apple berry, apple cherry, apple peach, pecan, cherry, rhubarb, and blueberry.  You can order a slice (or buy the whole thing) and have it with cinnamon ice cream and even melted cheddar cheese.
You can find the delicious pies at the Julian Pie Company, Mom's Pies, and Apple Alley Bakery.  I have tried them all and they are all good.  Of course, there are way more apple-related goods for you to pig out to your heart's content.  I bet you to try as many things as possible.  Do not forget to try the cider at the town's cider house.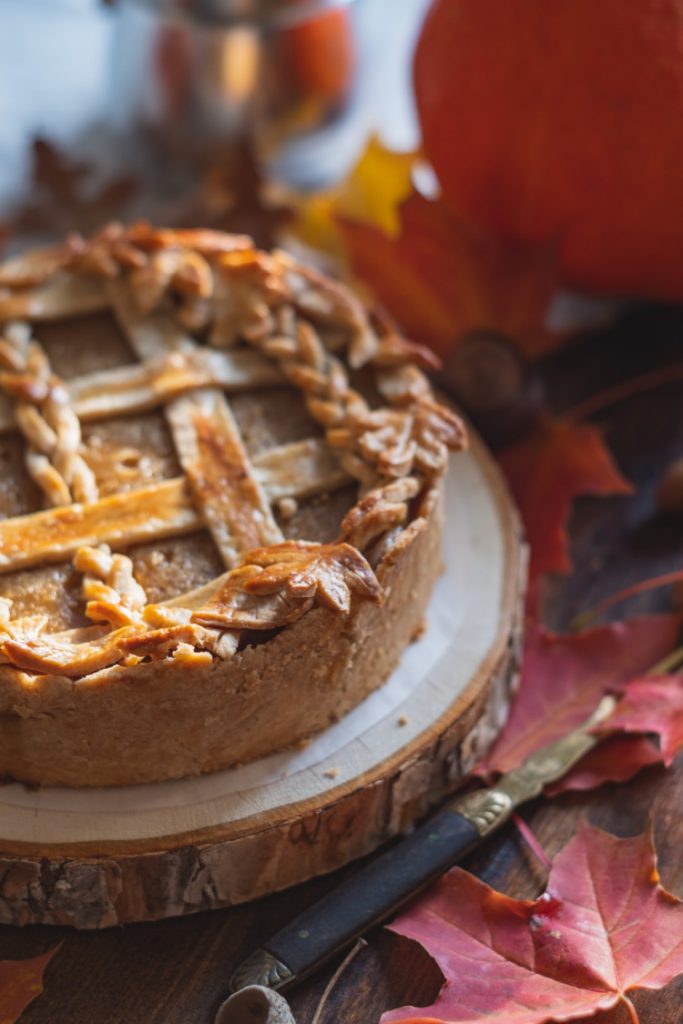 Note: Several markets and grocery stores in coastal San Diego (including the city of San Diego) sell pies from the Julian Pie Company.  You buy them frozen and bake at home.  I have bought these but have never gotten the same product I get in Julian.  So, if you do not have decent baking experience or the proper oven, I say do not bother baking a pie yourself.
If you do not have the time to drive to Julian,  you can find delicious pies in the following establishments:
Girard Gourmet (La Jolla)
Village Kitchen (Carlsbad)
Betty's Pies (Encinitas)
Starry Lane Bakery (San Diego)
Cane Patch Kitchen (the place for sweet potato pie)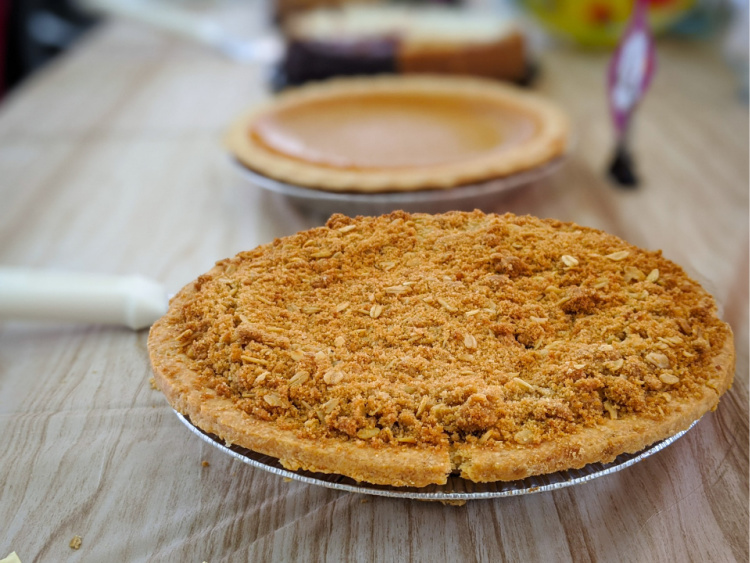 Visit a Pumpkin Patch
Yep, nothing announces more the fall than pumpkin patches popping all over our cities.  Here are some great ones to visit:
Mr. Jack O' Lanterns Pumpkin Patch
6710 La Jolla Boulevard (La Jolla)
Open: Starts October 5
Mr. Jack O'Lanterns offers premium pumpkins, games, activities, and attractions. Swing by on the weekend, and you might catch live music and food trucks. Activities include bouncing in a giant house, running around a haunted maze, playing corn hole, sliding, bowling, ring tossing, and more. If you are looking to do some shopping, this is the place for you. They sell items such as spider webs, scarecrows, pumpkin carving sets, and other decorations.
Bates Nut Farm
15954 Woods Valley Road  (Valley Center)
Open: September 22 – October 31
Operating Hours: Open Monday through Friday 9 a.m. – 5:30 p.m., Weekends from 8:30 a.m. – 6 p.m.
The Bates Nut Farm Pumpkin Patch has been open for nearly 50 years and is a San Diego favorite! Along with a pumpkin-picking patch, visitors can enjoy tractor hayrides, a straw maze, a petting corral, and pony rides. 
Grab a wheelbarrow and pick from a variety of pumpkins: Big Macs, Ghost, Cinderella, Jack O' Lantern, minis, squash, and gourds. Besides, live entertainment, BBQ, kettle corn, rock climbing, bouncing, sliding, and other family-friendly events take place Saturdays and Sundays from 12 p.m. – 3 p.m.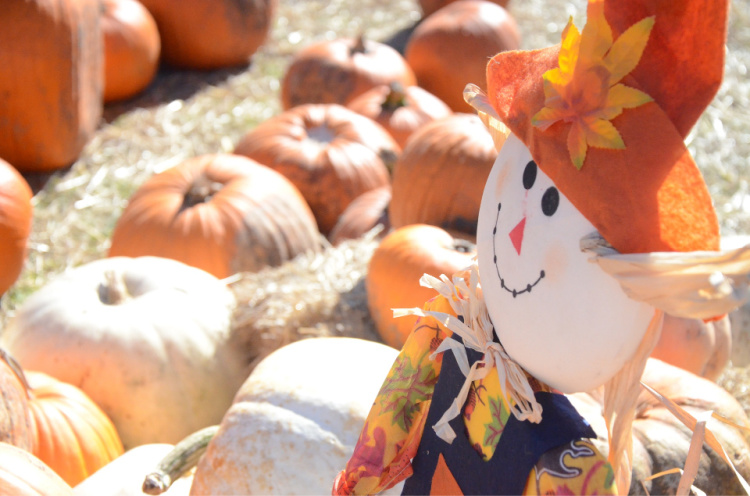 Julian Mining Company
Where: 4444 Hwy. 78 (Wynola/Julian)
Open: Starts September 22
Along with apples and pie, Julian is also known for its fall pumpkin patches!
Mountain Valley Ranch
842 CA-78 (Ramona)
Open: September 22 – October 31
Operating Hours: Open seven days a week 
The entire family can enjoy an assortment of pumpkins, gourds, and Indian corn. There is also a corn maze, a corn cannon, a petting zoo, hayrides (weekends only), and pony rides.
Farm Stand West & Fran's Original Farm Stand
2115 Miller Avenue and 1980 Summit Drive (Escondido)
Open: Starts October 1
Operating Hours: Open weekends from 10 am-6 pm
Throughout October, they'll be hosting a you-pick Pumpkin Patch. Head over to the Farm Stand West or the Original Farm Stand and pick as many pumpkins as you want for the season.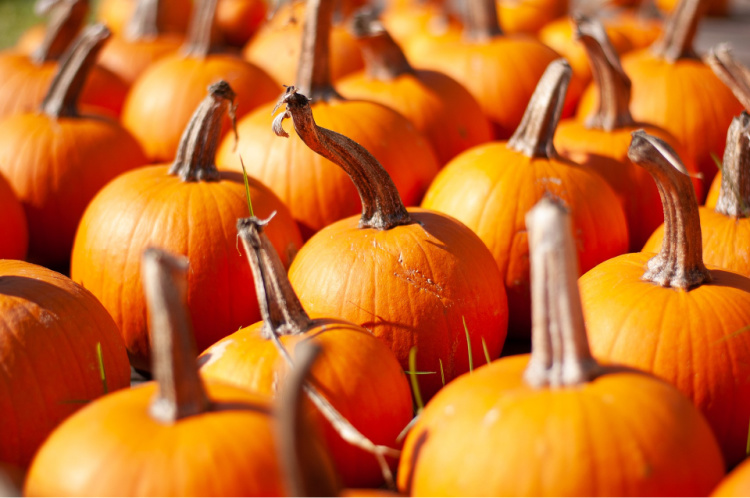 Lavender Hill Pumpkins
1509 East Mission Road (Fallbrook)
Open: Starts September 29
Operating Hours: Fridays 2-5 pm; Sat. & Sun. 10 am-5 pm
Lavender Hill Pumpkins is a super popular spot in San Diego County. Their u-pick pumpkin patch is located on a beautiful family-owned farm on a hillside. They take pride in growing a selection of varieties that produce unusually large or unique pumpkins; this year's crop includes about 10,000 pumpkins in three dozen varieties, ranging from the very large to the very small, from the mildly eccentric to the shamelessly grotesque.
Pumpkin Station
Located at Del Mar, Rancho Bernardo, Mission Valley, National City & Bonita
Pumpkin Station is located in multiple locations throughout San Diego. Each spot also offers kiddie rides, giant slides, corn maze, inflatable play centers, petting zoos, game zones, and even school tours and party packages. All locations have free parking and admission. Pumpkins are priced individually on size.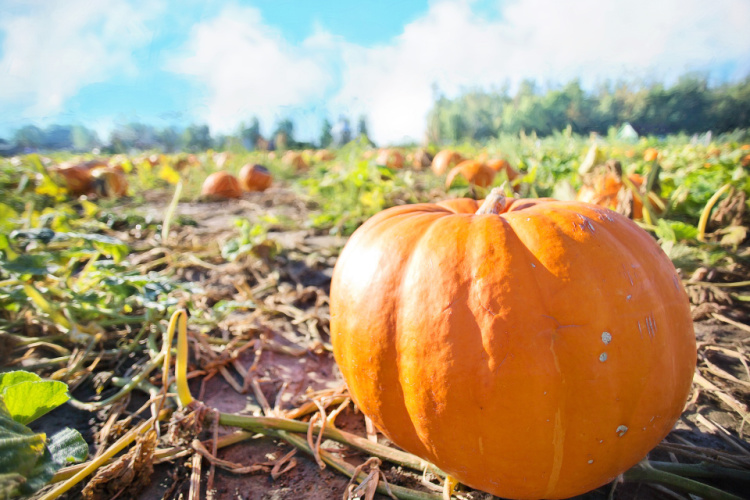 Stop by a Farmers' Market
Farmers' markets are some of the best places to get into the fall mood.  These are full of fall products, decorations, and ambiance.  Do not forget to add the following to your seasonal list.
Apples
Pears
Persimmons
Artichokes
Broccoli 
Cauliflower
Green Beans
Kale
Pumpkins
Quinces
Winter Squash
Zucchini
Also, these are great places to pick pies, cookies, bread, honey, nuts, and jams.
My absolute favorite market is the one that takes place in Little Italy (Mercato) every Saturday morning.  It extends for several blocks and it is full of tons of delicious treats (to sample or buy).  This is just a fun place with a fair atmosphere.
Other nice markets to visit include Pacific Beach, Ocean Beach, Hillcrest, North Park, and La Jolla.
Keep in mind that almost every city San Diego hosts a farmers' market.  Just head to the one closest to you.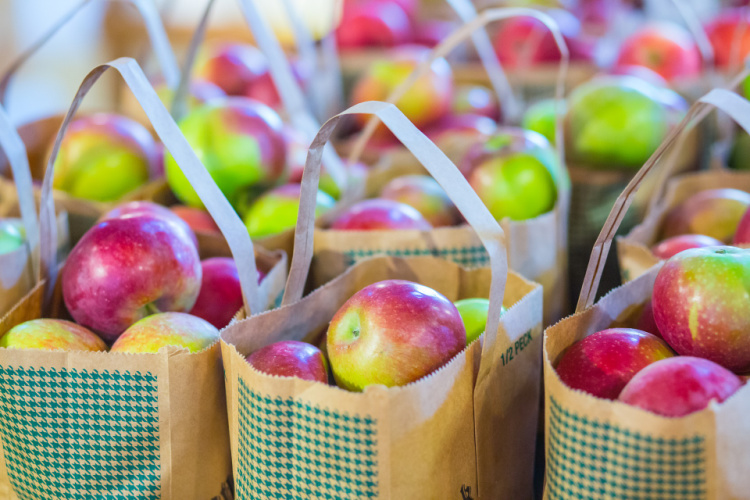 Learn to Cook Fall Favorites
Another fun way to celebrate fall is to learn how to cook a bunch of seasonal dishes.  I mean, you may be one of the best cooks out there but there may be some new tricks to learn.  Plus, it is an activity you can share with families or friends.
Hipcooks, a hand-on cooking school, offers themed classes on their North Park campus.  They offer virtual cooking classes too.  As an example, they have butternut squash risotto and creepy cocktails sessions on the calendar.
At Harvard Cookin' Girl, you can ask the chef/owner to teach you a recipe of your choosing.  This is ideal for those who want to master a specific dish and surprise family or friends on a gathering.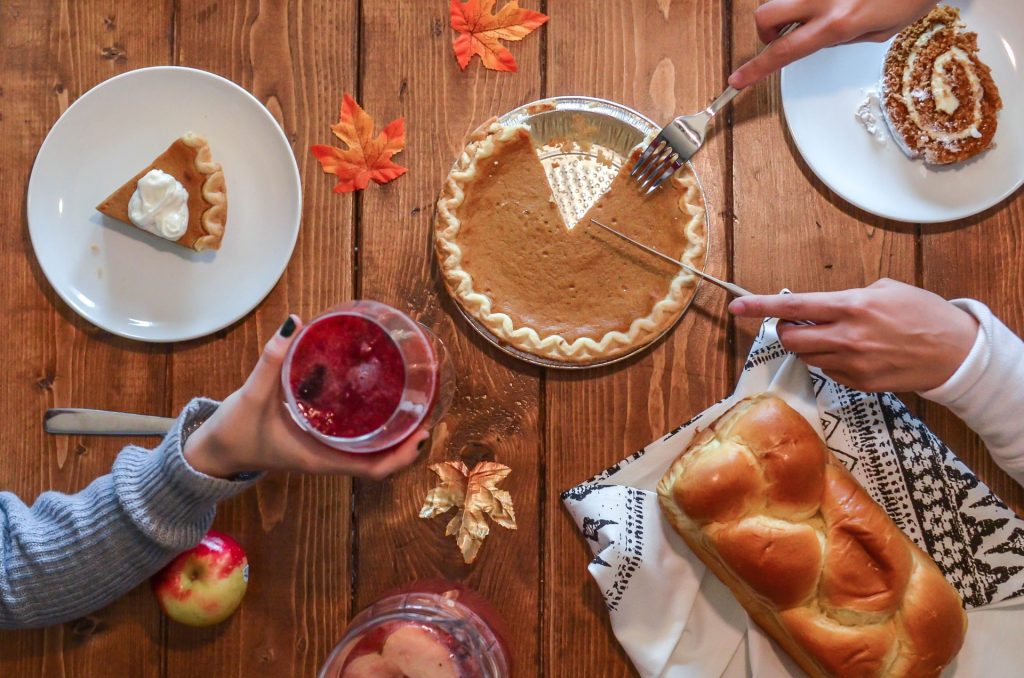 Hit the Road (Day or Road Trip)
Fall is prime time to go on a road trip.  If you are limited on time, a day trip will do the trick. You do not have to go far. There are several places to consider in the county while planning a road trip; a few are mentioned below.
Coastal Cool
Highway 101 captures the heritage of San Diego beautifully, more than any other road in the county. It goes through 70 miles of sun-soaked coastline from Oceanside to La Jolla. 
Oceanside is a beach community comprised of wide beaches and pure SoCal surf culture (pier, surf museum, surf shops, etc.) Carlsbad, with its Downtown considered a village by the sea, has family-friendly attractions (like Legoland), museums, great eateries, and shopping. 
Encinitas is one of the best surf spots in the world. It is also loaded with botanical wonders. Solana Beach is the ideal place for music lovers and savvy shoppers (the Cedros design district is a must-see). Del Mar is the destination to spot celebrities. 
La Jolla (The Jewell) is a seaside enclave rich in culture and superb coastal walks.
Read More: Things to Do in Solana Beach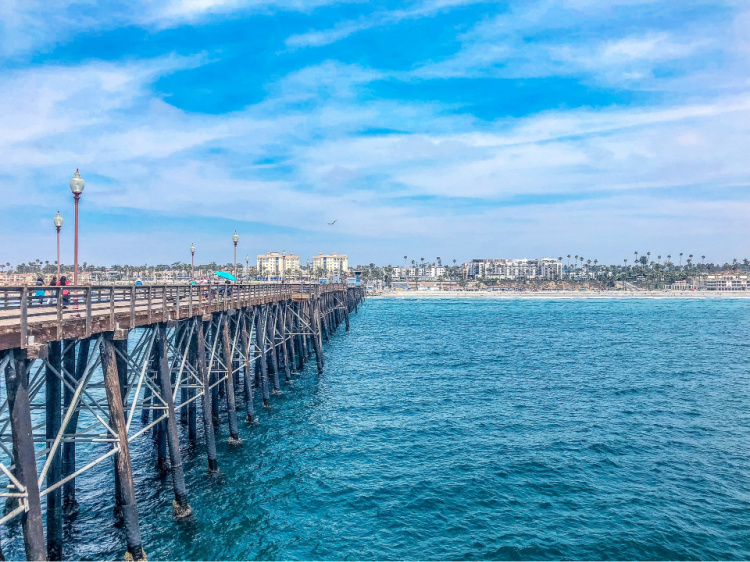 Head for the Hills
Highway 80 runs through the East County of San Diego. It connects San Diego and Yuma, Arizona. Several spots to explore include the following:
Olaf Wieghorst Western Center in El Cajon pays tribute to artist Olaf Wieghorst. He was a dean of western art and lived in San Diego for 40 years
Jacumba Hot Springs are natural hot springs having two pools with water high in calcium and magnesium that are believed to have healing properties
Desert View Tower
Glamis Sand Dunes
Mexicali if you do not mind crossing the border and tasting some of the best Chinese food in miles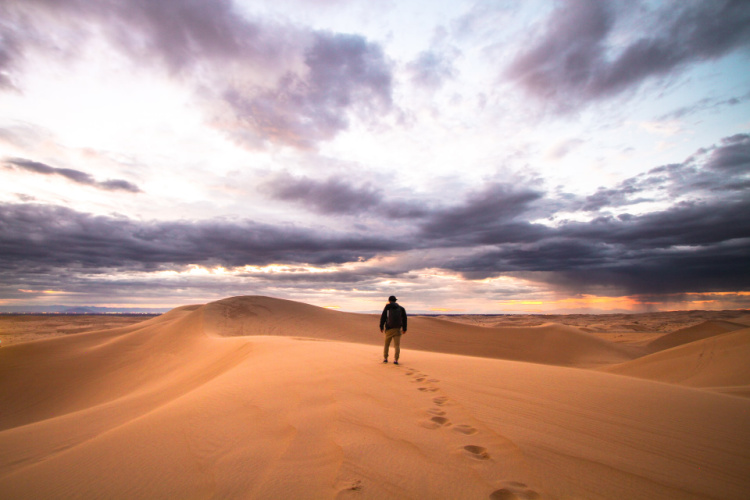 Mountain Splendor
To explore the charming mountains of San Diego, Highway 79 is the best choice.  You can connect to this road from Highway 8 (from San Diego) or CA-78 (from Oceanside/Escondido)
Lions, Tigers, and Bears, in Alpine, is an animal sanctuary for abandoned and unwanted animals. It allows animals to live in a caring environment while educating the public about the challenges wildlife encounter. Tour reservations are required. 
Cuyamaca Rancho State Park
Cuyamaca Lake
William Hesse County Park
Julian (as discussed) is a mountain town founded in 1869 that is famous for apple pie and cider. It has many antique shops, country-style restaurants, and bakeries.
Santa Ysabel
Palomar Mountain State Park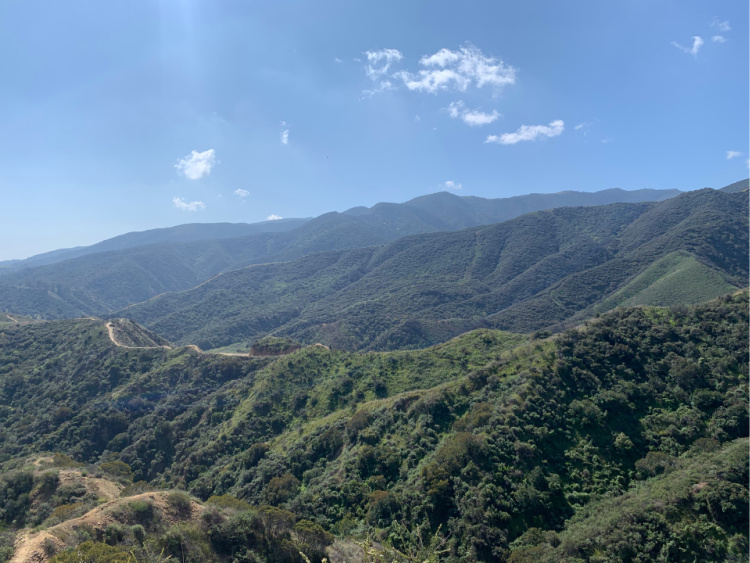 Miles of Smiles
The 59-mile Scenic Drive is the ultimate road trip if you want to get a good glimpse of what San Diego is all about. The route includes the city's most attractive neighborhoods and attractions. It takes about three hours to cover the route without stops. Of course, I recommend spending at least a day checking as many places as possible. Major stops include:
The Embarcadero, close to Downtown, is lined with fun activities i.e., waterfront park, Maritime museum, seaport, shopping, flagship cruises, etc.
Old Town was San Diego's first "Downtown" and the birthplace of California. 
Balboa Park is the United States' largest urban cultural park, including 17 museums, performing arts venues, lush gardens, and the world-famous San Diego zoo.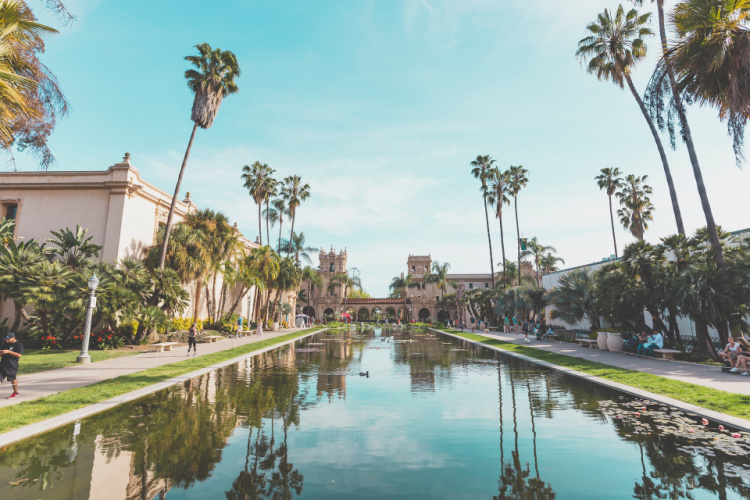 Fall Colors In or Near San Diego
During October, black oak leaves transition from green to orange. Experiencing this eye-catching sight is also part of the fall activities in San Diego. Head to the following places to see how the trees change colors.
Big Bear Lake
Big Bear Lake, located about 2.5 hours from San Diego,  is nestled among the trees of the San Bernardino National Forest. In the fall, the changing colors contrast dramatically against the many evergreens in the area.
Lake Arrowhead
Lake Arrowhead can be combined with a visit to Big Bear or visited separately. The area features some of the prettiest colors of the year and is located in the San Bernardino National Forest too.  There are many trails to hit on foot or by bike.  The architecture mimicking half-timbered houses gives the area a European feeling.
Palomar Mountain State Park
Some weekends it's nice to leave behind our hectic lives and hit the road to enjoy some nature. Palomar Mountain is the ideal destination for just that! Palomar Mountain State Park features over 11 miles of trails through oak forests, chaparral, expansive meadows, and staggering fir and cedar woodlands. 
Julian
This little mountain town is the epitome of Southern California autumn charm! Once a prominent gold mining town, Julian is now known for its famous annual apple harvest, apple pie, and as one of the best places to go apple picking in San Diego.  In terms of fall colors, you can observe them at the Cuyamaca State Park or in the Mount Laguna area.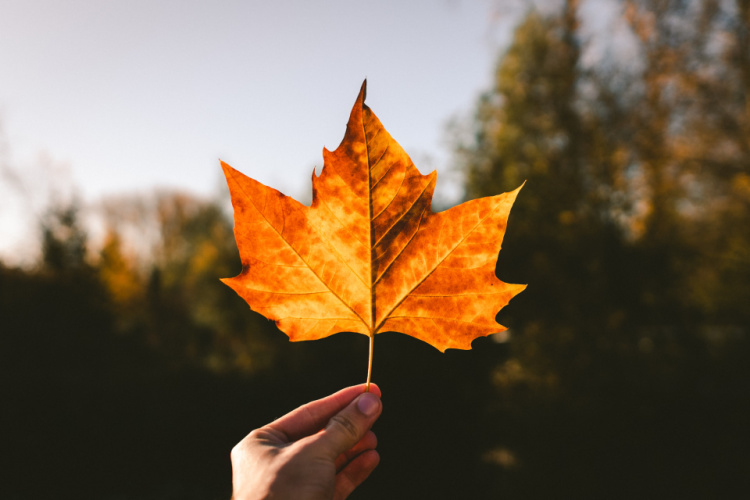 Go Camping – Fall in San Diego
There are a lot of formidable places to camp in and near San Diego but a lot of these places get packed during summer.  And, let's not forget camping is not that cool when temperatures are crazy high.
But, during fall things have calmed down and temperatures are benign.  
I have a detailed article on where to camp in Southern California.  Moreover, I have guides on the best campgrounds in San Diego, Los Angeles, and San Luis Obispo counties.  Those articles are packed with information so, it is a good idea to read through them.
Camping in Southern California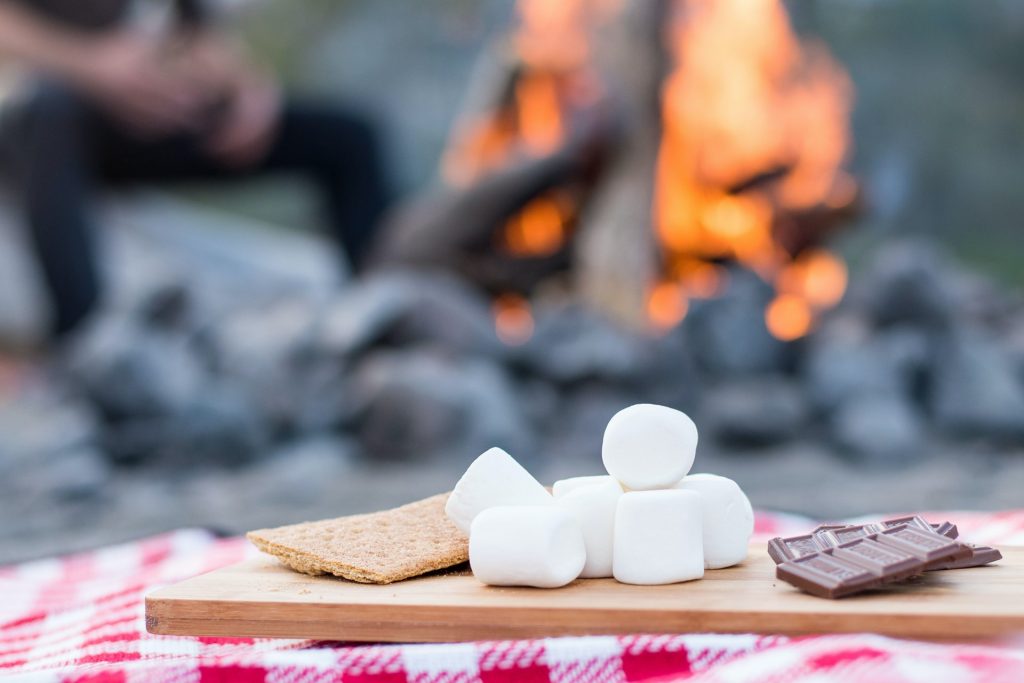 Grape Harvest and Wine Tasting
Do you know San DIego has a wine producing area?  I am sure a lot of people do not even know such a place like this exists in San Diego.
Well, this idyllic place is centered around Escondido, a city located about 30 miles from Downtown San Diego.  
Orfila, Cordiano, Espinosa, Altiplano, and Rancho Guejito are acclaimed for their wines (and beautiful properties).
Keep in mind the San Diego Zoo Safari Park is located nearby.  Other outdoor activities can be practiced at the Elfin Forest Recreational Preserve, Lake Poway, and Mount Woodson.
Another wine area to visit in San Diego is the Ramona Valley.  This rural area is full of rolling hills, green pastures, and farmland.  It is not that developed or well-known but it is definitely a hit for those who are looking for quietness and a more intimate experience when it comes to tasting wines.
Around Ramona, you have options such as Turtle Rock Ridge, Pamo Valley, Chuparosa, and La Finquita.
Julian is not that far from Ramona. So, you can have two fall getaways in one.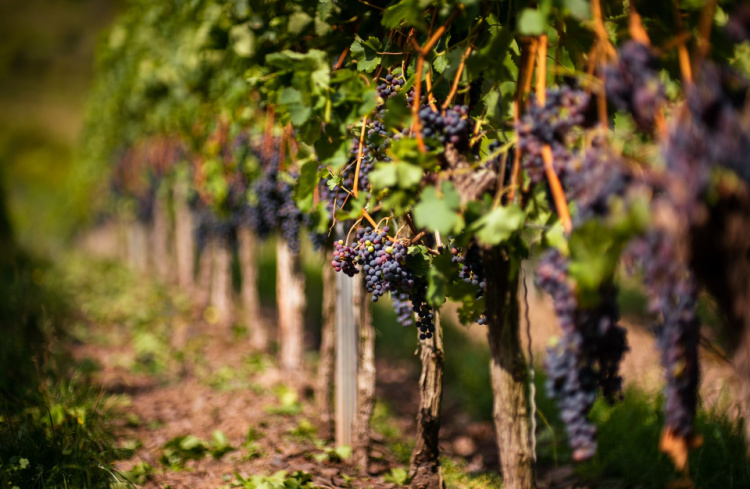 Day of the Dead Activities
Day of the Dead, otherwise known as Día de Los Muertos, is rather deceptively not a one-day, but a multi-day holiday celebrated annually in Latin America on the first two days of November. Celebrations include:
Constructing altars
Making offerings to the dead
Decorating with cempasúchiles (marigolds)
Creating sugar skulls
Holding graveside vigils
Eating Pan de Muerto
Cleaning and decorating graves
Displaying calacas
Taking part in a parade
Sharing stories of the dead
Head to one of the following places to join the celebrations:
Old Town (top place to go)
Barrio Logan
Sherman Heights
Encinitas
Rancho Guajome Adobe
Oceanside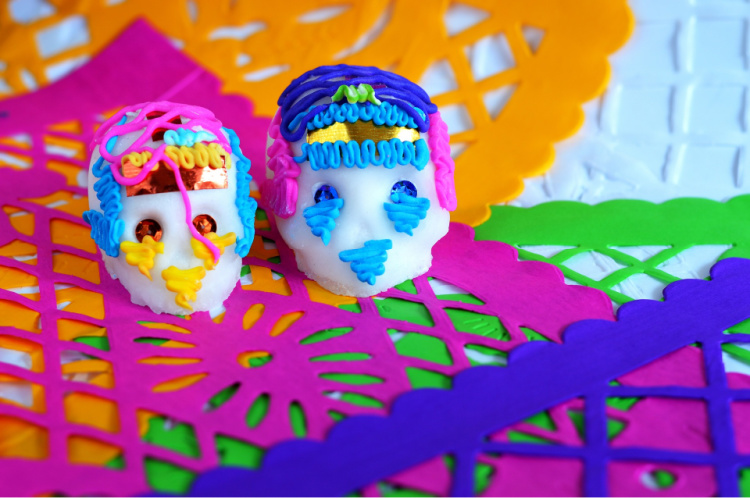 Halloween Activities – Fall in San Diego
Halloween fun takes place in San Diego throughout October. There are many options when it comes to this particular holiday.
Halloween Spooktacular (Sea World)
Brick or Treat Party Nights (Legoland, Carlsbad)
HalGLOWeen (San Diego Zoo)
Village Faire (Carlsbad)
Harvest Festival 
Villains in the Village (Chula Vista)
Haunted House and Tours (Old Town, Whaley House)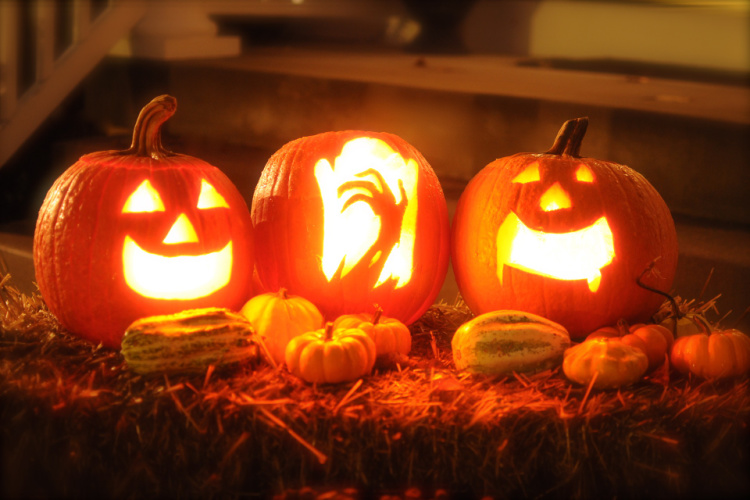 Other Fall Events
Here are some additional events taking place during October and November in San Diego.
October 
Pacific Beach Fest
Carlsbad Oktoberfest
Del Mar International Horse Show
Art San Diego Contemporary Art Show
Polish Festival (Pacific Beach)
Ocean Beach Oktoberfest
Latin American Art Fair
La Jolla Art & Wine Festival
November
Fleet Week San Diego
Coronado Island Film Festival
Jazz Fest and Swing Extravaganza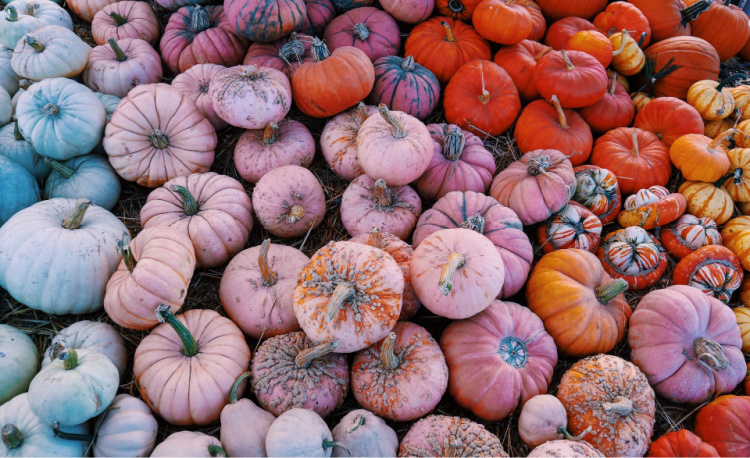 Hope you have enjoyed the article! Let me know what are you fall plans.
More of San Diego
One Day in San Diego Itinerary
Ultimate San Diego Bucket List
LA to San Diego Drive: Road Trip Itinerary
How are you spending fall in San Diego?
Pin "How to Spend Fall in San Diego" for later!