After dragging myself away from the Lovers Point area, I continued the drive around the coast towards other points of interest in Pacific Grove.
This city, sandwiched between Pebble Beach and Monterey, is notorious for many things even though it is enclosed in less than 3 square miles.
Here are some interesting facts about the city:
Pacific Grove was founded in 1875 by a group of Methodists who modeled the town after Ocean Grove, New Jersey.
The city is known as "Butterfly Town USA" because Monarch Butterflies stop here during their annual migration (the city protects their sanctuary). There is even a butterfly parade every fall.
Pacific Grove is full of Victorian houses.
Robert Louis Stevenson (he wrote the book Treasure Island) loved to wander around the areas that are nowadays within city limits.
For a number of years, John Steinbeck (Nobel Prize in Literature) lived in a cottage located in the city.
After being wowed by the beauty of Lovers Point and the carpet of flowers, my sightseeing lust was kind of satisfied (at least for the day). I felt happy about the experience and wasn't expecting a lot more.
Boy, I was wrong about setting my expectations so low.
Point Pinos Lighthouse
I left the coastal road momentarily when I turned left on Asilomar Avenue.  I almost missed the narrow alley that took me to the dusty parking lot.
The day started to turn gray again but the cool breeze didn't stop us from discovering a really cute lighthouse surrounded by cypresses.
As we approached the structure, we noticed the light that has been working for more than a hundred years.
Point Pinos was lit in 1855 to guide ships on the Pacific coast. It is the oldest continuously operating lighthouse on the West Coast and even the lens is original. Alcatraz Island Lighthouse preceded Point Pinos by 8 months, but was replaced in 1909 by the expanding military prison. It is still an active Coast Guard aid to navigation.
The scattered clouds and the undulating United States Flag couldn't frame the lighthouse better the day we visited.
Asilomar State Beach
Once again, I took the coastal route (after some crazy turns, yes, I do not need a big city to get lost).
In a matter of minutes I saw a sign welcoming me to Asilomar State Beach. And, this is when the surroundings started to take me by surprise (Asilo means "refuge" and mar means "sea." This is a refuge by the sea.)
On my first stop, I started to scratch my head.  The beauty of the coast was stunning. Plus, I couldn't believe how different (and diverse) the vegetation was here.  To make things even more interesting, the clouds in the sky were forming an arch (do you see it in the pictures?).
Then, we started to get to small coves where white sand was abundant.  The clouds arch was still visible on these areas.
So, I couldn't resist it anymore when we made it to the "big" beach. My jaw dropped when I saw all the white sand and multi hued water.  I scratched my head again.  Maybe, at some moment, I got out of California and was transported to a tropical locale.
I felt thankful for the opportunity to visit a place like this.
The ocean off shore is protected as the Asilomar State Marine Reserve, part of the Monterey Bay National Marine Sanctuary. The rocky coves are home to thousands of species, some of which are unique to the bay.
Asilomar is also well known because of its Conference Grounds design by architect Julia Morgan (she designed Hearst Castle).  I drove around the premises but wasn't able to find an appropriate parking spot.
Even though we weren't able to take a good look at the buildings, it was noticeable how well the structures blended with the surrounding environment.
Downtown
But, wait, there is more!
As I mentioned in the opening of this post, Pacific Grove is full of Victorian houses.  Some say the city has more of these houses per capita than any other place in the United States.
Downtown is the perfect place to start your exploration. You can walk at your own pace stopping at interesting points (this is what we did).  I recommend stopping around even if it is for a short stroll.
You can also opt for picking a walking tour program from the Pacific Grove Chamber of Commerce (which btw, is an excellent place to gather information). The program includes 22 historic locations within walking distance from Downtown.
The city (like Carmel and Monterey) is an artist haven.  Therefore, there are a lot of interesting galleries and shops.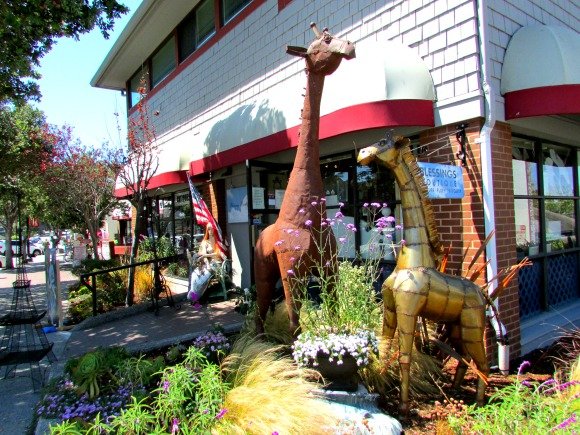 Pacific Grove is home to several antique, consignment, and thrift shops located all over town. The Chamber of Commerce has a map of consignment thrift stores in the area.
Other Sights
Other Business Districts (Forest Hill, Sunset Drive, and Central Avenue).
Museum of Natural History
Monarch Butterfly Sanctuary (in season)
Monterey Bay National Marine Sanctuary
There are bicycle and kayak renting businesses in town
Details
Would you visit Pacific Grove?
Pin it for later?