Looking for the perfect Rio de Janeiro Itinerary? Well, you are in the right place.
This article provides the information that you need to plan a week-long trip to Rio de Janeiro. With the amount of detail provided, you can shorten or extend your trip as desired.
Enough talking! Let's start planning the most amazing trip to the Marvelous City!
Things to Take into Consideration
This Rio de Janeiro itinerary is ideal for those who want to explore Brazil's most popular city and get a feeling of the more paradisiacal, untouched side of the country.  To achieve this, the itinerary has two bases: Rio de Janeiro and Paraty. I am going to show you what to see and do in each city and what places you can visit on day trips.
All travel is restricted to the Rio de Janeiro State.  Therefore, you will not need to spend money on flights between Brazilian cities (unless you want to do that).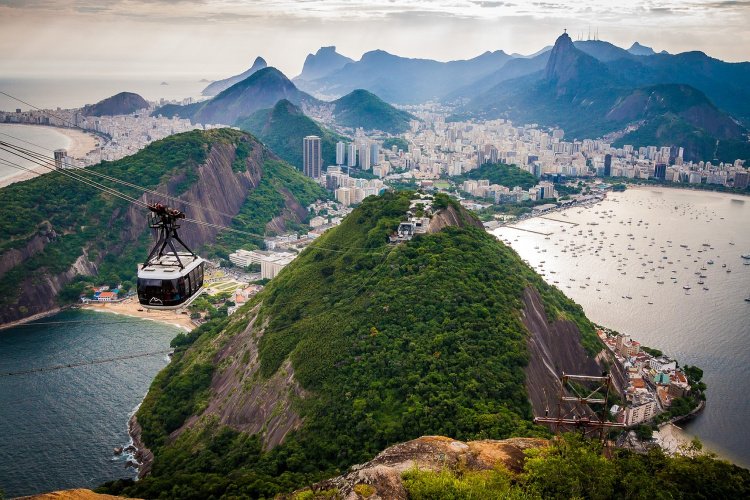 Rio de Janeiro is a big city.  Attractions are scattered and traffic gets jammed often.  Given those conditions, this is not a place you see in a day.  On this itinerary, I have allocated four full days in Rio de Janeiro.  Believe me, you are not going to get bored!
The rest of the time will be spent in Paraty, a colonial town located 4 hours south of Rio.  Paraty is located between the ocean and the mountains. Plus, it is a place full of history.
When in Rio de Janeiro, I recommend staying in the beaches zone (Copacabana, Leme, Ipanema, Leblon). The area is full of activity (day and night) and is heavily patrolled by the police.  The Santa Teresa neighborhood is a nice place to stay too.
Since I mentioned the police, let's address security in Rio de Janeiro.  I felt completely safe walking around the different parts of the city. I had no problems at all.  However, I do not want to misguide you. Things happen. I met travelers who were victims of robbery (non-violent situations).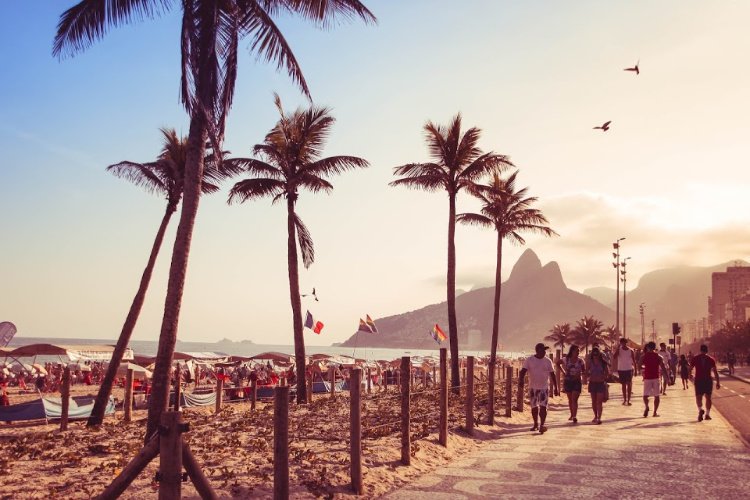 My advice is to stay vigilant while sightseeing or walking around.  Try to show your electronics as few times as possible while on the street.  Stay away from the city center or unknown areas at night. Avoid using public transportation if you are unclear on how to move around.
Rio de Janeiro is an expensive city.  I know "expensive" is a relative term but I found prices (food, lodging, transportation, tours) on par with cities such as Los Angeles, New York, and London. Budget accordingly.
In Paraty, lodging and excursions were cheaper when compared to Rio.  The food was about the same price.
Nonetheless, Rio de  Janeiro is such an exhilarating city. You are going to get contaminated with its energy once you get out of the plane.
Itinerary at a Glance
Day 1 (Arrive to Rio de Janeiro) -> Day 2 (Rio de Janeiro) -> Day 3 (Rio de Janeiro) -> Day 4 (Rio de Janeiro) -> Day 5 (Day Trip from Rio de Janeiro) -> Day 6 (Arrive to Paraty) -> Day 7 (Excursion to islands near Paraty) -> Day 8 (Excursion to the mountains) -> Day 9 (Return to Rio and fly back home)
Rio de Janeiro Itinerary Day 1 – Arrival
The Tom Jobin International Airport is located about 12 miles from downtown Rio de Janeiro, 14 miles from Copacabana and 16 miles from Ipanema.  Even though distances are short, driving time can be up to 75 minutes (or more) due to traffic.
To reach your accommodation, you can take a bus to the beaches (Premium Auto Ônibus runs every 30 to 40 minutes) or use an application such as Uber.  A taxi is a more expensive option.
After refreshing, if there is still sunlight I recommend getting to know the Leme and Copacabana areas.
Leme Beach takes its name from the Morro do Leme.  Morro means promontory or hill.  Take note since Rio is full of morros and they are the ones who make the city unique.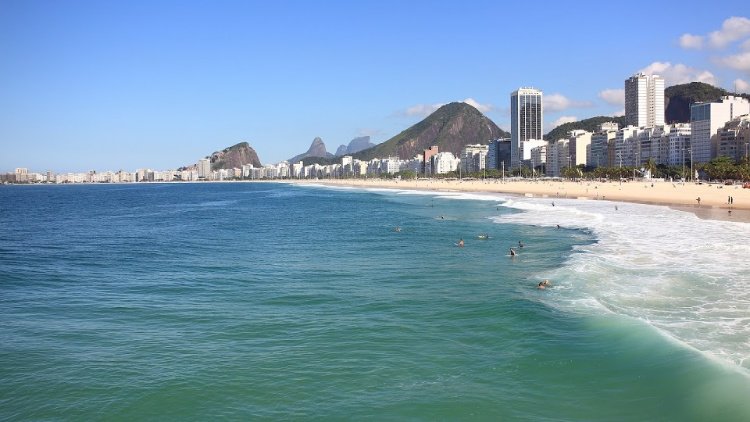 The confusing thing about Rio is that a continuous beach has different names.  Leme is the northern part of Copacabana Beach. It looks like one beach to me but well, there should be some logic behind this entire naming thing.
If you walk all the way to the end of the beach, you can access the morro by a walkway (called Fishermen Way).  From there, you can see Copacabana in its entire splendor: beautiful blue waters, white sand, cafes and high rises lining the beach.  Plus, you can see different morros popping up in the distance.
Then, it is time to take a closer look at Copacabana Beach.  If you are tired, you can take one of the minibusses (small vans) that move along the beaches all day.
Rio has a true beach culture. After work, residents (and visitors) head to the beach. And, that is the beauty of this place. We are talking about urban beaches but these are more than strands of sand. Cariocas don't need malls, shopping centers or movie theaters. They have the beach.
People eat, drink, socialize, exercise, relax, express themselves in artistic ways or sell their goods at the beach.  I saw so many people around even on weekdays. It reminded me so much of Californian beach life. And, let's not forget Copacabana is about 2.5 miles long.  That is a lot of beach to explore!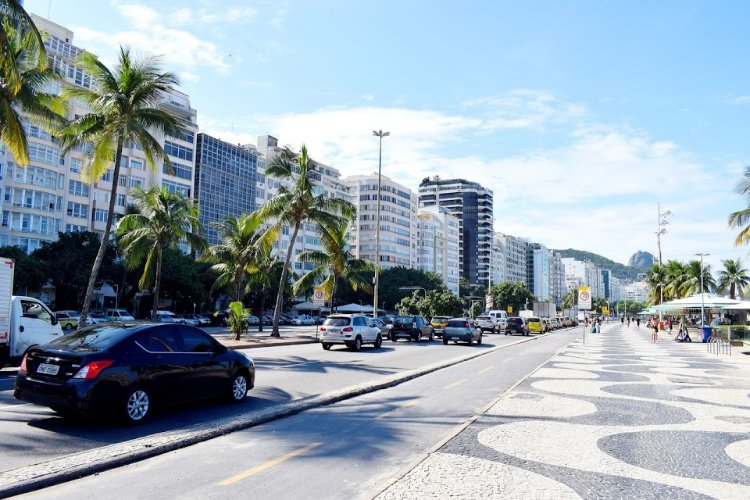 Rio de Janeiro Itinerary Day 2 – Corcovado and Pao de Azucar
When you visit Rio, there are two places you don't want to miss: the views from the top of Sugarloaf (Pao de Azucar) and riding to the top of Corcovado to admire up close the Christ The Redeemer statue.
Note: I chose to visit these attractions as part of a tour since only one day of full sun was forecasted during my stay.  I didn't want to risk things. Also, I was offered a good deal including Corcovado, Sugarloaf, Ipanema Beach, Downtown and a buffet lunch.  Check prices before heading to the attractions. It may be more convenient.  
Start the day by heading to the Sugarloaf tram. The tram ride has three stations. The initial station is at sea level. The second station is at the top of the Morro da Urca. You don't ascend directly to Sugarloaf.
Once you get out of the second station, you get a first glimpse of the beautiful city views. It was still foggy when I went up but you can get a good idea of how the surroundings look.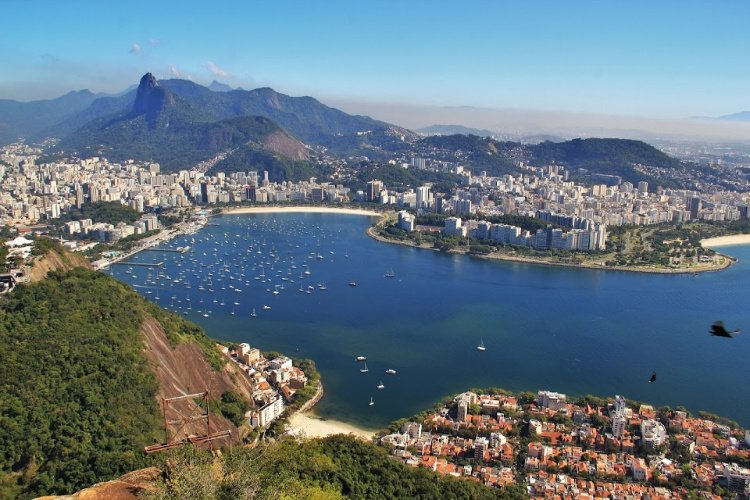 In this station, you can take some time to learn about the history of this famous tram. There is an area where you can take a look at the different tram models that have been used to transport people to the top of the morros. Additionally, there is a space showcasing old photos and interesting facts. 
After stopping at the top of Morro da Urca, you continue to the third and final station, the top of Sugarloaf.  Once the cable car starts to move towards the top of the morro, you understand why this is a must-do in Rio de Janeiro.
I just can't describe the views. It is hard to believe you are not in front of a painting.  Every part of the city looks so perfect.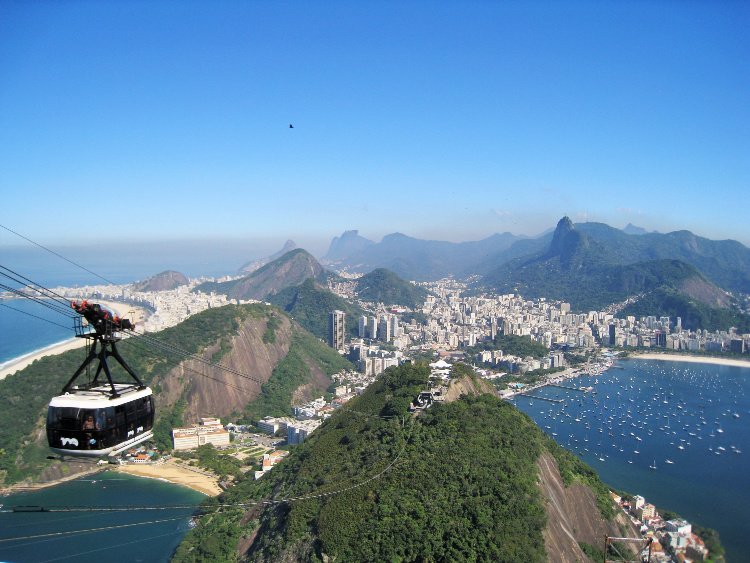 I was really impressed when I found out the entire stretch of Copacabana Beach is visible from the top. In fact, other beaches emerge in front of your eyes (for example, Praia Vermelha (Red Beach). 
The views on the other side are equally impressive.  It is possible to take a look at the Marina da Gloria, Botafogo, Downtown Rio, and Corcovado.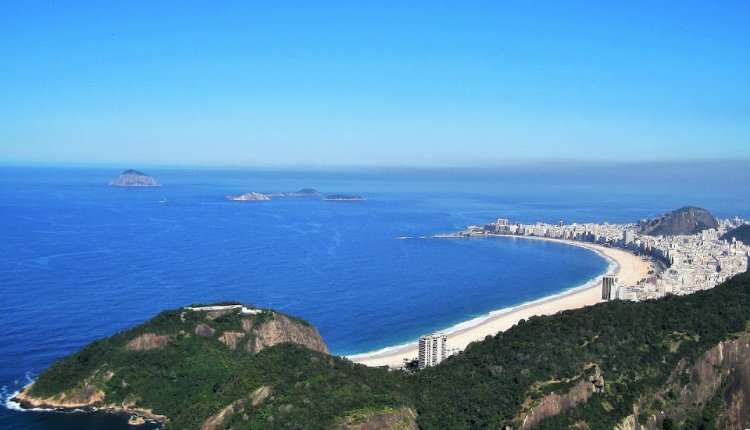 After a great morning in Sugarloaf, head to Botafogo or Copacabana for lunch.
Then, it is time to make it to Corcovado.  This is the morro (or mountain) where the statue of Christ The Redeemer stands with its arms open. 
Now, there are several ways to reach the top.  If you have booked a tour, you do not have to worry about this.  There is a train making the route but you will need to reach the train departure station by public bus or Uber.  The cheapest and most convenient way is to book a seat at one of the private vans that take visitors to the top. They depart from several strategic points in the city.
To get to the top of the mountain, you have to go through the Tijuca Forest (a National Park) which is full of hundreds of species of wildlife and plants. We saw some monkeys during our short ride to the top.  I wish I could have hiked and visited other attractions in the forest. If you like to hike and see abundant wildlife, this is the place for you!!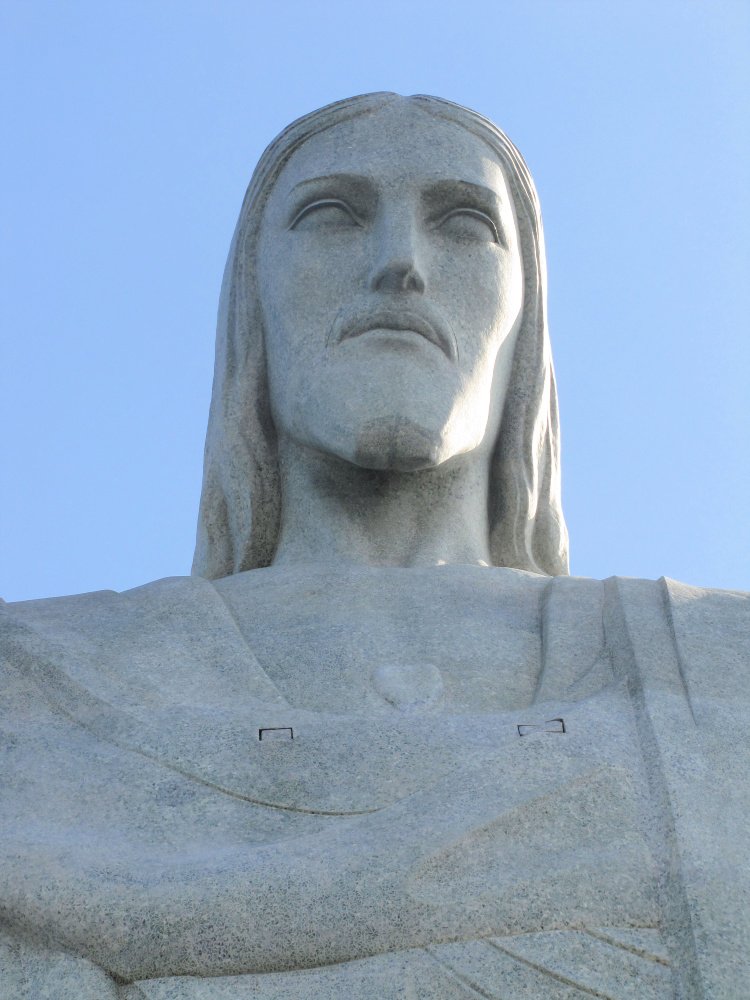 The Christ the Redeemer statue is a massive monument, seen from almost every point in Rio de Janeiro. If we want to get technical in here, let me say the statue is 39.6 meters high (130 ft) including the base.
Here are some interesting facts:
It weighs 635 tonnes.
It was built in an Art Deco style.
It was constructed between 1922 and 1931.
It was damaged by lighting in 2008.
It was vandalized (with graffiti) in 2010.
It needs to be continuously restored to the exposition to strong winds.
Tip: If you want a great photo with the Christ in the background, the person taking the photo has to lie flat on the floor in front of you.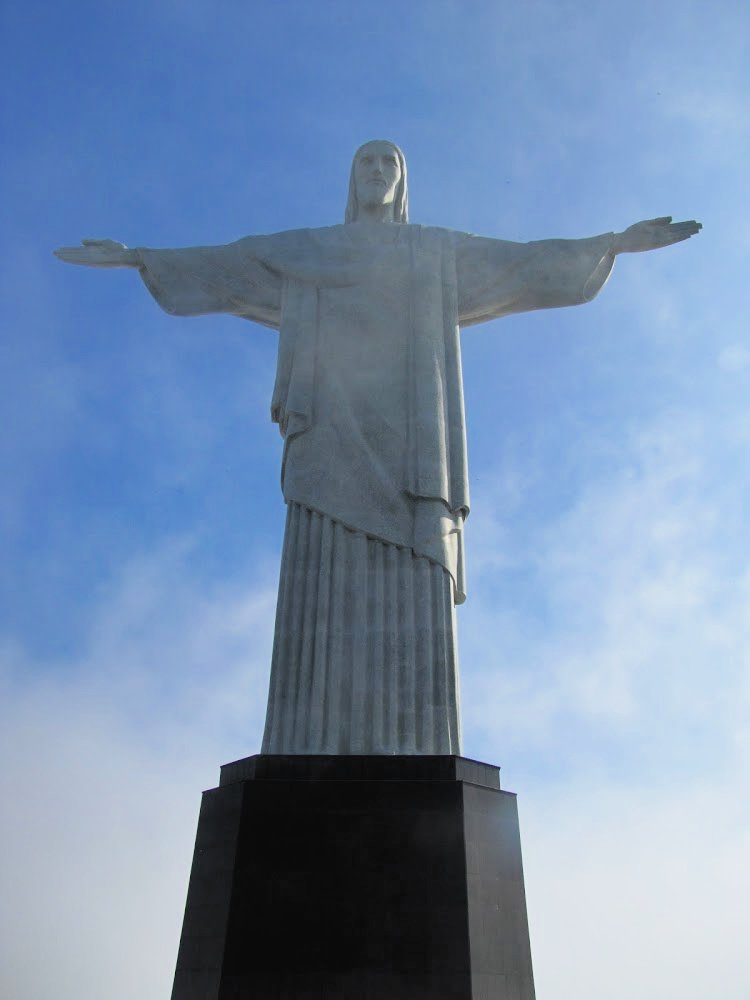 Well, we all know we don't visit Corcovado just for the statue. The views from the top matter too. You get a 360 view of the city. It is truly a magical experience.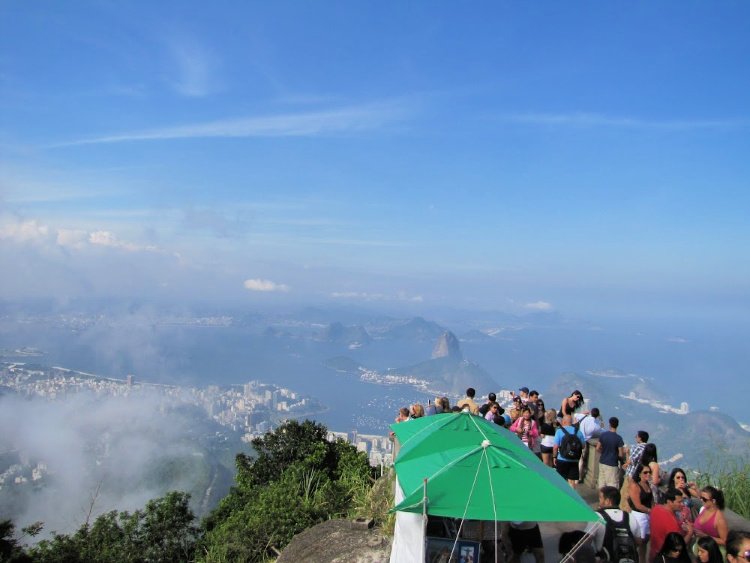 If you still have energy after a full day of exploration, head to one of the beaches to watch the sunset (Ipanema it a top contender), have dinner and enjoy the beach vibe.
Rio de Janeiro Itinerary Day 3 –  Downtown, Marina and Museums
 Believe it or not, Rio de Janeiro has a historic center better known as Centro.  When we think about the Marvelous City, we don't think about colonial times, belle époque or financial centers.  
Our minds associate Rio with beaches, sun, viewpoints, and Corcovado.
But let me tell you that the city has a busy downtown.  Many buildings testify about Rio's past. Modern skyscrapers surround the old structures giving the city a contemporary twist.
If you are interested in the historical and cultural side of Rio, companies such as Free Walkers Tour, Strawberry Tours, and Rio Free Walking Tour offer free tours of Downtown and Lapa.  These tours are offered daily and last three hours.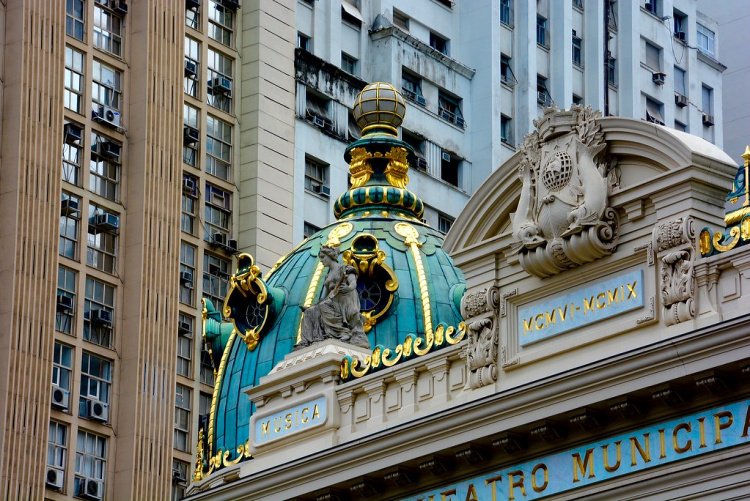 Photo by Alejandro
On a tour, you are going to get to know places such as:
Colombo Bakery
Imperial Palace
Municipal Theater
National Library
Cinelandia
Carioca Aqueduct
Selaron Stairs
If you want to see more, you can visit these sights:
Igreja (Church) da Ordem Terceira de Sao Francisco da Penitencia 
Metropolitan Cathedral
National Fine Arts Museum
Praca XV do Novembro.  
Tiradentes Palace
Igreja Nossa Senhora do Carmo da Antigua Se
Igreja Sao Jose
Arco do Telles
Municipal Market
Igreja Nossa Senhora de Candelaria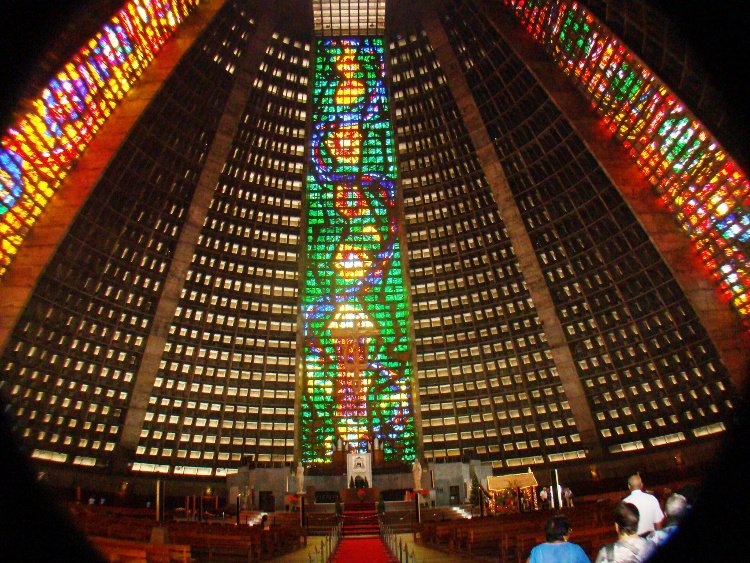 Photo by Rodrigo Soldon
Rio de Janeiro's Centro surprised me.  I wasn't expecting to find this part of the city.  In some way, I understand now why the city became so important and famous.
Note: The tour companies mentioned above offer free walking tours in other parts of the city and paid tours outside the city.
After lunch, there are several options. You can head to the waterfront to see the futuristic Museum of Tomorrow, a structure designed by Santiago Calatrava as part of the revitalization efforts the city went through in preparation for the 2016 Olympics.
In the area, you can also see the Olympic Boulevard, an art museum, and an aquarium.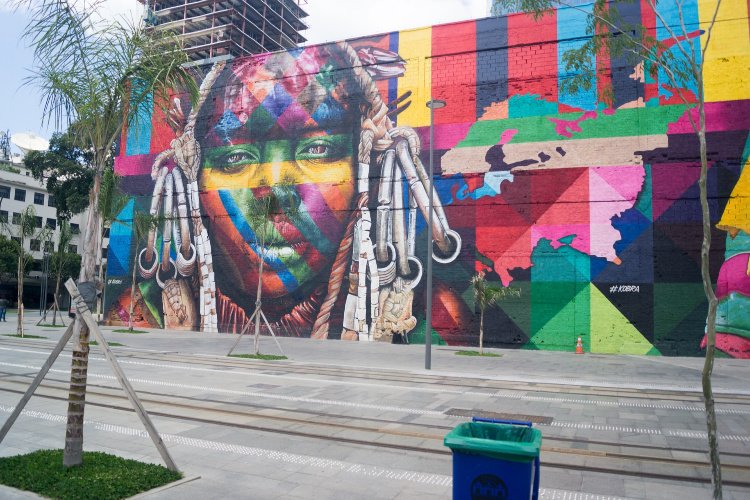 Sports lovers will prefer to do a tour of the legendary Maracana Stadium.  Tours are offered daily (40 minutes) from 9:00 a.m. to 4:00 p.m.  It may be a good idea to visit since you are in this part of town.
If none of those options appeal to you, head back to the beach and spend the rest of the day in a relaxing manner.  
Those who prefer to keep sightseeing can stroll the streets of Ipanema, visit the Copacabana Fortress or walk around the Pedra do Arpoador.
From the Pedra, you have amazing views of Copacabana to the left and Ipanema to the right.  If you look straight to the ocean, you can see several small islands popping from the vast ocean.  The views from here should not be missed.
The beach next to the rock is called Praia do Arpoador (of course).  This small strand of sand is a famous surfing spot.  Surfers get to the water jumping from the rocks. Onshore, there are tons of photographers ready to take some shots with some impressive equipment.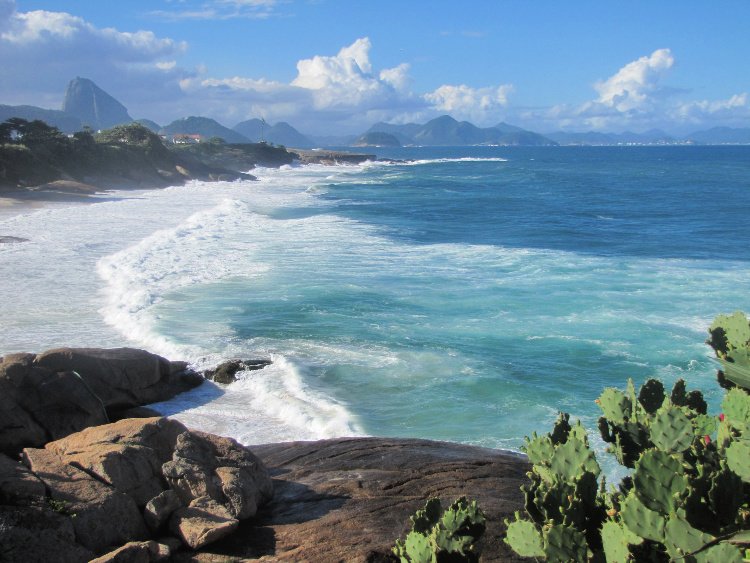 Rio de Janeiro Itinerary Day 4 – Botanical Gardens and Lagoa de Freitas
It is time to visit Rio de Janeiro's Botanical Garden.  Yes, you read that right!
I know a lot of people may not be into gardens but this is one of the most beautiful in the world.  It has on display the most incredible plants you can think of. As you may know, Brazil is one of the most biodiverse countries in the world.   This garden presents the perfect opportunity to get a glimpse of the diverse flora and fauna found in its many ecosystems. So you don't need to get in the middle of the Amazon forest or the Pantanal to appreciate some unique species.
The garden dates from 1808 and it was created to acclimatize species imported from the West Indies.  With time, the area became a center of conservation and research.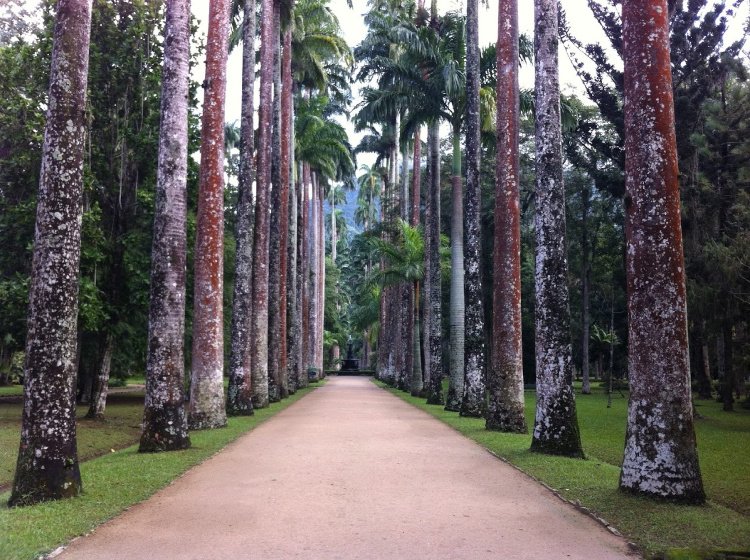 There are 6,000 different species of tropical and subtropical plants and trees.  Sixty percent of the garden is Atlantic Forest (an ecosystem that is highly endangered).  This is why UNESCO has designated the area as a biosphere reserve. The park contains 140 species of birds, many of which have become accustomed to humans and are consequently much easier to observe than in the wild.
Howler Monkeys (I saw a bunch of them eating jackfruit) and Tuft-eared Marmoset roam freely. There are also monuments of historical, artistic and archaeological significance. Imagine all you can see in there. I completely adored this place!
Tip: It is advisable to have a full meal before heading to the gardens.  A visit may take longer than expected and you do not want your sightseeing ruined by hunger.  There is a cafe on-site if you need to refuel.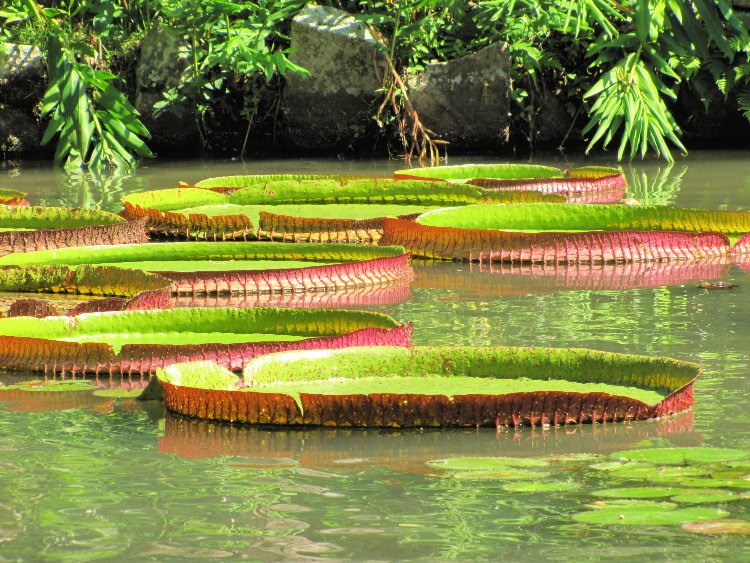 After admiring the astonishing beauty of the Jardim Botanico (Botanical Garden), I recommend visiting Lage Park.  From the park, you have views of Corcovado and the Lagoa Rodrigo de Freitas.
Active types can rent bicycles to ride around the lagoon.  Another option is to hike to the Waterfall of Primates, an easy hike located behind the Botanical Garden.
You can add more activities to the day but I would honestly go back to the beach, rest a bit and prepare for the night.
If you have not visited a traditional churrascaria yet, make sure to do it before leaving Rio.  A lot of people rave about Churrascaria Palace in Copacabana.  I have lost track of how many times I have seen the place on TV or YouTube videos.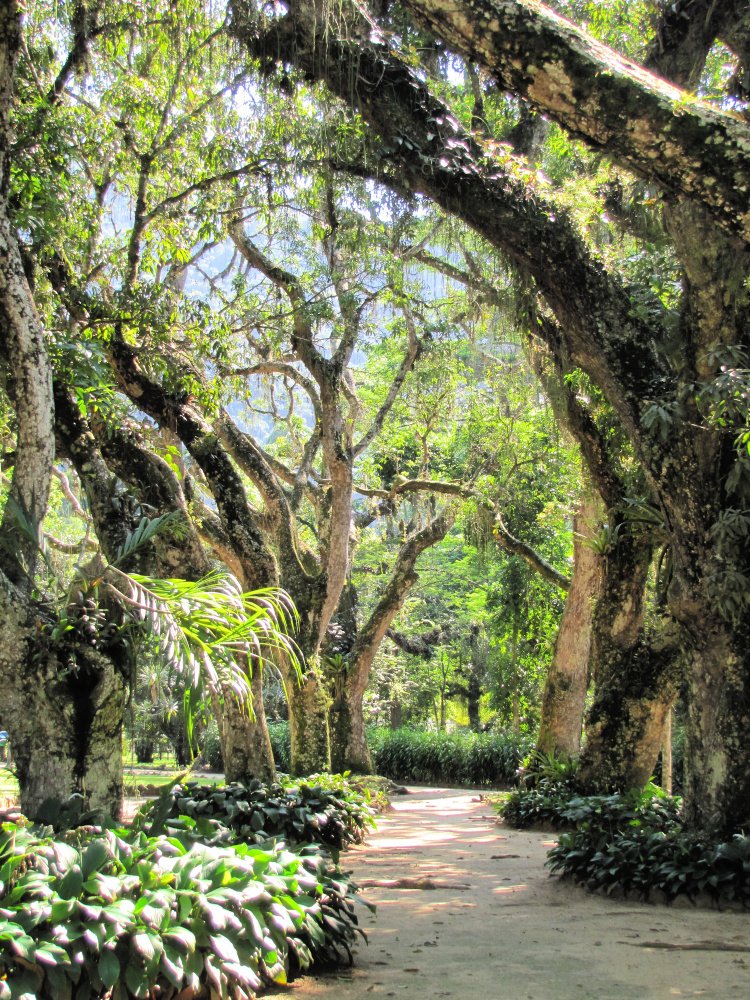 Rio de Janeiro Itinerary Day 5 – Day Trip
After three full days in Rio, it is time to get out.  Or, at least, it is time to do something a little bit different.
Here are some possible options for Day 5:
Do a memorable hike.  Options include Morro dois Irmaos (the morros seen at one end of Ipanema), Pedra de Gavea, Vista Chinesa or Pedra do Telegrafo.
Visit one or more beaches in the west part of the city.  Options include Praia da Macumba, Prainha or Praia de Grumari.
Ilha de Paqueta
Angra dos Reis and Ilha Grande (long day trip, 14 hours, done by speedboat)
Buzios (long day trip, 12 hours)
Arraial do Cabo (long day trip, 12 hours)
Cabo Frio (long day trip)
Places I have designated above as "long" will take over 2 hours to reach by public transportation and 2 hours to get back to Rio.  They are doable but you need to leave Rio as early as possible. Of course, things will be smoother if you choose to visit as part of a tour.  Also, keep in mind these places are destination into themselves. Staying a couple of days will be ideal.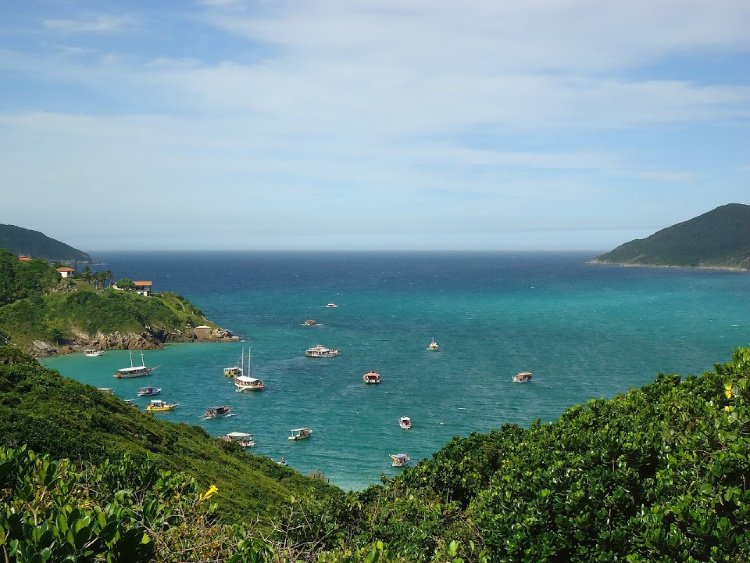 For my day trip, I chose Petropolis because it is technically close to Rio and the instructions to reach the town by public transportation are straightforward.
Petropolis was the summer gateway of the Brazilian emperor and his family. Wait, wait, wait.  Did you read that right? Yes, Brazil had its fair share of emperors while it was under Portuguese control.  
In the Americas, it seems ludicrous to talk about royal families. That is why I was so fascinated with the opportunity to visit a palace in the tropics. 
Here is an example of the places you can visit and things you can do in Petropolis:
Museu Imperial (Imperial Museum) – Emperor Pedro I used to find a refuge from the coastal heat in this area surrounded by mountains and vegetation.  He was so enthralled by the area that he made plans to construct a villa. It was actually his son, Pedro II, who ended up constructing a residence in the area.  But you know how royals are. Pedro II constructed a big and lofty palace. He also found the city where the palace stands. He named it Petropolis or Pedro's City.  Wow, how modest.
Catedral de Sao Pedro de Alcantara – This French neo-gothic cathedral holds the mortal remains of Emperor Dom Pedro II and his wife
Palacio de Cristal (Crystal Palace) – This unusual structure was made in France and assembled in Brazil for Princesa Isabel (the daughter of Dom Pedro II).  The princess used to host balls and parties in here.
Casa de Petropolis
Casa de Santos Dumont – Dumont was an aviation pioneer and many Brazilians claimed he flew a plane before the Wright Brothers
Palacio Rio Negro
Visit the Bohemia brewery
Praca da Liberdade
Eat German or regional Brazilian food
Do an excursion around the mountains (visit Parque Nacional da Sera dos Orgaos)
In the end, I was happy to visit Petropolis. This is a Brazil I was not expecting.  The experience taught me how Brazil is much, much more than beaches.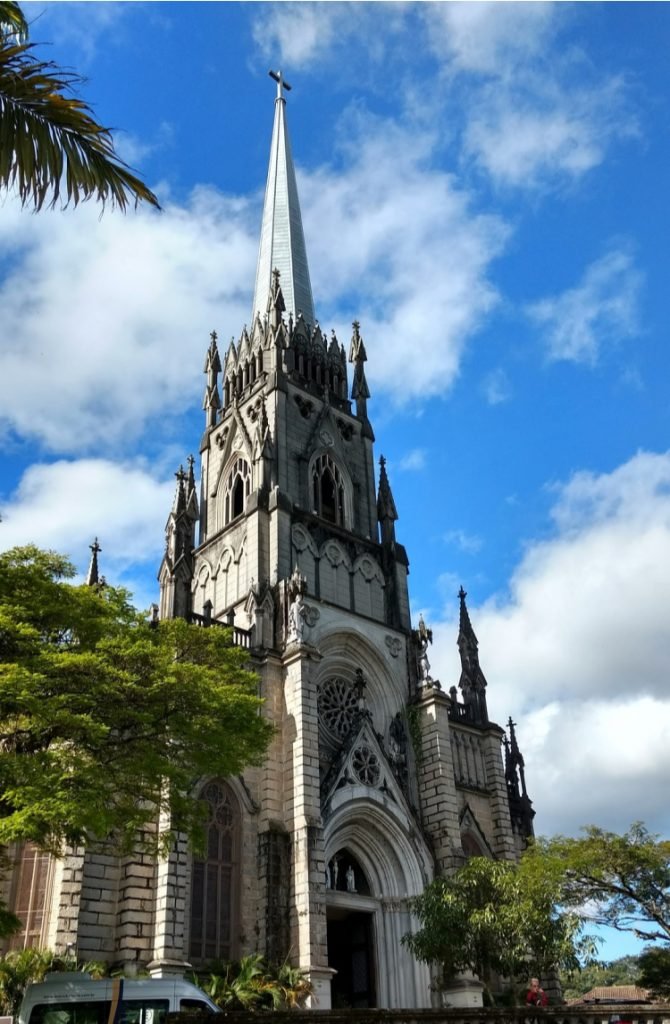 Note: Different sources state that a bus takes 1.5 hours to reach Petropolis.  Take into consideration this is only the time it takes the bus to get from Rio's bus station to Petropolis' bus station.  This does not include the time it takes to get from your hotel to Rio's bus station, the time from Petropolis' bus station to downtown Petropolis and the waiting time.  Seriously, it can take about 3 hours to get to Petropolis and 3 hours to get back to Rio (Zona Sul).
Rio de Janeiro Itinerary Day 6 – Arrive at Paraty
On the morning of Day 6, transfer to Rio de Janeiro's main bus station to take a bus to Paraty.  There are about 13 buses departing daily and the trip takes 4 hours.
I recommend leaving Rio early to maximize the day.  You can take a good nap while in transit.
Paraty (which means "river of fish" in the Tupi language) was once an important gold port. It was the end of the infamous "Gold Trail". At the end of the 1600s, gold was discovered in what is today the Minas Gerais state. A road was built to connect the town of Diamantina (in Minas Gerias) to Parati. 
After arriving in Parati, the gold was later transported to Rio de Janeiro or Portugal. With time, the glory of the city declined because a different trail was built to transport gold (the original Gold Trail was the blank of many pirate attacks) and the gold mines started to get dry at one point.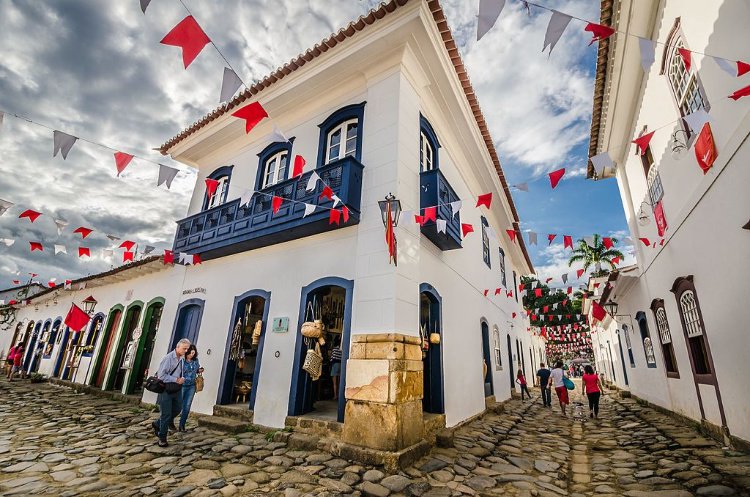 Photo by Alfredo J G A Borba
Most of the architecture has not changed in 250 years. However, it is not the only element adding to the colonial, lost in time vibe.
The colonial center of town is closed to motorized vehicles.  Bicycles are the preferred mode of transportation. Others move around in horse carriages.
Traditional sweets are sold in carts.  The original canyons used to defend the city are still on the spots where they were meant to be.
Things took a different twist in the 1970s.  The opening of a paved road between Rio de Janeiro and Santos (near Sao Paulo) brought an influx of artists to town.  Some of these innovators were attracted to the beautiful architecture of the place.  
Others found refuge in the nearby stunning beaches and sublime mountains.  Numerous sectors started revitalization projects. Tourists started to flock the town once an interesting offering was developed.
Nowadays, the town is full of restaurants, cafes, ice cream shops, artist studios, ateliers, boutiques, and galleries.
So, Parati may be the perfect balance between old and new, melancholic and cheerful, artificial and natural. 
You are going to be able to experience all of this once you make it to the city.  Use the rest of the afternoon and evening to explore the town.
Note: Make sure you take some time to book your excursions for the next two days.
Rio de Janeiro Itinerary Day 7 – Boat Tour
Paraty can be used as a base to get active and enjoy many nature offers.  You can spend a week hiking, kayaking, swimming, snorkeling, diving, horse riding, biking and sunbathing around town.  
The Bay of Paraty contains 65 islands and about 200 beaches.  And let me tell you, these are the kind of beaches that come up to your mind when you think of paradise.  The golden sand and emerald waters can't be more inviting.
So, what is the best way to explore 65 islands?  On a boat tour, of course. Schooners (sailing vessels with two or more masts) are used on tours to transport people among exotic beaches and deserted islands.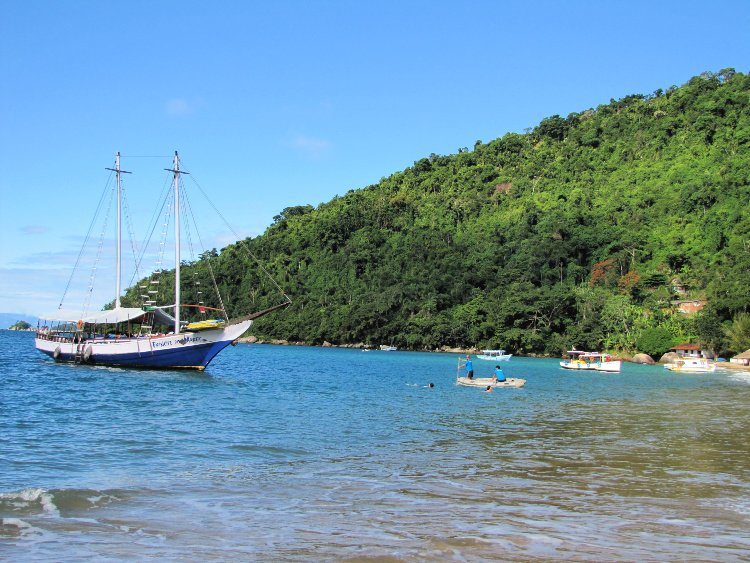 If you visit Paraty, this is a must-do.  Schooners five hours trips can be booked anywhere around town.  The best thing? This can be done for $30 dollars per person. That is an awesome deal if you consider how expensive Brazil is (Paraty has way better tour prices than Rio de Janeiro).
Here are some things you should take into consideration when booking your tour:
Some companies include lunch in the tour price.  This is a no brainer. Go with the company that offers more for your money.
If you book a tour where lunch is not included, bring snacks (or eat a big breakfast) if you don't want to pay the hefty prices of the food offered onboard.
There is a lot of availability for this type of excursion.  If you arrive late at Paraty, there are good possibilities to find availability for the next day.
Most companies offer the same tours.  Ask for options if you want to get off the beaten path.  Companies are willing to customize trips.
Make sure you understand what stops are included.  Some companies say they include four stops. In reality, they count the lunch stop even though there is no opportunity to get out of the boat.
I took the tour with a company called Paraty Tours and I highly recommend them.  The staff is very friendly and accommodating.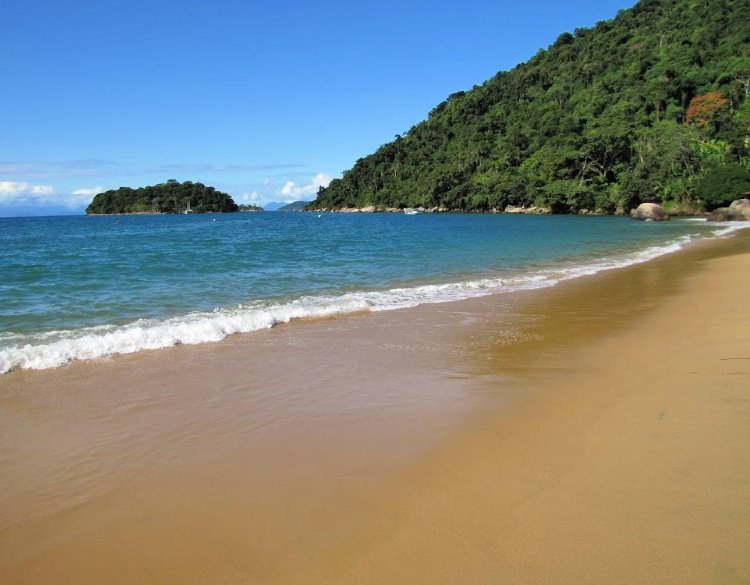 Rio de Janeiro Itinerary Day 8 – Jeep Tour
After getting closer to Paraty's gorgeous islands and beaches, it is time to discover the other side of this coastal town.
Paraty is located at an incredible stretch of land between the sea and a mountain range.  Those mountains popping in the back of town are part of the Serra do Mar (Mountain Range of the Sea).  This is a 1,500 km long system of mountain ranges that runs parallel to the Atlantic Ocean.  
The Serra do Mar is a highly biodiverse area covered in tropical rainforest better known as Mata Atlantica (Atlantic Forest) in Brazil.  Urbanization and deforestation (Brazil's biggest cities, Sao Paulo and Rio de Janeiro, are located close to Serra do Mar) have almost destroyed the rainforest ecosystem.  What is left of the Mata Atlantica is protected as state parks, ecological states, and biological reserves. Even the UNESCO has declared some stretches a World Heritage Site.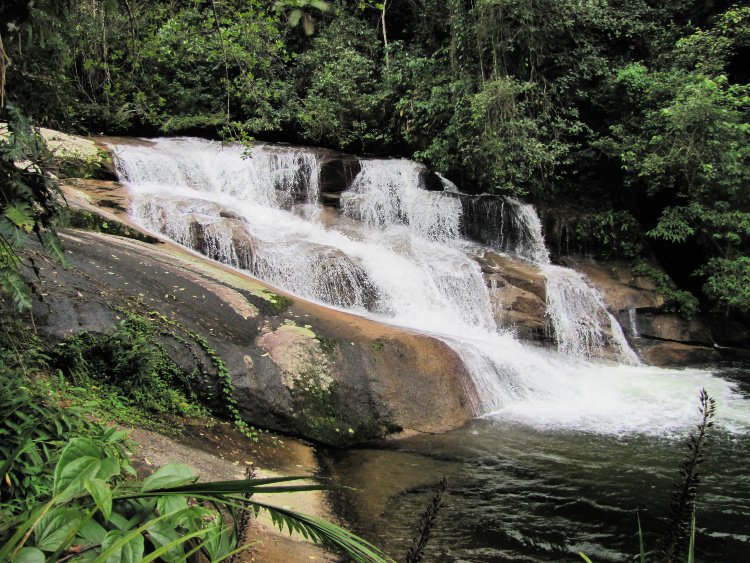 One of the national parks protecting the Serra do Mar, and located close to Paraty, is called Serra da Bocaina.  To explore it, you can book a jeep tour with a company in town.  
Once again, we booked with Paraty Tours. This decision was a good one since we had a fantastic day exploring waterfalls and the cultural heritage of the surrounding villages.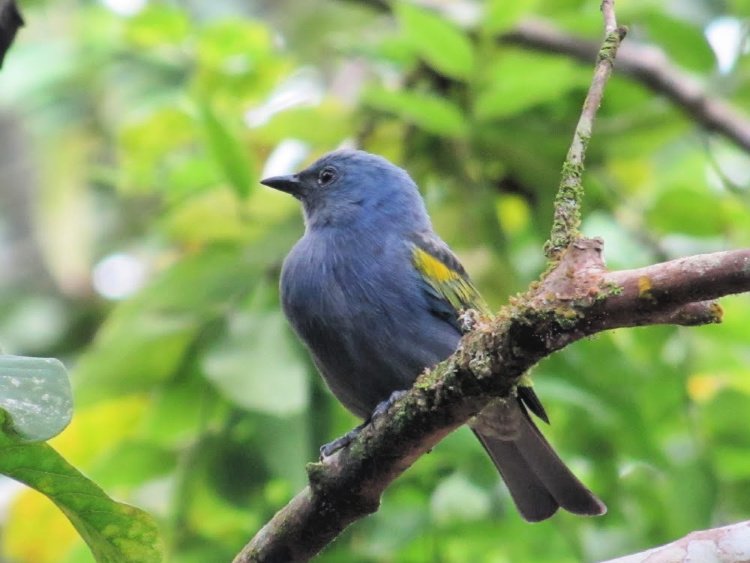 On the tour, we had the following stops:
Gold Trail Marker
Pedra Blanca Waterfall
Tarzan's Pool – swimming stop for those who do not fear the gelid waters
Cachaca Producing Hacienda (included cachaca tasting)
Lunch at a local restaurant (lunch was not included in the tour price)
Cachoeira do Toboga or Slide Waterfall
Cachaca Distillery (and Bromeliad exhibition)
This was one of the best days I had in Brazil.  The Paraty area is incredible. I wish I had more time to do other excursions.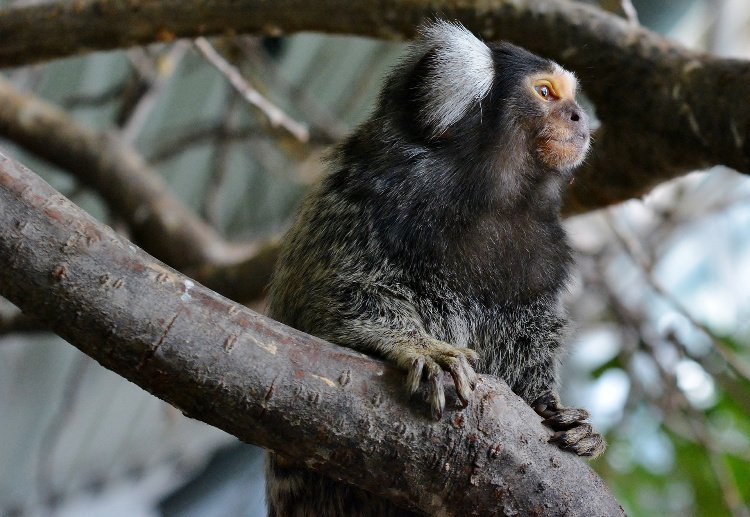 Rio de Janeiro Itinerary Day 9 – Return to Rio and Fly Back Home
All good things reach an end. On Day 9, it is time to go back to Rio and catch a late flight back home.
I hope all this information helps you plan your dream trip to this fantastic part of the world. Feel free to reach out if you need additional help.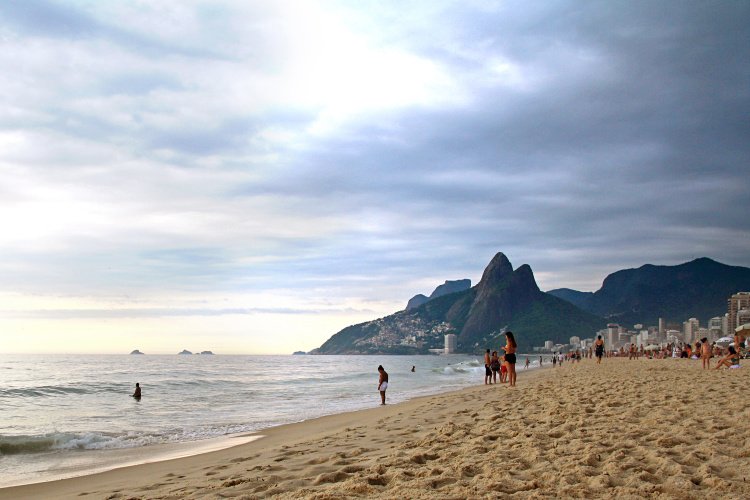 Photo by Dimitry B.
More Itineraries
What did you like best about this Rio de Janeiro Itinerary?  What are your suggestions?
Pin "Rio de Janeiro Itinerary" for later!