With 3 days in Los Angeles, you can see, do and eat a lot! Find out how to make the most of your days in this article.
Great news! Tanama Tales has been selected as one of the top California blogs by Feedspot!
After living in Los Angeles for over 18 years, I still feel excited about exploring the city.  That is the beauty of LA.  It keeps changing.
I love showing visitors around.  Not a long time ago, we had visitors every single week for a month.  I made sure my "guests" had a blast.
It will be nice to serve as a tour guide to more people but since I cannot hold your hand and take you to places, I have put together this itinerary on how to spend 3 days in Los Angeles.
I hope you enjoy it!
Please note: This article contains affiliate links, meaning I may earn a commission if you make a purchase by clicking a link. Of course, this comes at no extra cost to you and helps me to keep offering solid information to readers.
Itinerary Highlights
Between you and me, the truth is that a lot of people visiting Los Angeles are interested in the main attractions.  I can summarize those attractions on a whim.  People are interested in visiting Venice Beach, Santa Monica, Beverly Hills, and Hollywood.  Visitors with additional time may add Malibu to the list.
This is the thing.  Those places are fantastic but I have written a lot about them.  Plus, I feel those places are ideal for first or second-time visitors. However, what if you have visited Los Angeles more than once?  What if you are not into tourist places?  What if you are not a beach person?
That is why these 3 days in Los Angeles itinerary will focus on Downtown LA.  This part of the city is brimming with good eats, arts, and culture.  It is one of my favorite places to visit and I want to share all about it with you.
If you are interested in checking out the most popular attractions, I got you covered too!
You can check the best of Los Angeles in one day.
Or, follow this itinerary if you have 2 days in Los Angeles.
There is yet another option to mix and match popular attractions with more local ones.  If that syncs with your vibe check this Los Angeles itinerary.
I told you! I have written a lot about my beloved city.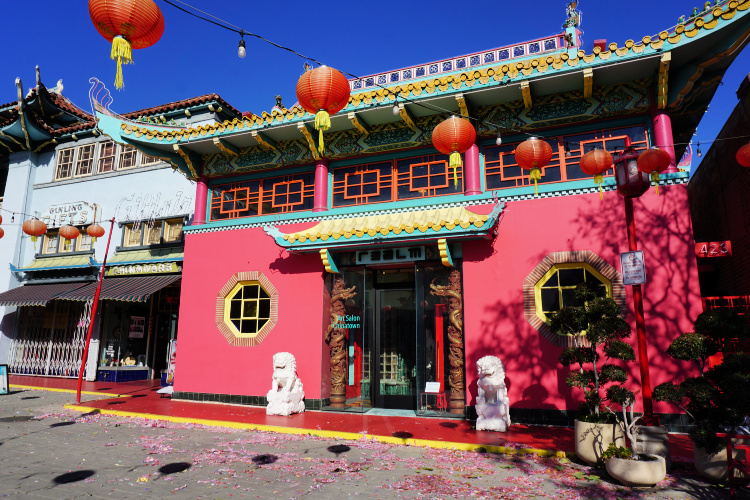 3 Days in Los Angeles – Planning Tips
Before digging into what to do, see, and eat in Downtown Los Angeles, I want to provide some information about certain topics crucial to trip planning.  I believe your trip will be a hundred times better if you know what to expect and have basic knowledge about how certain things work in Los Angeles.
Time Management
I am providing a lot of ideas for each day. Therefore, you may not be able to cover all the suggestions.  That is ok. You will have an excuse to come back.
On the same note, Los Angeles is a huge metropolis. Nevertheless, since this itinerary focuses on the Downtown area, I feel like you have room to relax.  This is different than jumping in a car every 3 or 4 hours to check out a neighborhood located in a different part of the city.
I suggest starting sightseeing early (9 to 10 a.m.) to make the most out of your time.  If you are staying 30-40 miles from Downtown, you need to factor commute time (it can be more than an hour each way) into your itinerary.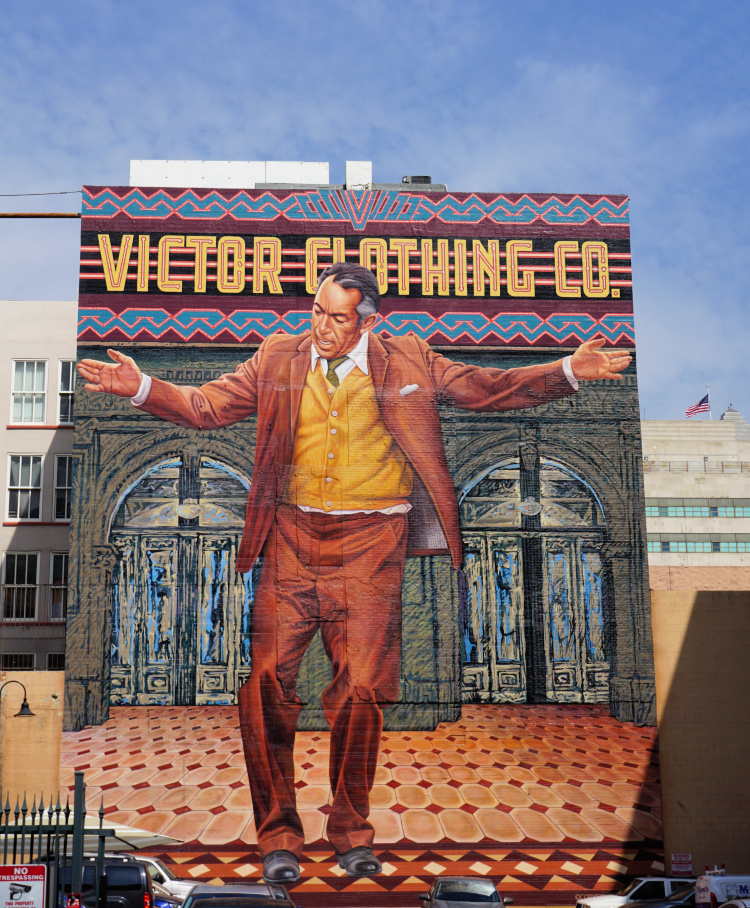 Budget
Los Angeles is not the most budget-friendly city in the United States.  Depending on where you are coming from, you may be shocked at the prices.  
If you want to take care of your wallet, it is a good idea to set up a daily budget and try to stick to it.  If money is not an objection, you can go wild in Los Angeles.  After all, this is the city of movie stars, TV moguls, fashion designers, and tech executives.
A well-priced hotel will be in the $100-$150 range.  Prices may be higher in Downtown. Let me tell you, there are a lot of fancy hotels there.  You may be able to find lower prices on particular houses or websites such as AirBnB.
Beware of low priced hotels/motels.  They may be located in sketchy areas.  I am not saying you will be in danger but you do not want to spend your vacation worrying about safety.  I encourage you to carefully read reviews and pay attention to ratings.  
Meals can be had for $10-$15 per person.  That range does not include drinks, appetizers, or dessert.  These prices are not set in stone.  You may be able to get a meal for a lower amount.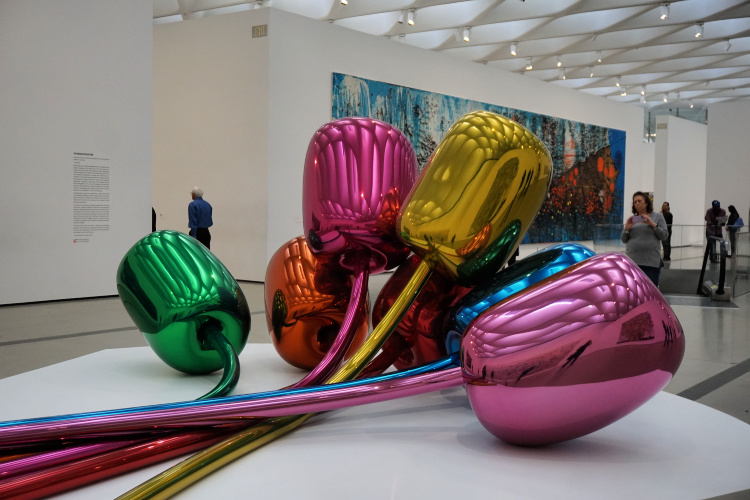 There are plenty of places to acquire travel-related incidentals (toiletries, water, sunblock).  Good prices on groceries abound.
One positive about Los Angeles is that you can sightsee without spending a dime.  There is a lot to do for free.  Now, you will be pressured to buy tickets for tours, expensive attractions, and tourist traps.  Avoid these if you have not budgeted for it.
I am known for my low budget itineraries.  Most of my sightseeing recommendations are free of cost.  It is up to you if you want to spend additional money on certain things. I will let you know when things have a cost.
Driving and Moving Around
A lot of people assume it is impossible to move around Los Angeles without a car. To a certain extent, that is true. 
Now, the big plus of this itinerary is that you are going to be based in Downtown.  Because of that, you can walk around or jump on the train.  If you want to check a different area for part of the day, I advise you to take Uber or Lyft.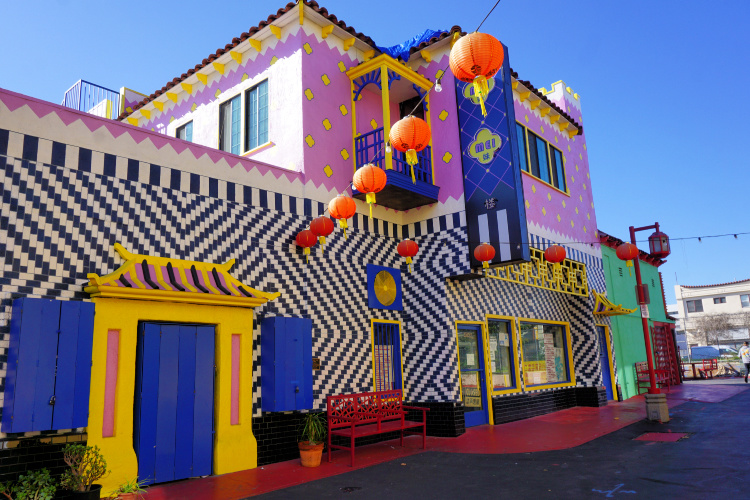 Keep in mind the prices of these ride-sharing services have increased with time.  You can estimate fares with pages like this and this.  Even if you are not staying in Downtown, you can move to the area using Uber, Lyft, or the train.
If you have a car, I recommend parking it in a place that charges a daily flat fee.  There are many lots charging $10 for the day.  Beware of places advertising parking for a dirt-cheap rate and then claiming the rate was for every half an hour (or 15 minutes).  The best deals are the ones where you pay when entering the lot.
Some lots are starting to mimic what lots in Hollywood do.  The flat fee is until 7:00 p.m.  You need to take out the car off the lot before this time.
Traffic in Los Angeles is terrible (it is one of the worst in the entire world).  You want to avoid freeways during rush hours (6:00-9:00 a.m., 4:00-7:00 p.m.) And, you need to be patient.  You may end up stuck in traffic at one point or another.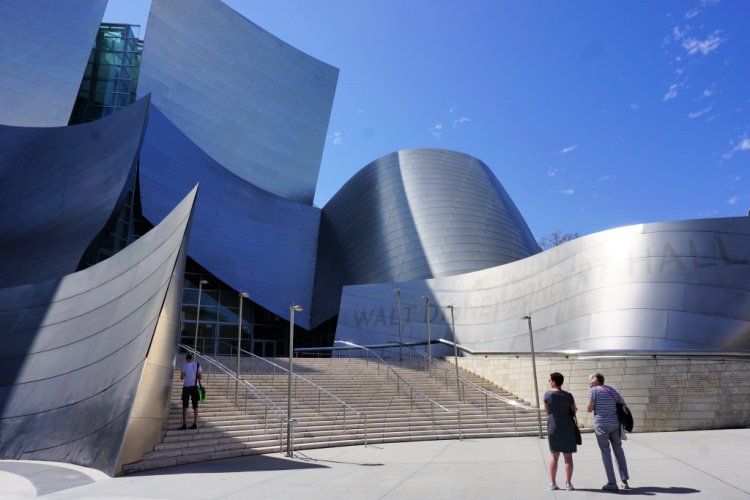 Security
By no means, I believe Downtown Los Angeles is dangerous.  Having said that, let me warn you that some parts are scruffier than others.  And, the landscape can change fast (as fast as crossing the street).  If you encounter one of these areas, keep calm and keep walking. It will not last. 
When to Visit
Los Angeles is a year-round destination due to its Mediterranean weather.  Summer temperatures reach the high 80s and winter temperatures reach the low/mid 60s.  There are about 300 days of sunshine per year and precipitation is low. I personally believe spring and fall are great times to visit Los Angeles. 
The temperature in Downtown (for obvious reasons) is higher than in the coastal parts of the city.  Go prepared to tackle the heat.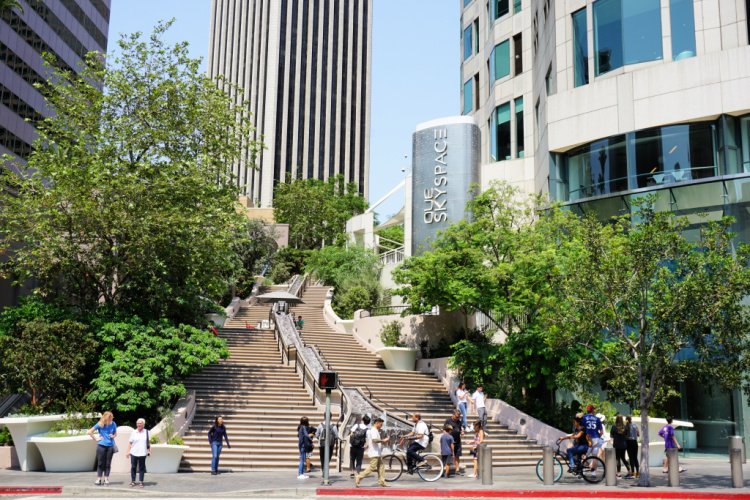 Sightseeing Gear
Get ready for a day of sightseeing by bringing the right gear.  Here is a list of the items I pack to explore cities and towns in California.
3 Days in Los Angeles – Day 1
This is the day to check out some of Downtown Los Angeles' coolest attractions!
Breakfast
Pitchoun has become one of my favorite places to eat.  This French bakery serves delicious croissants, elephant ears, macarons, eclairs, tarts, and much more.
You can keep things simple by having a cup of coffee and a pastry (or more than one pastry, hey!) Or, go big and order a dish from the breakfast menu (avocado toast, eggs benedict, crepes).  One way or another, I think you will be delighted.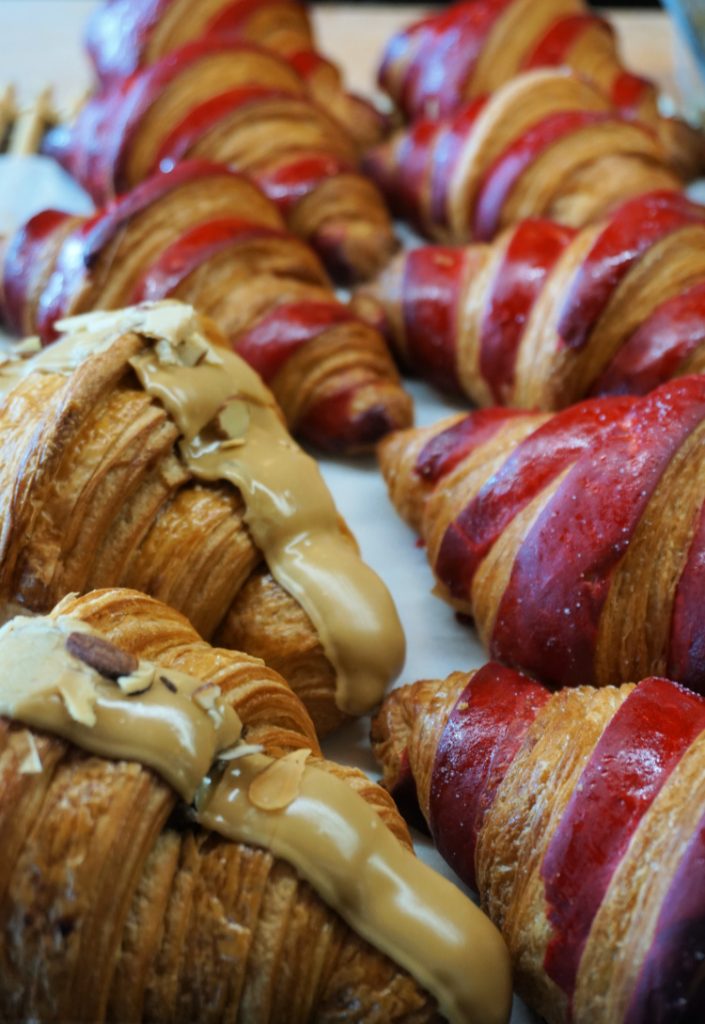 Morning
Almost next door to Pitchoun, you will find the Biltmore Hotel.  If you are discrete enough, you can go in and check out the grandiose lobby.  Use the stairs located opposite the entrance to get a view of the lobby from above.  Keep walking and you will find yourself in a long hall with ornate designs.  
The Biltmore was the hotel used as the headquarters of the Democratic National Committee for the National Democratic Convention where John F. Kennedy won the presidential nomination.  You can enter the Biltmore from Grand Avenue if you want.
Famous Pershing Square is located in front of the hotel.  I recommend checking the views of Los Angeles' skyline from there.  They are great!  There are other features of Pershing Square that deserve some photos too.
Note:  For some strange reason, you are not allowed to take pictures from Pershing Square with a camera.  The weird thing is that pictures with a cellphone are allowed.  If you take out a camera,  a security guard may ask you to put it away.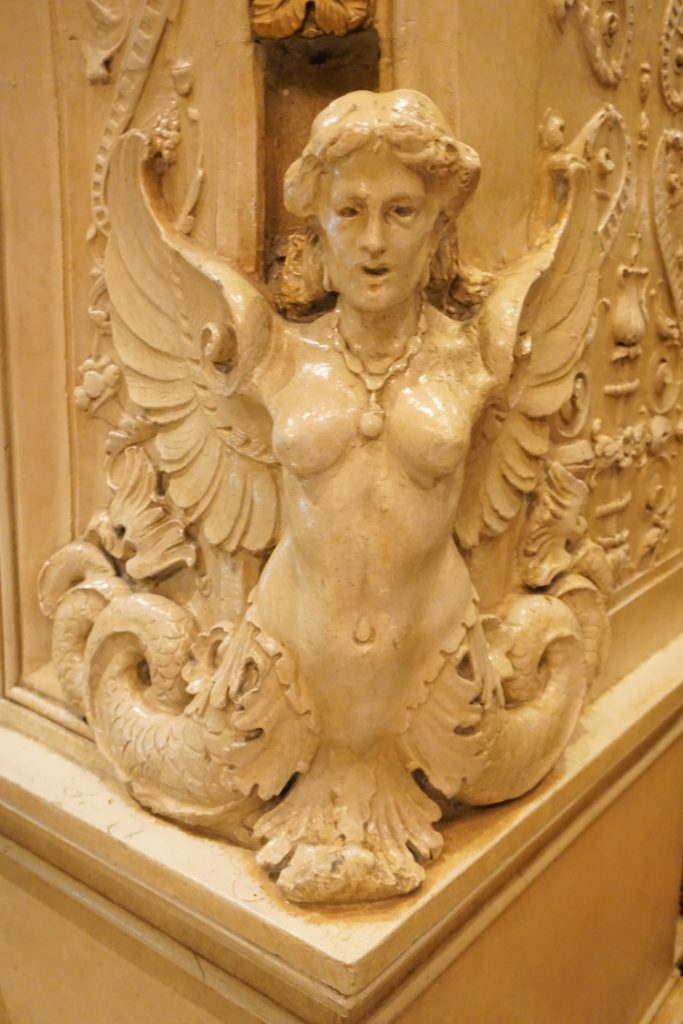 If you are looking for free things to do, you have plenty of options.  You can check the Los Angeles Central Library, a building featuring Egyptian Revival architecture, public art, murals, and well-manicured garden.
The other option is to stop by The Last Bookstore, a beloved shop selling books, records, and gifts.  The unique selling point here is that the building housing the store used to be a bank.  You can even go inside the vault. There are plenty of quirky and fun installations ideal for photos.
Lunch
Downtown Los Angeles is a foodie paradise.  It is difficult to zero on a spot to grab lunch.  But, why choose if you can have a bit of everything?
That is when the historic Grand Central Market comes into place.  What had its beginnings as space for farmers to sell their produce has morphed into a food hall of big proportions.
There are a lot of options.  I would walk around taking a look at vendors before deciding.  Horse Thief BBQ serves monstrous portions of ribs, pulled pork, and yummy sides. Other favorite includes Egg Slut, DTLA Cheese, Olio Wood Fired Pizzeria, and Villa Moreliana.
Read More: Grand Central Market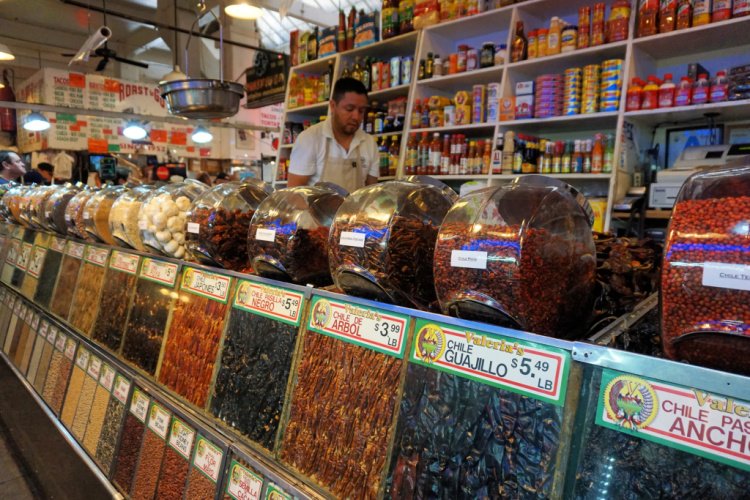 Afternoon
Hopefully, you didn't overdo it during lunch.  There is still lots to see. 
Across the Grand Central Market, do not miss the Bradbury Building.
If you need a break, you can rest a bit at Grand Park.  The best spot to sit is close to the Arthur J. Will Memorial Fountain.  The sound of the water will relax you.  There is a cafeteria in the area (in case you want to sip something).
Do not forget to take in the views of City Hall from the Grand Park.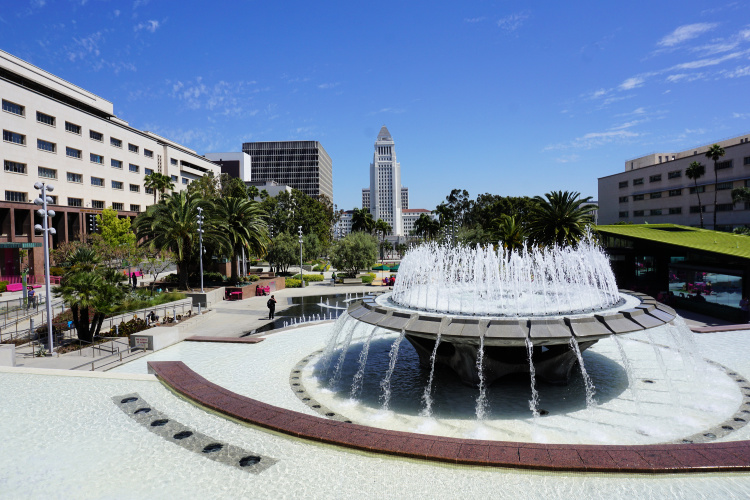 It is time for some culture!  The Walt Disney Concert Hall, designed by Frank Gehry, offers free self-guided audio tours.  For more info, check this page.  If you are not interested in the tours, walk around discovering the different angles of this particular building, and visit the Blue Ribbon Garden.
You can enjoy contemporary art (including pieces from Andy Warhol and Jean-Michel Basquiat) at The Broad, one of the latest additions to the Los Angeles art scene. A lot of people stop by because they want to visit Infinity Mirrors.   The museum is free but you need to make reservations online.
Another art institution in Downtown is the Museum of Contemporary Art (MOCA).  General admission is free.  There is a charge for special exhibitions.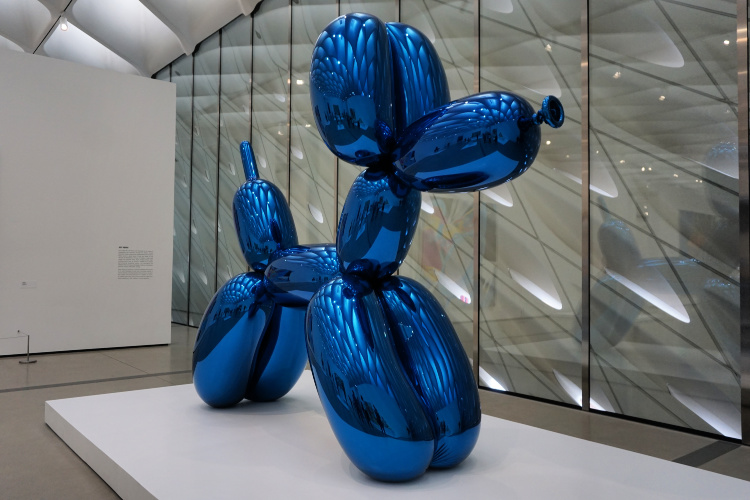 Dinner
Here are some great places to grab dinner in Downtown Los Angeles:
Cole's French Dip – Cole's claims to have invented the French dip, a sandwich consisting of sliced roast beef, Swiss cheese, and onions placed on a French roll.  Beef broth is served on the side for dipping between bites. They serve a large selection of sandwiches, sides, pies, and floats as well.
Mezcalero – Traditional and modern tacos such as carnitas (pork), carne asada (beef), chicken in peanut mole, and zarandeado (shrimp).  
Guisados – It doesn't feel right to visit Downtown and not stop by Guisados. Order a sampler with 6 different types of tacos.  Do not miss their horchata.
Bar Ama – This restaurant serves upscale Tex-Mex and Mexican dishes.  They do taquitos, chiles rellenos and short rib chalupas.
Astro Donuts and Fried Chicken – This place is perfect since it sells vanilla glazed, maple bacon, French toast donuts, chicken sandwiches, and chicken baskets under the same room.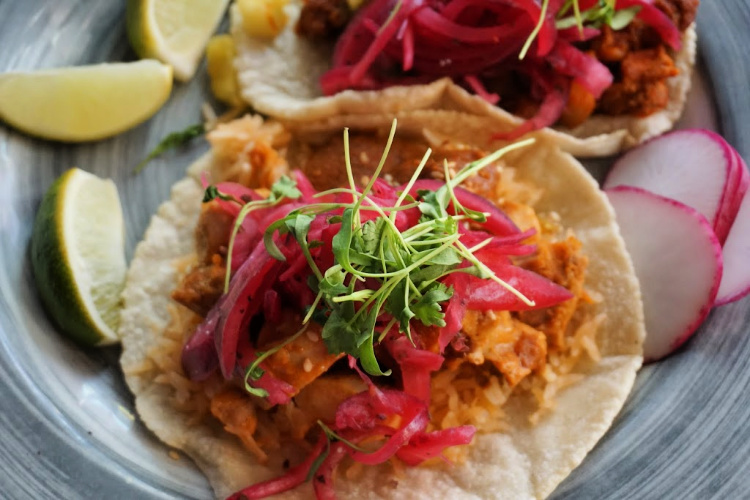 Sweet Treats and Coffee
If you need a place to indulge, I have a plethora of recommendations for you.  Some of these establishments offer dishes on the light, fresh, and simple side.  They may work for cases when you do not feel like pigging out for dinner.
Bottega Louie – This place feels like paradise! They have things such as macaroons, eclairs, tiramisu, and fruit tarts.
Clark Street Bread – This bakery serves great Nutella banana toast, croissants, and sandwiches.  Make sure to try a sourdough loaf.
Little Damage – The specialty here is soft-serve ice cream on charcoal cones.
Blue Bottle Coffee – This cult -ollowing coffee shop is located in front of the Grand Central Market
Tierra Mia – This shop specializes in coffee from Latin America (El Salvador, Guatemala, Honduras, Colombia, etc.)  
85 Degree Bakery Cafe – They have delicious pastries, cake, bread, coffee, tea, and smoothies. The selection is overwhelming so, bring a big appetite.
Masa Coffee Lab – Other than excellent coffee, this place sells avocado toast, Mediterranean toast, and oatmeal bowls.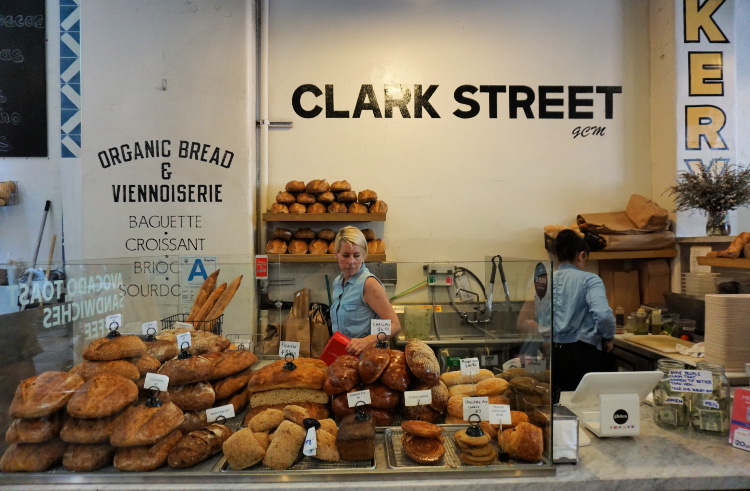 Night
If you still have some energy left in you, it would be fun to have drinks at one of the area's rooftops. Options include Broken Shaker (Freehand Hotel), Perch, Spire 73, and Upstairs (Ace Hotel).
Watching a show at one of the Music Center's venues is an option too.
3 Days in Los Angeles – Day 2
On day 2, we will start to take a look at the multicultural side of Los Angeles.  
Breakfast
For an unforgettable brunch, head to Redbird.  This restaurant is located inside the former rectory of a cathedral.  The place has won prizes because of the outstanding way the structure has been preserved.
And, you are not just eating at a historical place, the food is out of this world!  They serve dishes such as lamb belly hash, cornmeal waffles, and house-cured salmon.
If you want to keep things more classic, Blu Jam Cafe is a good option. This establishment, located at the Spring Street Arcade, serves dishes such as crunchy French toast, chilaquiles, huevos rancheros, and Benedict eggs.  This place is highly recommended since their food is really scrumptious.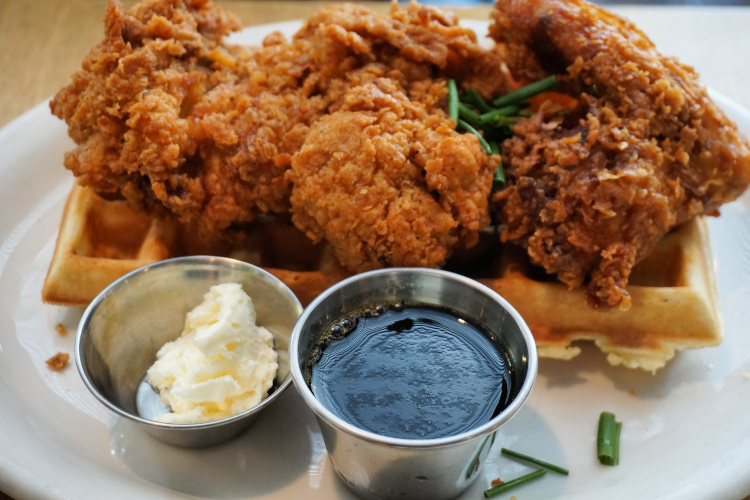 Morning
It is time to visit El Pueblo de Los Angeles, the site where the city was founded in 1781.  The spot is commemorated by a monument.  During the weekends, a fair atmosphere, with live music, dance, and food vendors, is felt.
The more characteristic spot at the Pueblo is Olvera Street (in Spanish we called it Placita Olvera).  This pedestrian street has a permanent market selling all sorts of Mexican goods (traditional toys, candy, wrestling masks, cooking utensils, and more).  The street is lined with stores and cafes.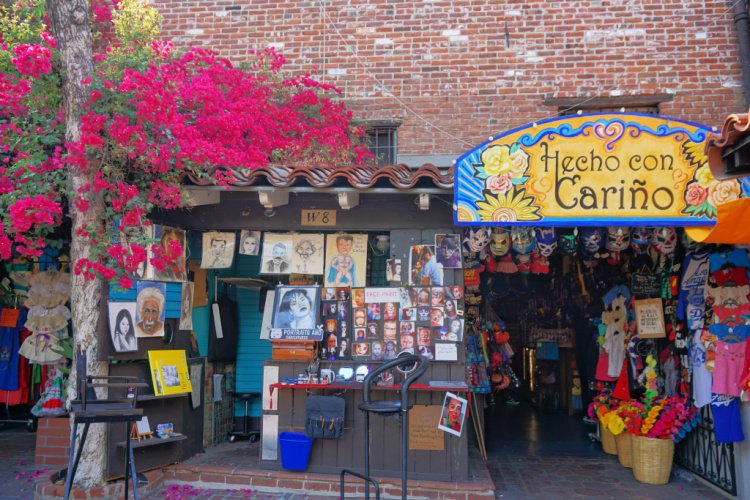 You can visit Avila Adobe, one of the oldest structures in Los Angeles.  I recommend trying the taquitos, drenched in avocado sauce, from Cielito Lindo. I know you probably are heading to this area after breakfast but the taquitos are too good to pass. Yikes, I can drink avocado sauce by itself.
Across the street from The Pueblo, check out Union Station, one of the major transportation hubs of the city.  The building occupied by the station, an Art Deco and Spanish Revival landmark deserves attention.  What used to be the station's Harvey House has been renovated into the Imperial Western Beer Company.  It may be too early for a tasting but taking a look is worth it.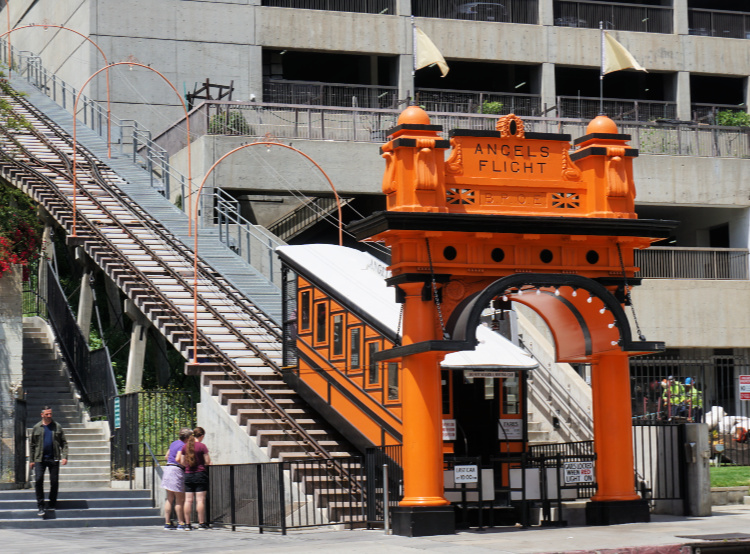 Lunch
For the afternoon, I am going to direct you to Chinatown.  So, it makes sense to have lunch in this area.
Guys, this is another foodie paradise.  There is a crazy amount of options.
Philippe The Original is the real deal.  This is one of the businesses in Downtown Los Angeles claiming to be the inventor of the French Dip Sandwich.  Everything is old school and that amplifies the coolness factor.  There are different ways to order a French dip (single dipped, double dipped, and wet) and you can choose the meat.  
A lot of people consider Far East Plaza a food hall. The most famous establishment here is Howlin' Ray's (Nashville hot chicken).  Other notorious restaurants include Lasita Rotisserie, and Amboy Quality Meats & Delicious Burgers.
Visit Homegirl Cafe for generous plates of mango upside-down cornbread, chilaquiles, granola, and quinoa pancakes.  The place is not only about good food. By visiting, you are contributing to the future of females who have experienced violence and incarceration.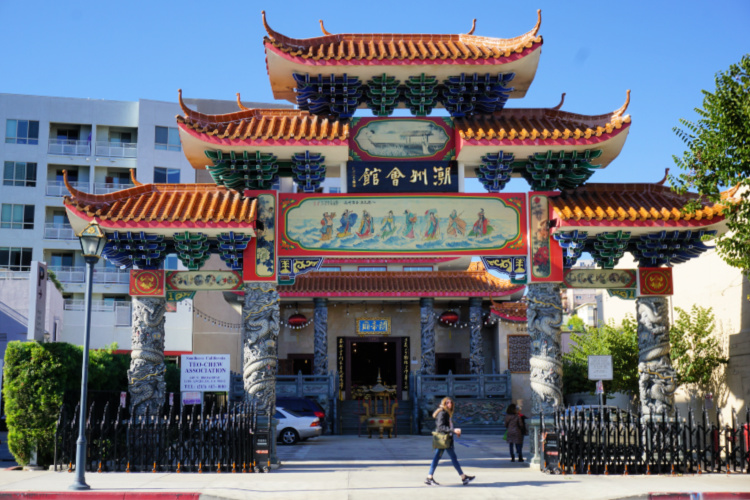 Afternoon
After lunch, walk north on Broadway Street to get deeper into Chinatown.   On the way, you will encounter shops selling traditional Chinese ingredients, medicine, fresh poultry, produce, plants, and different trinkets.
Stop at the Chinatown Central Plaza for pictures.  The area is full of colorful buildings, murals, and red lanterns.  You may want to cross to Chung King Road to peruse art galleries.  There are several bakeries selling Chinese baked goods but I will say Phoenix is the best.
If you are not aware, many people come to Los Angeles to shop in an area known as Santee Alley or "Los Callejones."  The idea is to buy wholesale and sell to individuals later.  This area is also located at Downtown but it can get really crowded.  If you are looking for this sort of stuff or for simple souvenirs, it may be better to check the shopping plazas in Chinatown (Saigon Plaza, Dynasty).  They are way less crowded and prices are comparable.  
If you want to keep exploring the area, take a walk at the Los Angeles Historic Park or check the scene at Highland Park Brewery.
Read More: Things to Do in Chinatown Los Angeles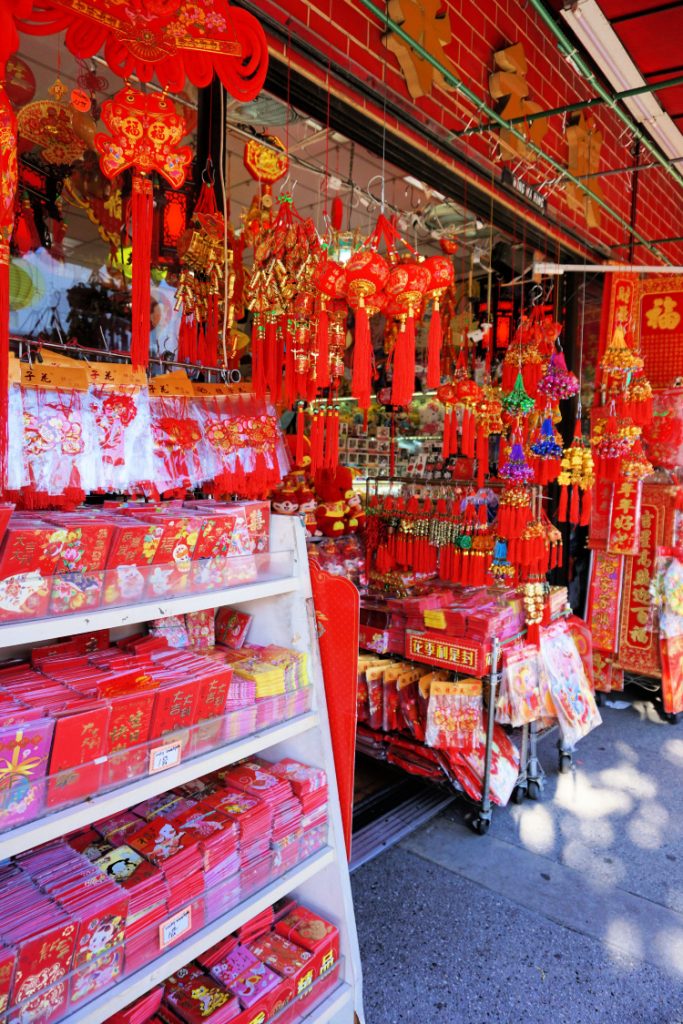 Dinner
I provided several eating recommendations in the lunch section of this day.  You can try one of the places you didn't choose during lunch.  Or, pick one of the restaurants I mentioned on the Day 1 itinerary.
3 Days in Los Angeles – Day 3
On this day, we will explore the Arts District and Little Tokyo.
Breakfast
Start your day by visiting Zinc Cafe.  Their extensive breakfast menu features quiche, scrambled eggs, avocado toast, omelets, and Belgian waffles.  Their selection of hot and cold drinks is amazing. Don't forget to check it out.
Breakfast / Late Breakfast Alternative
If you happen to be in the Arts District on a Sunday, you have to visit Smorgasburg, a food extravaganza considered the largest weekly open-air food market in the United States.  Since there are about 100 stalls, you may want to take a look at the vendors (online) before visiting.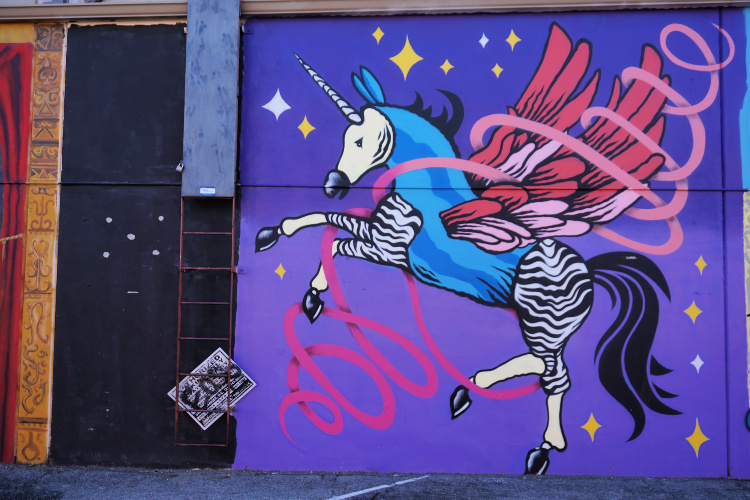 Morning
The Arts District is famous for its murals and street art.  You will find mural after mural after mural in a compact area.  If this is your kind of thing, walk along Traction Avenue, S Hewitt Street, S Garey Street, 3rd Street, 4th Street (home of the Container Yard), and 5th Street.
LA Art Tours offers extensive tours of the area for about $12.  A company called Downtown LA offers 2 hours walking tours for $20.
Those who like to shop can explore stores on 3rd Street.  Other stores can be found on Santa Fe Avenue.
Hauser and Wirth, located at a former flour-mill complex, has art exhibits (free).  Their store, full of artistic everyday objects and books, is fascinating.  The Architecture and Design Museum has a suggested donation of $10.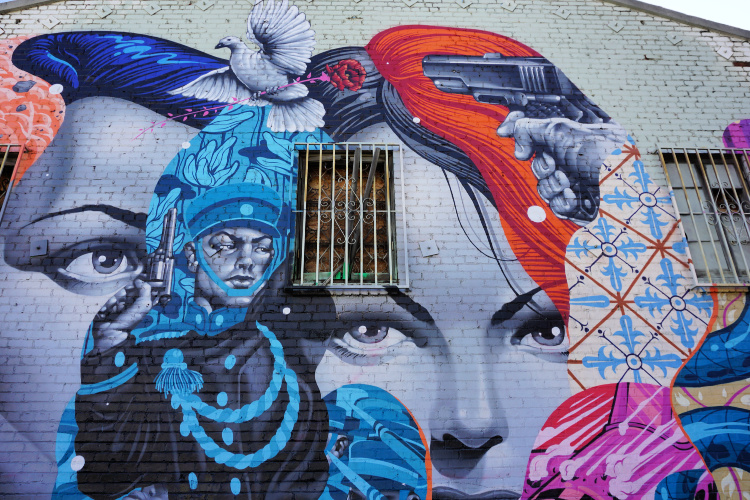 Lunch
For lunch, there is a hub of restaurants along 3rd Street and 4th Pl and Alameda.  You can try places like Manuela, Wurstkuche, and Manna Korean BBQ.
Leave some room for ice cream.  Salt & Straw, a Portland transplant is phenomenal.
There is another hub around 7th Street.  You can stop by places such as Bestia, Pizzanista!, and Guerilla Tacos (a restaurant/concept famous for its modern take on tacos).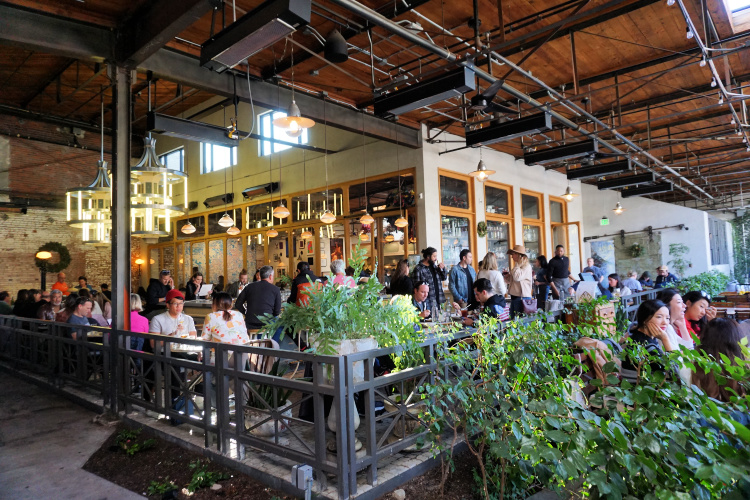 Afternoon
A nice number of distilleries have popped up in the Arts District.  You can visit, tour, and taste in places such as The Spirit Guild, Lost Spirits Distillery, or Greenbar Distillery.  The prices are reasonable ($12-$20).
Now, you will need a reservation to visit.  Tours are usually offered on Fridays and Weekends.  Check before approaching the place. I recommend checking Groupon for deals (deals are available on the site almost all the time).
The Arts District is famous for its breweries too.  Lots of people stop by to visit Angel City, Arts District, and Iron Triangle Breweries.
However, you can skip some of those activities and spend the rest of the day in Little Tokyo.  The Japanese Village Plaza has become a premier people-watching spot.  People have embraced the same custom of the Harajuku district in Tokyo.  They come to the area dressed in Manga characters and other imaginary creatures.
Those wanting to explore can head to the Nijiya Market, Mikawaya (sweets and mochi ice cream), Fugetsu-Do Bakery (traditional mochi), and Chado Tea Room (for all things tea).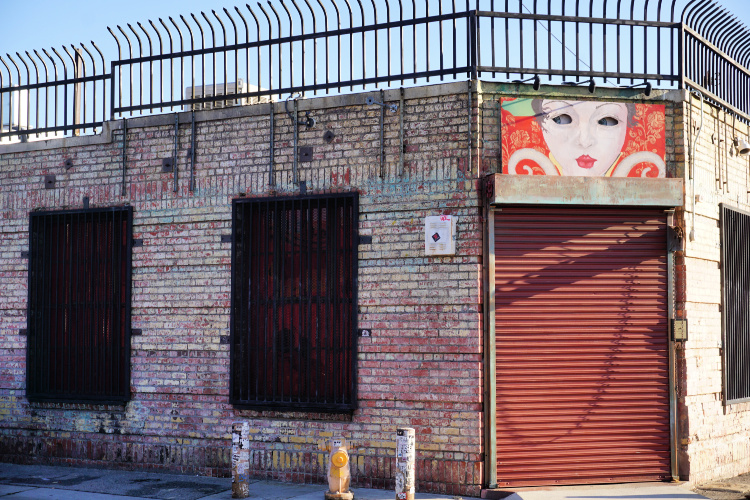 Dinner
While in Little Tokyo, you have to try ramen.  A lot of people rave about Daikokuya and there is often a wait to eat.
Daikokuya is good but my favorite ramen restaurant is Shin-Sen-Gumi Hakata Ramen.  This place keeps blowing my mind when it comes to flavor.  They have a wide selection of toppings for your ramen.  Plus, the sides are good too.  I dream about this place.
Since this is your last night in Los Angeles, you may want to try Sonoratown, a restaurant known for its San Luis Rio Colorado style tacos and burritos.  Owners go to Mexico (Sonora) every 4-5 weeks to get the flour for the tortillas.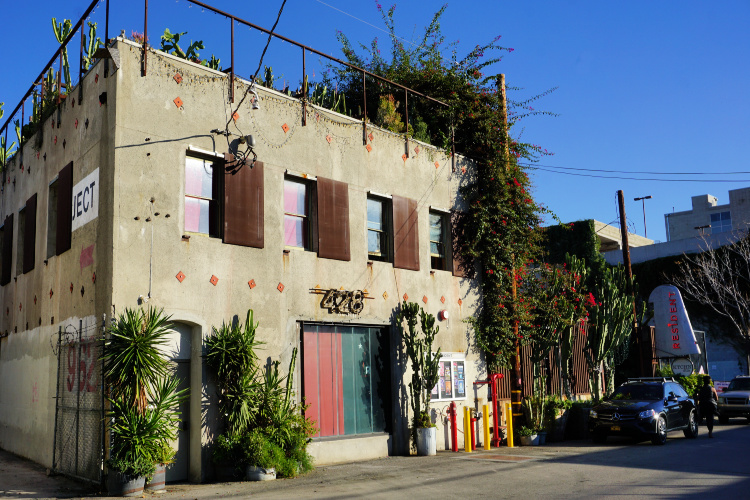 3 Days in Los Angeles – Additional Options
If you are still interested in seeing other parts of Los Angeles, here are some options.
Option 1
See the most popular sights of Los Angeles (Santa Monica or Venice Beach, Beverly Hills, Hollywood) in one day and explore Downtown Los Angeles for two days.  This itinerary will show you how to see the popular sights in a day.
Option 2
Explore Santa Monica and Venice Beach on day 1, Beverly Hills and Hollywood on day 2 and Downtown Los Angeles on day 3.  For your first 2 days in Los Angeles, check this itinerary.
Option 3
Explore Downtown Los Angeles for 2 days and head to Malibu on day number 3.  You will need a car to do this.  Check out day 4 of this itinerary to discover the best sight in Malibu.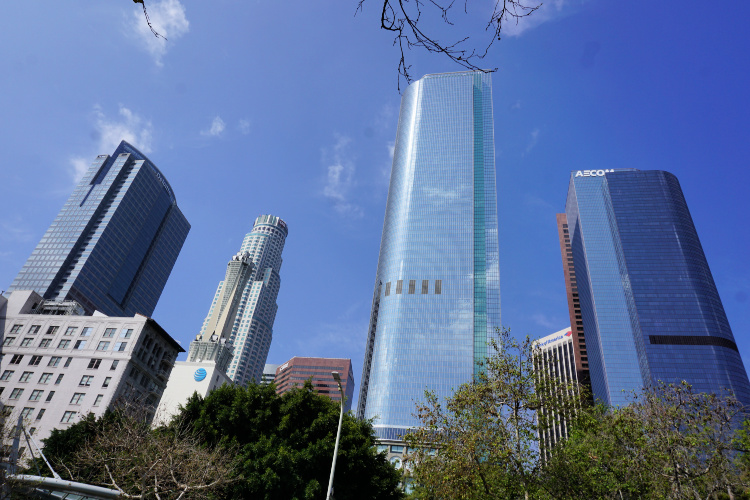 Hope you have found this 3 days in Los Angeles itinerary helpful. As always, let me know if you have questions.
More of Downtown Los Angeles
Things to Do in Downtown Los Angeles
Pictures of Downtown Los Angeles
4 Downtown Los Angeles Itineraries
More of Los Angeles
Los Angeles Ultimate Bucket List
Best Things to Do in Venice Beach
Weekend Getaways from Los Angeles
How would you spend 3 days in Los Angeles?
Pin "3 Days in Los Angeles Itinerary" for later!