Excitement runs through my veins at this moment!
I love showcasing to the world the best Los Angeles has to offer.  This time I have poured my soul into this detailed article with things to do in Downtown Los Angeles.
Are you up for the ride?  Join me in discovering how to tackle one of the hottest areas of the city.
Please note: This article contains affiliate links, meaning I may earn a commission if you make a purchase by clicking a link. Of course, this comes at no extra cost to you and helps me to keep offering solid information to readers.
About Downtown Los Angeles
Talking about Los Angeles is talking about superlatives.  After all, this is the second biggest city in the United States with a population of 4 million (Los Angeles County has a population of 10 million and Los Angeles metro is 13 million).
Its Downtown is not the exception.  On a map, the Downtown area looks somewhat of a circle bounded by the 10, 110, and 101 Freeways.  The area covered is 4.73 square miles. To place things in perspective, the City of London covers 1 square mile (the city proper, not Metro London).
Since we are talking about a huge area, I will not attempt to do an information dump here.  This article will concentrate on the Civic Center and Bunker Hill sections of Downtown Los Angeles.
To be more specific, my recommendations will be inside a square formed by Temple Street on the north, 7th Street on the south, Figueroa Street on the west, and Spring Street on the east. I may recommend something outside those boundaries but I promise it would be very close.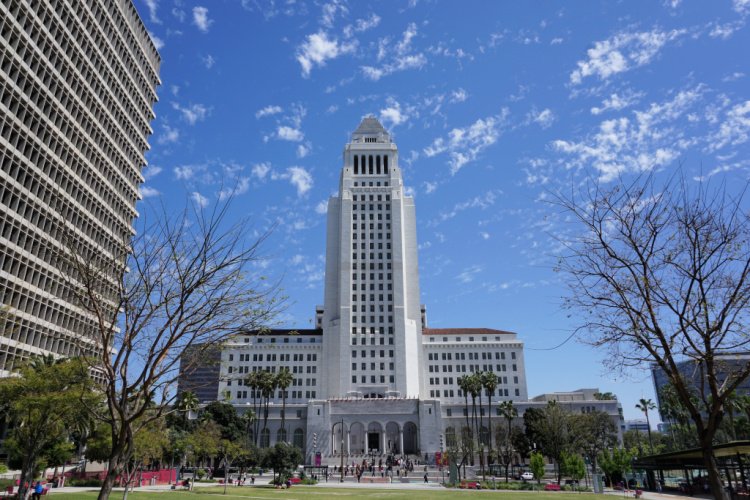 Sightseeing Gear
Get ready for a day of sightseeing by bringing the right gear.  Here is a list of the items I pack to explore cities and towns in California.
Things to Do in Downtown Los Angeles
Okie Dokie, my friends, let me get this out of my chest, there are a lot of things to do in Downtown Los Angeles.
I'll give you the low down below. It is up to you what you choose to do.  You can see a lot in one day if you start early. Keep in mind time will be consumed on activities such as tours or museum visits.
Climb to the Top of City Hall
Even though it was completed in 1928, Los Angeles City Hall is one of the most prominent buildings in the Downtown area. This art deco gem can be seen from different spots, including when driving south on freeway 110.
The public is welcome to visit the building's Observation Deck, located on the 27th floor, for free.  Now, you have to enter the building through the back of the Main Street entrance.  You are not allowed to use the front or Spring Street entrance.
After clearing the metal detectors, you are given instructions on how to reach the top.  The views from the deck are awesome. You can see different landmarks, the San Gabriel Mountains, the airport, the ocean, and Catalina Island.  
Back inside, you can spend some time at the Tom Bradley Hall learning about the mayors Los Angeles has had throughout history.  You can also stop on the 3rf floor to see the notorious rotunda.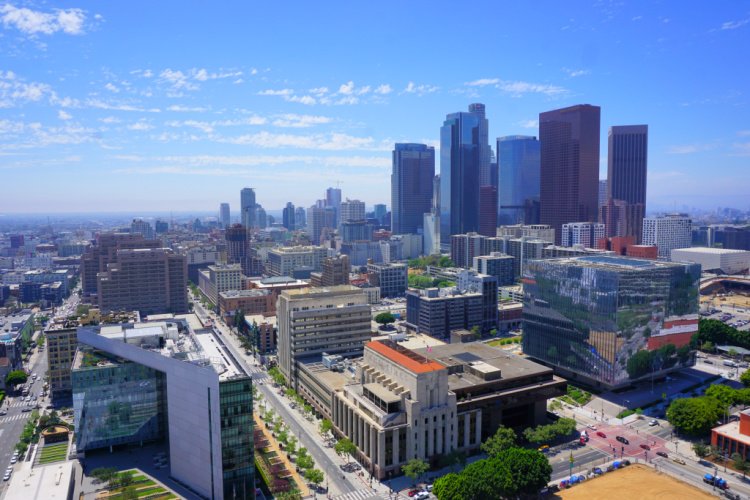 Relax at Grand Park
The Grand Park is a 12-acre green oasis extending from City Hall to the Music Center (Spring Spring Street to Grand Avenue.
The park counts with sitting areas, open spaces, memorials, flora displays, interpretative signs, a cafeteria, and the regal Arthur J. Will Memorial Fountain.  A "splash" pool formed below the fountain is a favorite of kids (and some adults) on hot days.
Do not miss the views from the upper part of the park.  You will be able to take great photos of City Hall.
The park hosts concerts, food truck gatherings, and markets throughout the years.  Check the events calendar here.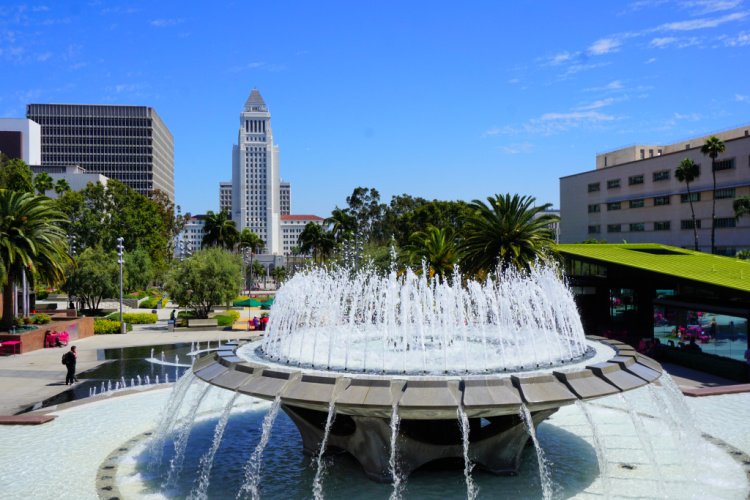 Join the Los Angeles Times Tour
Los Angeles Times is one of the largest circulating newspapers in the United States and it has been in printing for over 135 years.
The newspaper building in Downtown Los Angeles was finished in 1935 and won a gold medal in the 1937 Paris Exhibition due to its impressive late art deco style.
Free guided tours, of the building and printing facilities, are offered once a month.  This is a great opportunity to explore an activity that is disappearing in this digital age.  Details on how to book a tour can be found here.
Note: The LA Times headquarters have moved to El Segundo.  At one point (undetermined when this article was published), public tours will cease in Downtown and move to El Segundo.
Admire or Tour the Walt Disney Concert Hall
No other building has contributed more to the rise of Downtown Los Angeles than the Frank Gehry designed Walt Disney Concert Hall. It opened in 2003 brought worldwide attention to the area.  Since then, the building has been featured in numerous movies, commercials, and TV shows.
I am not sure how to describe the shape of the building.  I see it as a mashup of shining silver panels reminiscent of Gehry's masterpiece, the Guggenheim Bilbao.
The concert home is home to the Los Angeles Philarmonic Orchestra and the Los Angeles Master Chorale.  For concerts and events, check this website.
Even if you are not attending a performance, you are still welcome to walk around the building, visit the Blue Ribbon Garden on the 3rd level and enter the LA Phil Store.  Self-guided, one hour long, audio tours are offered most days.  Check details in here.  Tours are complimentary but a photo ID is needed to use the audio device.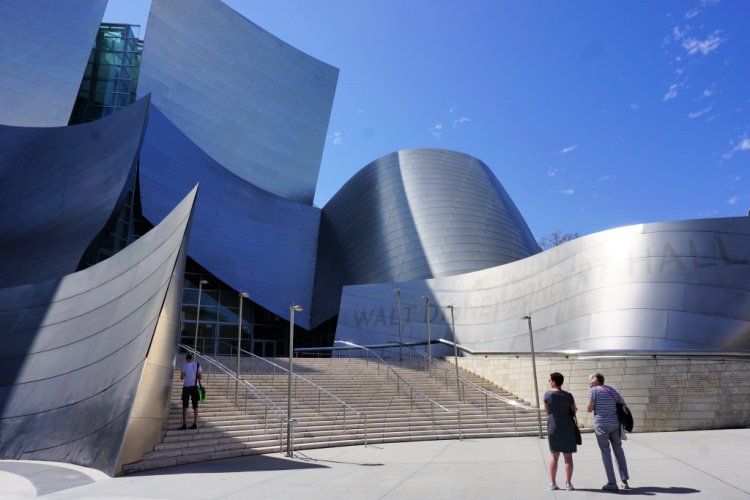 Visit the Most Popular Museum: The Broad
Since 2015, we have had a new architectural icon in Downtown.  I am referring to The Broad, a contemporary art museum designed by Diller Scofidio + Renfro.  Some say it resembles a honeycomb.  Architects describe the design using the "veil and vault" concept.  You have porous skin covering the core building.
The best thing about The Broad is that admission to the permanent galleries is free.  Now, remember I said this place is popular? Well, you have to make a reservation way in advance to get in.  Take this into consideration when planning your visit to Los Angeles.
Permanent exhibits feature the works of Basquiat, Lichtenstein, and Warhol.  A different reservation (other than the one for general admission) may be needed to access special exhibitions.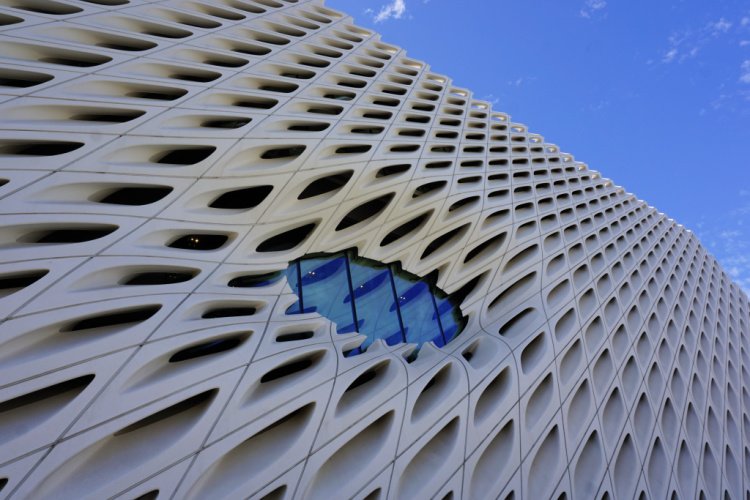 More Art: Museum of Contemporary Art (MOCA)
If you haven't had enough of art, you can keep exploring by visiting the Museum of Contemporary Art (MOCA) located on Grand Avenue, across from The Broad.
This museum specializes in art created after 1940 and has works of artists such as Rothko, Mondrian, and Pollock.  Note this is the main branch of the museum. Admission will get you entrance to this location and to the Geffen Contemporary (located in Little Tokyo).  A third branch is located in West Hollywood (Pacific Design Center).
See the Murals Inside the Los Angeles Central Library
You may have noticed Downtown Los Angeles is full of grand buildings.  Well, the central branch of the Los Angeles public library systems is not the exception.  After all, it represents the largest public library system in the United States.
The Central Libray building has Egyptian and Meditteranean influences.  My favorite part is the pyramidal cupola with shining suns on the sides.  Inside, you will find murals allusive to the different stages of the History of California and works of art such as sculptures, chandeliers, and paintings. Also, do not miss the Atrium of the Tom Bradley Wing. The library host special exhibitions and events.
In addition, you can stroll the Maguire Gardens and have a snack (or former meal) at Cafe Pinot.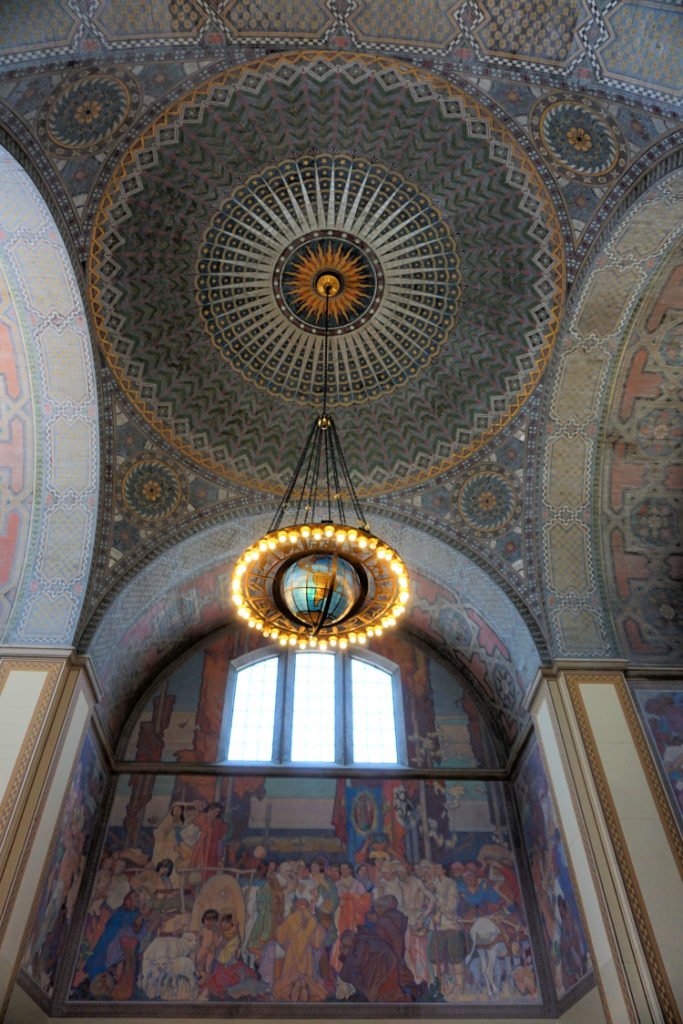 Ride the SkySlide at OUE Skyspace
One of the newish attractions in town, the OUE Skyspace offers visitors the opportunity to experience California's tallest open-air observation deck.  This is accomplished by going to the 7th floor of the famous US Bank Tower (1000 feet above ground).
Now, the views are beyond all description but a lot of people go because they want to ride the glass slide available on site.  I am not sure if I will have the courage to ride the slide.  I am terrible with heights.
Tickets start at $25.  You have to pay an additional fee if you want to ride the slide.  I have heard sunset is the best time to visit. You will see the sun going down and then the city lights.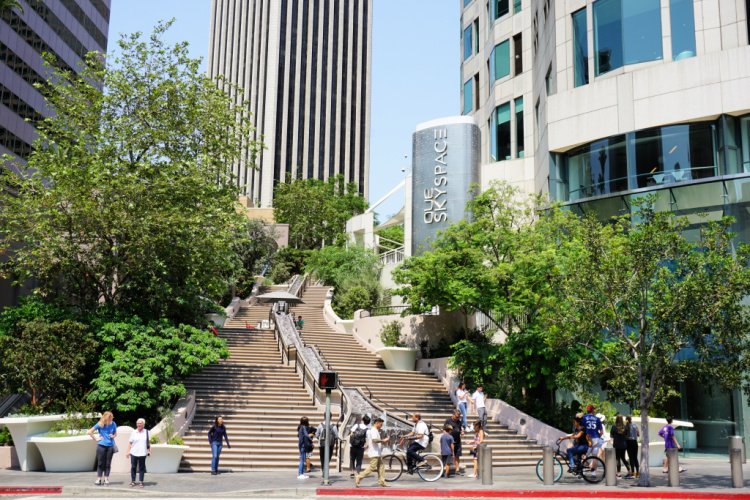 Eat Till you Burst at the Grand Central Market
Oh yes! We are starting to discuss one of my favorite places in Downtown Los Angeles.  
If you stop by the area, do not miss the Grand Central Market, a place where the different cuisines of Los Angeles are represented.
The market does back to 1917 and has evolved with the times.  Nowadays, there are some fruit, vegetables, and spices vendors but most of the space is taken by food establishments.  You can find everything from tacos to pupusas or currywurst to ramen.
It will take me forever to write about every single vendor.  In summary, here is where you should go:
Eggslut – Super popular stall featuring eggs prominently on their sandwiches
McConnell's Fine Ice Cream – Born in Santa Barbara, this chain makes ice cream with natural ingredients.  The result is too good to pass up
Sarita's – This is the place to get Salvadoran dishes such as pupusas (stuffed tortilla), fried yucca or cassava, plantains with cream and tripe soup
La Tostaderia – This place serves tacos, tostadas, and cocktails with the freshest seafood you can think of.  The veggies used are vibrant and full of color. I dream of this place!
The Oyster Gourmet –  Come here for all things oysters!
Villa Moreliana – Michoacan style carnitas (pork)
There many more places to check on the market.  I recommend walking the entire perimeter before deciding what to eat.  The market is open till 10:00 p.m.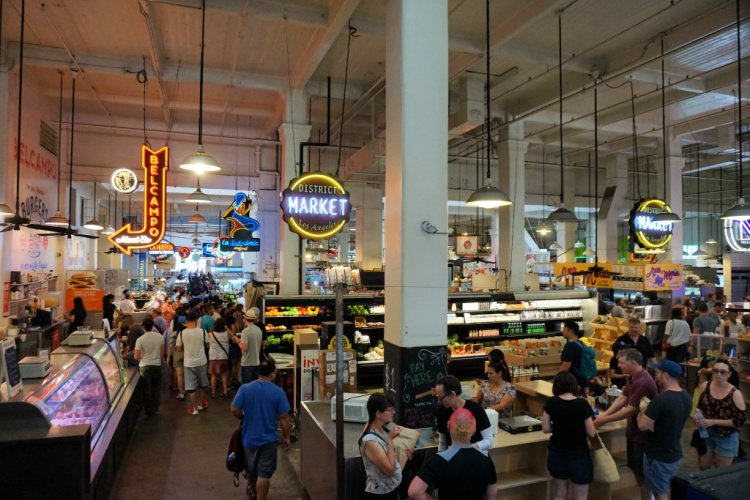 Get a Glimpse of the Bradbury Building
Getting a glimpse of the Bradbury Building will not take you long.  It is located across the Grand Central Market anyway.
From the outside, the building does not necessarily impress.  On the other hand, the interior looks like something of another dimension.  The ironwork of the stairs, halls, and elevators is impressive. A big atrium allows the area to be illuminated with natural light.
Visitors are allowed in the lobby and first set of stairs (cannot go beyond to avoid disturbing people who work there).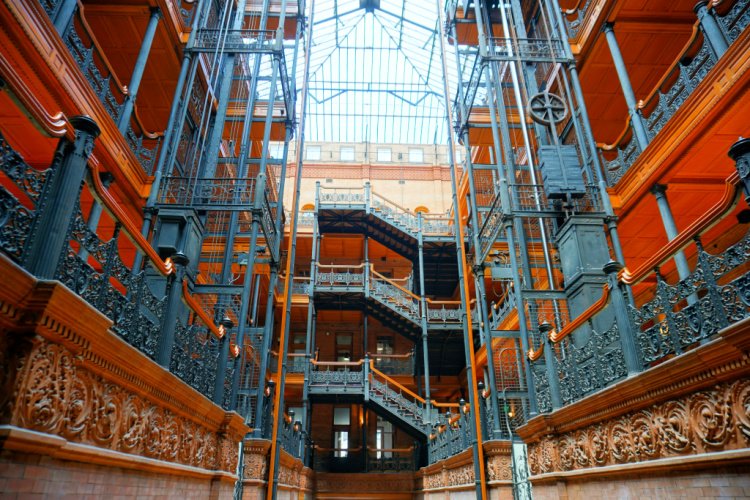 Ride the Angels Flight Railway
It feels funny to recommend a ride in the Angels Flight since it has been called "The World's Shortest Railway." Nonetheless, it is a classic in Los Angeles and it has to be mentioned.
It all started in the early 1900s, when Bunker Hill, the area where all the tall buildings are located nowadays, used to be one of the most fashionable neighborhoods of the city.  Wealthy residents needed a way to commute from the top of the hill to the bottom (and vice-versa).
Angels Flights was the solution to the problem.  Two cars transported passengers up and down all day.  In that way, it was simple to go shop at the Grand Central Market.
The railway has survived till this day and you can ride it for $1 each way.  Discounts are available for those who are using or used the Metro.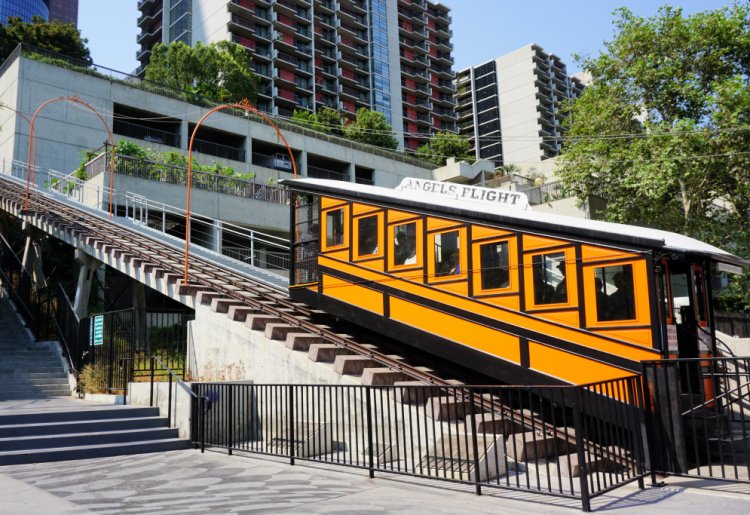 See the City from a Rooftop
I have recommended some spots to get great views of Downtown Los Angeles.  Well, I have even more ideas for you!
There are several restaurants and hotels which allow you to enter their rooftops without paying a cover price.  Now, check their rules on their websites and understand how things work. Some places charge on the weekends or expect you to consume.  Others have more relaxed rules.
The Rooftop at The Standard Hotel is a relaxed place to spend a couple of hours.  Grab a drink and relax at one of the comfortable sofas while being surrounded by the buildings in Bunker Hill.
Perch is a French bistro located on an impeccably decorated rooftop.  This is one of the best places to visit Downtown because the food is delicious, the vibe joyful, and the views incredible.  Prices are on the expensive side (expected) so, you can visit during happy hour to save some money.
Other rooftops to check out include Broken Shaker (Freehand Hotel), Rooftop at the Nomad Hotel, and Upstairs (Ace Hotel, a bit away from the area we are covering).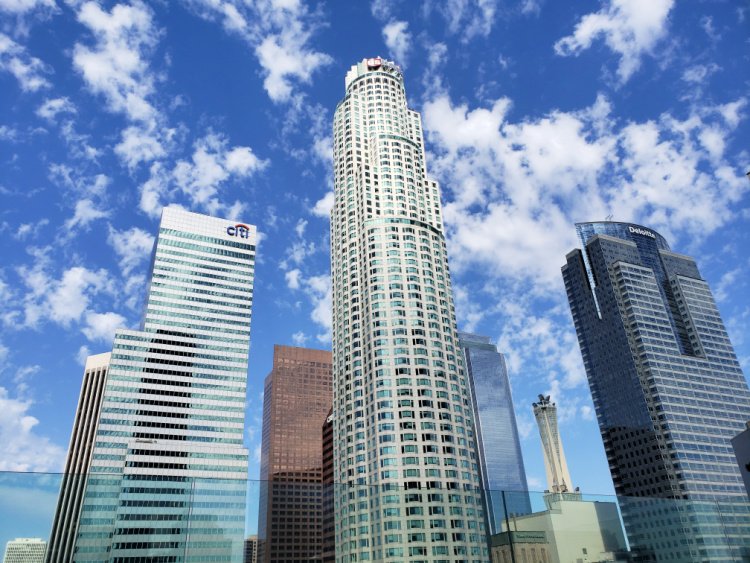 Observe Bunker Hill from Pershing Square
Colorful Pershing Square is one of the best places to photograph the tall buildings of Bunker Hill.  I am sure you will find a lovely angle.
This park hosts events, concerts, and an ice skating rink in winter.
Get Lost Inside The Last Bookstore
Independent bookstores are starting to be a thing of the past.  That is a sad fact for book lovers like me.
That is why it is so delightful to find a place like The Last Bookstore in Downtown Los Angeles. Hundreds of new and used books are scattered around two stories.  What is more, the bookstore occupies a former bank. You can even enter the vault!
Wait! There is more! They are known for their creative displays, art pieces, and a mounted elephant head.  I love spending time in here. Stop by and see what I am talking about.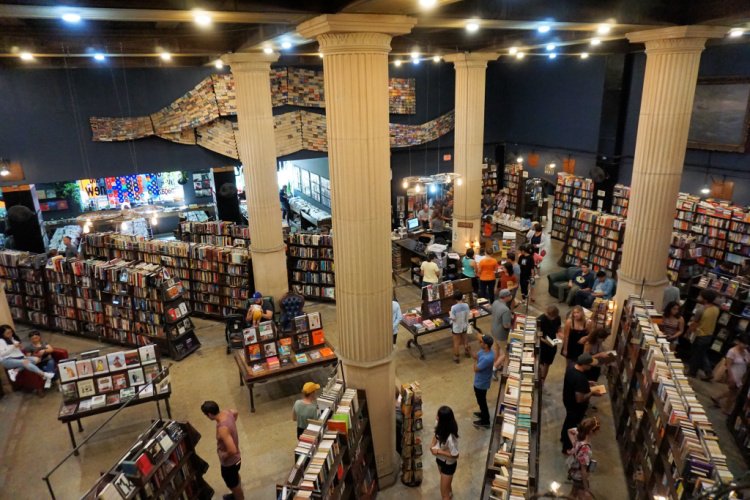 Eat at the Spring Arcade Building
The Spring Arcade Building can be seen as a food hall.  Even though it is smaller than the Grand Central Market, it is still has a decent selection of options.  It is a great place for those who do not want to battle with crowds.
In here, I would not miss the following:
Blue Jam Cafe –  This place serves some of the best breakfasts Downtown.  Go for their crunchy French toast, Maui French toast, steak hash, and shakshuka
Guisados – Do not miss this Los Angeles institution.  After operating many years from Boyle Heights, they have expanded throughout the city.  Get their taco samples (consists of 6 small tacos) and try as many flavors as possible. The horchata here is the bomb!
Don Francisco's Coffee – Yes, you need this coffee in your life and yes, you need some guava & cheese pastries in your life.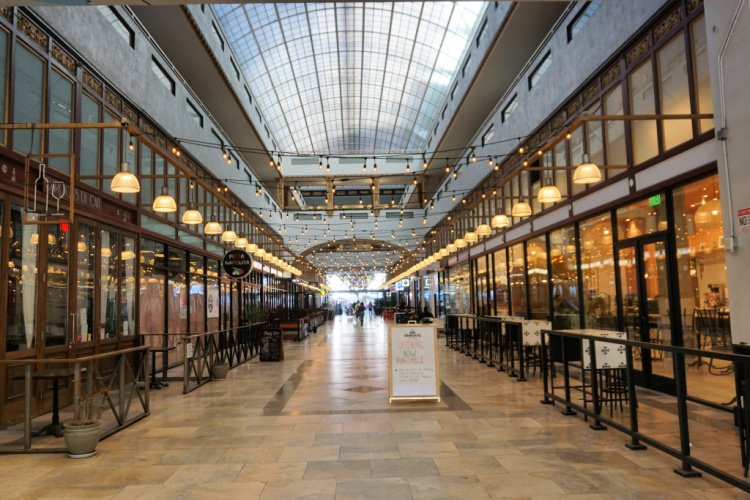 Join a Los Angeles Conservancy Walking Tour
The Los Angeles Conservancy offers walking tours of Historic Downtown every Wednesday and Saturday.  The cost is $10 and tours last 2.5 hours.
For a reasonable price, you will be able to learn about the most prominent landmarks of the area from an expert on the topic.
Other Downtown tours include Union Station, Millenium Biltmore Hotel, Broadway Historic Theather District, and Art Deco.  Check details in here.
Take a Bike Tour
A company called Handlebar offers bike tours, of Downtown LA, 6 days a week.  The tour will cover several of the points discussed in this article plus Chinatown, Union Station, and Olvera Street.  They offer tours of the Arts District too.
If joining a guided tour is outside your budget, consider doing your own tour by using one of the bikes from the Metro Bike Share program.  There are plenty of stations from where you can release and use a bike for as low as $5 for 24 hours.  Their website has details on where to find a station, prices, and discounts.
Attend an Art Walk
Every 2nd Thursday of the month, thousands of Angelenos descend to Downtown to be a part of the Art Walk.  This event allows people to visit galleries along Spring and Main Streets.  Restaurants and other establishments contribute to the fun by offering specials and live music.
You can walk at your pace or join a guided tour.  A lounge is available at The Last Bookstore.
Peruse a Farmers Market
I am a big fan of farmers markets.  Due to the size of Downtown, there are several markets taking place on different days of the week.  Stop by to support local, small businesses.
Historic Downtown – Sundays, 9:00 a.m.
Pershing Square – Wednesdays, 10:00 a.m.
Bank of America Plaza – Fridays, 10:00 a.m.
Grand Central Market – Everyday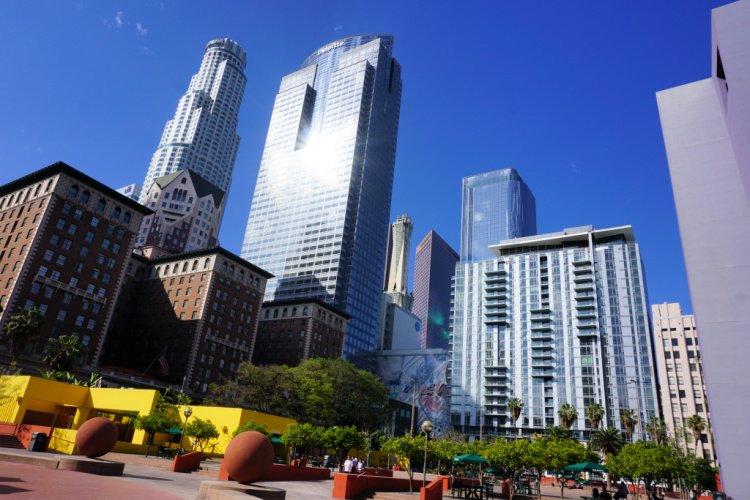 Insiders Knowledge
There are several museums that do not receive a lot of publicity as tourist attractions.  I have included them on a separate section since they may be of interest to longtime residents or repeat visitors.
Wells Fargo Museum – Small space showcasing Well's Fargo history on Southern California
Los Angeles Department of Water and Power Museum – This building, located behind the Music Center, has a small museum on the bottom floor with exhibits detailing how water was bought to Los Angeles.  This was a critical element needed to achieve growth and William Mulholland achieve it for us.
Restaurants to Try in Downtown Los Angeles
It is a hard task to try to narrow down recommendations for places to eat in Downtown Los Angeles to a section.  The mere task is unfair because the gastronomic scene in the area is huge.
Anyway, I will try to do my best and provide some options for those visiting.  Here are some of the places that have captured my taste buds.
Breakfast, Lunch and Dinner
Poppy & Rose – This place is a bit far from the area I am covering in this article but I am mentioning it anyway because it is worthy.  Located in the Flower District, people visit Poppy & Rose for its chicken & waffles, poppy burger, fried chicken sandwich, and biscuits & gravy.  Their sides, such as potato salad, parmesan Brussel sprouts, and fried cauliflower, are fantastic too. There seems to always be a line to get in and parking may be a challenge.
Cole's French Dip – Los Angeles has given a lot to the culinary world.  One of its child, Cole's claim to have invented the French dip, a sandwich consisting of sliced roast beef, Swiss cheese, and onions placed on a French roll.  Beef broth is served on the side for dipping between bites. Cole's disputes the "Originator of the French Dip" title with another restaurant in Chinatown. Disputes aside, it is a tasty place to visit. They serve a large selection of sandwiches, sides, pies, and floats.
Mezcalero – You may not hear a lot about this place but, dang, it is good.  They have traditional and modern tacos such as carnitas (pork), carne asada (beef), chicken in peanut mole, and zarandeado (shrimp).  Their aguachile, takis encrusted corn on the cob and tuna tostada are to die for. Plus, they have an impressive selection of tequila and mezcal cocktails.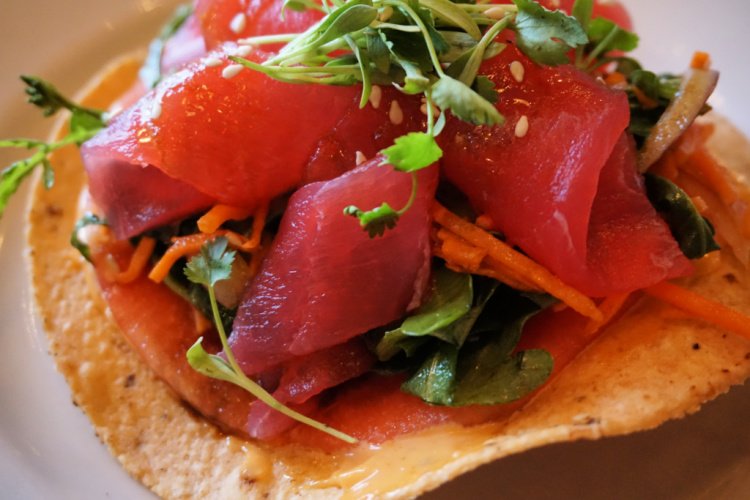 Guisados – It doesn't feel right to go to Downtown and not stop by Guisados.  Since I feel like trying all their taco options when I go, I order a sampler with 4 different tacos fillings.  For me, it is all about the mole poblano, tinga, pork chop in green sauce, and cochinita pibil. Do not miss their horchata.  It is one of the best I have ever had!
Bottega Louie – This place feels like paradise! When entering the restaurant, you are faced with macarons in 10+ flavors.  Then, you see the most intricately prepared pastries. They have things such as eclairs, tiramisu, and fruit tarts.  You can stop for something sweet or take advantage of their full breakfast, lunch, and dinner menus.
Bar Ama – Owned by chef's Josef Centeno Group, this restaurant specializes in upscale Tex-Mex and Mexican dishes.  They do taquitos, chiles rellenos and short rib chalupas. Visit during happy hour (they call it super nacho hours) to get discounts on food.
Baco Mercat – Several of the dishes in here revolve around the Baco, a flatbread sandwich developed by the chef-owner.  Nowadays, Baco bread is used in different menu offerings. It can be served with a dip, as a sandwich, or coca (topped with meats and veggies).  However, there have extensive vegetable, meat, and fish sections on the menu.
Astro Donuts and Fried Chicken – Seems like I have an obsession with fried chicken.  Well, let say it is a small obsession (I do not eat it that often).  Anyway, I do not know how a place can be so perfect by selling vanilla glazed, maple bacon, French toast donuts, chicken sandwiches, and chicken baskets under the same room. Just sayin'
Otium – This place is probably outside the budget range of many of us but, it is consistently rated, as one of the best places to dine in Los Angeles.  Plus, if you are a fan of food/cooking shows, you would know Chef Tim Hollingsworth won Netflix's series The Final Table.  Lunch is the best options in here (prices in the $15-$30 range per dish).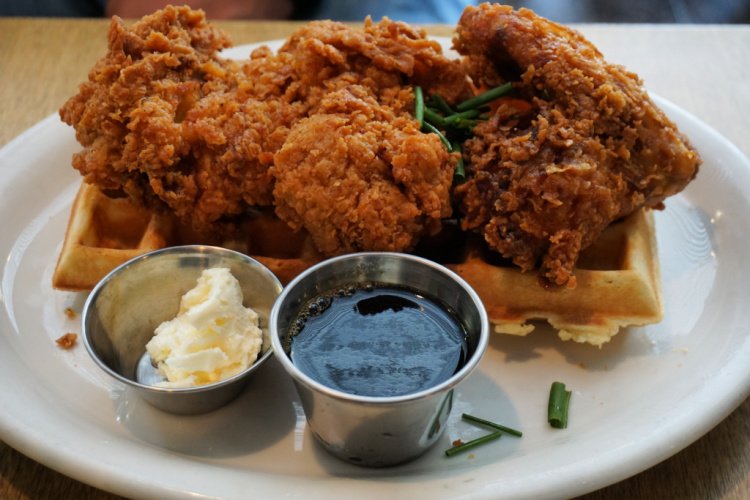 Coffee Shops
Do not worry, there are plenty of places in Downtown Los Angeles to get your coffee fix.
Blue Bottle Coffee – This cult following coffee shop is located in front of the Grand Central Market
Tierra Mia – Specializes in coffee from Latin America (El Salvador, Guatemala, Honduras, Colombia, etc.)  They serve unique beverages such as the horchata latte and the coco loco latte.
85 Degree Bakery Cafe – There are plenty of these establishments scattered through Southern California but if you are basing yourself in Los Angeles give it a try in Downtown.  They have delicious pastries, cake, bread, coffee, tea, and smoothies. The selection is overwhelming so, bring a big appetite.
Masa Coffee Lab – Other than excellent coffee, this place sells avocado toast, Mediterranean toast, and oatmeal bowls.
Pastries & Ice Cream
Bottega Loui is a wonderful place to stop by to have something sweet to eat.  I can also recommend the following:
Pitchoun! – This French bakery does eclairs, croissants, beignets, tarts, and many more things. They serve breakfast and lunch too.
Little Damage – The specialty here is soft-serve ice cream on charcoal cones.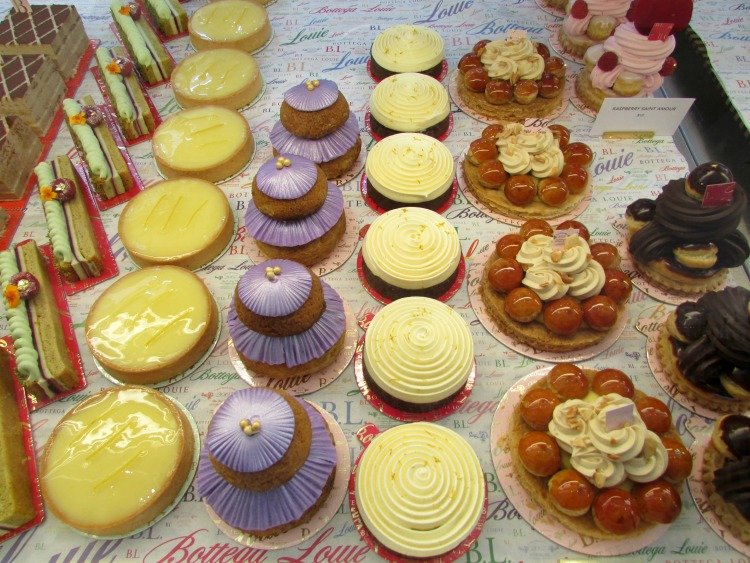 More of Downtown Los Angeles
As mentioned in the article's opening, there is more to Downtown than the Civic Center and Bunker Hill.  Below, I am giving you some ideas on what else to check out.
Union Station – Historical train station and major transportation hub
Placita Olvera – The founding place of Los Angeles, lots of Mexican flavors, folklore, and history
Chinatown – Restaurants, bakeries, markets, trinket shops, and a plaza with Oriental architecture

Things to Do in Chinatown Los Angeles

Little Tokyo – District filled with restaurants selling sushi, ramen, mochi, and okonomiyaki
Arts District – The area is known for its streets murals, restaurants, galleries, coffee shops, and breweries
Staples Center / Convention Center – Must see for every sports fanatic.  Surrounded by L.A. Live, restaurants, and the Figueroa Hotel
Fashion District – This is the place to buy clothes, accessories, makeup, home goods, electronics, and much more
Flower District – Home of the Los Angeles Flower Market, Los Angeles Flower Mall, and many other stores in the Flower Business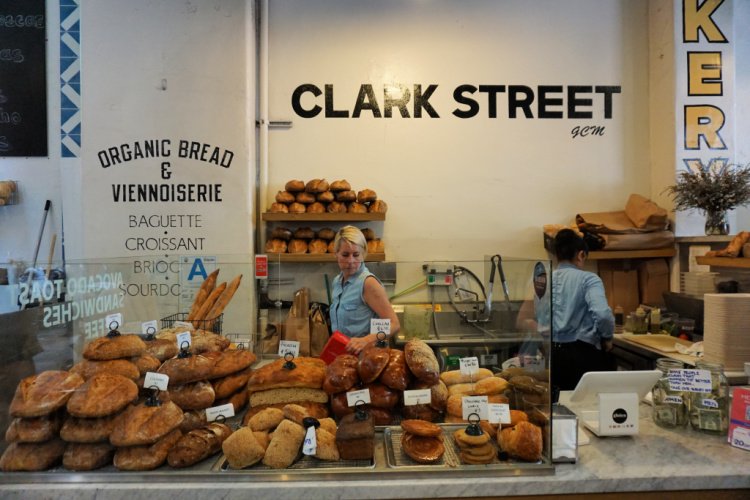 How to Reach Downtown Los Angeles
There is no doubt, Downtown Los Angeles is the best-connected place in the metro area.
By Plane
Los Angeles International Airport is the major airport in the area. Smaller airports are located in Ontario, Long Beach, and Burbank.
By Car
Sounds cliche but all major freeways in the area conduct to Downtown since it is the heart of the city.  In theory, it is easy to reach this part of town by car.
I am using the term "in theory" here because traffic plays a major role in Los Angeles.  A short ride can take up to an hour to complete. Try to avoid rush hours and expect congested roads (and aggressive drivers) all the time.  Take a look at my dedicated article to find more driving tips.
Once you have reached your destination, I recommend parking the car and walking.
By Ride-Sharing Services
There is no need to rent a car. Ride-sharing services such as Uber and Lyft can help you to move around.
By Train
Believe it or not, Los Angeles has an extensive metro system.  You can reach Downtown from popular areas such as Santa Monica, Culver City, and Hollywood by stopping at Union Station, Pershing Square or 7th Street.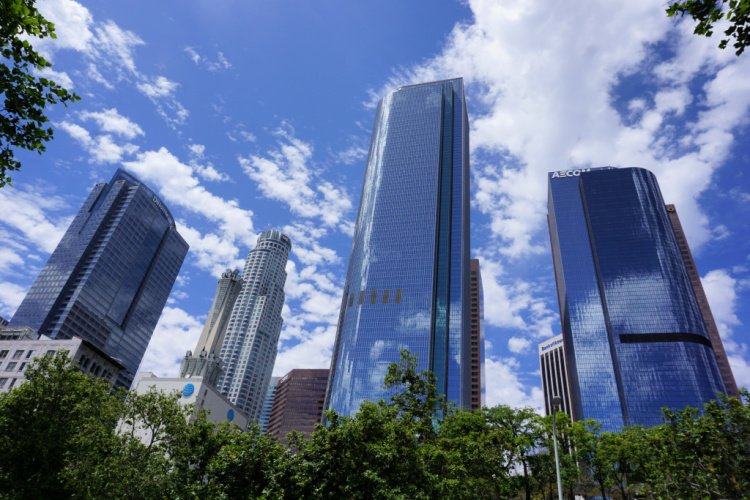 Here you have it! The absolute best of things to do in Downtown Los Angeles. I hope you find this guide helpful. Reach out if you have questions.
More of Los Angeles
Since I adore my city, I have extensive coverage of it.  Feel free to keep exploring using the articles below.
Pictures of Downtown Los Angeles
Los Angeles Ultimate Bucket List
One Day in LA: Itinerary for First-Time Visitors
Best Things to Do in Venice Beach
Weekend Getaways from Los Angeles
More of Southern California
Ultimate San Diego Bucket List
150+ Places to Go in Orange County
Places to Visit in Santa Barbara
Have you been to Downtown Los Angeles? What are your recommendations?
If you enjoyed this post, remember to share!
Pin "Things to Do in Downtown Los Angeles" for later!