If you are interested in surfing in California, here is a comprehensive list of the best surf spots in the Golden State.
Whether you love to ride the waves or just prefer donning a pair of baggy shorts and sit on the beach with toes planted firmly in the sand, you are bound to get influenced by the surf culture over a period of time. 
If you are looking for some epic breaks, you won't go wrong with any of the surf spots in California mentioned below.
And, even if you are not a surfer, I encourage you to visit the best surfing towns in California.  Why? Because California's surf culture has overtaken the world in one way or another. And, because those places are super cool and there is a lot to do, see and eat.
Please note: This article contains affiliate links, meaning I may earn a commission if you make a purchase by clicking a link. Of course, this comes at no extra cost to you and helps me to keep offering solid information to readers.
Surfing in California: Best Surfing Spots in California
Below, you will find California's best surf spots (north to south).  For each spot, I am providing information about the most popular breaks, surf shops, surf schools, places to eat, and links to more in-depth articles.
Ocean Beach, San Francisco
One of the widest beaches, as compared to others in San Francisco, Ocean Beach spans from the Sunset District all the way to Sloat Boulevard. This 3.5 mile stretch of pristine sand has few visitors in spite of being in an urban area. 
When the surf is up, enthusiasts don their wet suits and paddle out in search of the perfect wave. Ocean Beach has a rich history of surfing and has remained a proven ground for advanced and professional surfers in this region. 
The most popular OB surf breaks are Beach Chalet, Ortega, Taraval, and Noriega.
Surf Shops
Surfing Lessons
Places to Eat
Where to Stay: If you are on a budget, the Music City Hotel/Hostel has great prices and reviews (Check price here). The Beck's Motor Lodge is another fantastic option (Check price here).
Check hotel prices in San Francisco here!
Note: Ocean Beach is a neighborhood in San Diego as well.  Do not confuse the two of them.
Read More: San Francisco Itinerary for 1-3 Days
Mavericks, Half Moon Bay
If big waves are what you are looking for, head to the surfing hotspot at Mavericks in Half Moon Bay (about 30 miles south of San Francisco). 
The first surfing contests originated here in the 1990s and the area has since then been attracting surfers with waves ranging between 25 to 60 feet in height. Till today is the site of big surf competitions. 
When large winter swells roll on, the landforms under the surface create unique breaks that push the surf into some of the biggest waves in the world. Mavericks can be accessed from Highway 1, through the Half Moon Bay community of Princeton-by-the-Sea.
Other Half Moon Bay surfing spots in the area include Montara Beach, Ross' Cove, The Jetty, and Dunes Beach.
Surf Shops
Surfing Lessons
Places to Eat
Where to Stay: The Quality Inn is my go-to place (Check prices here). The Miramar Inn & Suites do the trick as well (Check prices here).
Check hotel prices in Half Moon Bay here!
Santa Cruz – Surfing in California
Nicknamed 'Surf City', Santa Cruz is one of the best places to surf in California. Located about 85 miles south of San Francisco, this awesome piece of Pacific coastline is well worth a visit, especially if you are a surfer. 
As a matter of fact, Santa Cruz is considered the place where surfing was introduced to North America.  Several well-respected scholars agree that 3 Hawaiian princes surfed at the mouth of the San Lorenzo River (a first) in 1885.
Apart from the point breaks over Pleasure Point and Steamer Lane, there are nine other world-class breaks worth looking into (like Natural Bridges, The Hook, 30th, and East Cliff). For those who have never stepped on a surfboard to those who have been riding waves all their lives, Santa Cruz has something for everyone.
The Santa Cruz Surfing Museum is housed inside the Mark Abbott Memorial Lighthouse (close to Steamer Lane).
Surf Shops
O'Neill Surf Shop
Rip Curl (Several Locations)
Surfing Lessons
Places to Eat
Taqueria Los Pericos (this place is insanely good, they sell the famous California burritos that include French fries as a filling)
Where to Stay: Santa Cruz has wonderful places to stay such as the Continental Inn, Hyatt Place Santa Cruz, and Beach Street Inn and Suites.
Check hotel prices in Santa Cruz here!
Read More: Natural Bridges State Beach
Things to Do in Capitola (adjacent to Santa Cruz and another good surfing spot)
Rincon Point 
Rincon, meaning 'corner' in Spanish, is located slightly off Highway 101 between La Conchita and Carpinteria. You need to actually visit Rincon Beach County Park to appreciate the magnitude of surfing fully in California. 
Also referred to as the Queen of the Coast, Rincon is a popular surfing spot in California because of its well-formed waves and long rides. This surf destination offers three great locations, the Cove, Indicator, and Rivermouth, each providing decent waves and flawless surfing on most days. 
Rincon Point is the venue of the Rincon Classic Surf Championship which is held here every January.
Carpinteria is the town located closest to Rincon Point (about 4 miles to Downtown Carpinteria).  This is the place you want to use as your base or go for services.
Note: Santa Barbara is located about 15 miles from Rincon Point but staying there is more expensive than in the Carpinteria area.
Surf Shops
Surfing Lessons
Places to Eat
Where to Stay: The Best Western Plus Carpinteria In is probably the best option in the city (Check prices here).
Check hotel prices in Carpinteria here!
Read More: Things to Do in Carpinteria
Malibu – Surfing in California
Apart from being synonymous with the lifestyles of the rich and famous, Malibu has a stunning stretch of coastline and longstanding surf culture. Known to have some of the best waves in California, Malibu has been a hotbed for surfers since the mid-forties. 
Surfrider Beach was the first World Surfing Reserve (an initiative inspired by UNESCO's World Heritage Sites).
If you are planning a trip to this southern California gem, check out Topanga Beach first (for a great mix of different wave sizes). The nearby Malibu Lagoon State Beach (close to the Malibu Pier, part of this area is considered Surfrider Beach) has three surf points (namely, one, two, and three). Zuma Beach is another excellent surfing beach (and the beach has tons of facilities).
On the edge of Malibu, heading towards Oxnard and Ventura is County Line Beach, which figured in the Beach Boys classic hit 'Surfin USA'.
There are many other Malibu surf spots (this is a long coast).  However, it is widely known how protective locals are of their beaches (to the point of intimidation and even aggressiveness).  By California's constitution, all beaches in the state are public and should be open without restrictions to everybody.  If you want to visit more local or "hidden" spots, go accompanied.
Surf Shops
Surfing Lessons
Places to Eat
Where to Stay: Hotel prices in Malibu are steep. If you want to save some money, I recommend staying in the Santa Monica area. For example, the Wyndham Santa Monica (Check prices here), Gateway Hotel Santa Monica (Check prices here), and Ocean Park Hotel (Check prices here) are good options.
Check hotel prices in Los Angeles here!
Read More: Visiting the Malibu Pier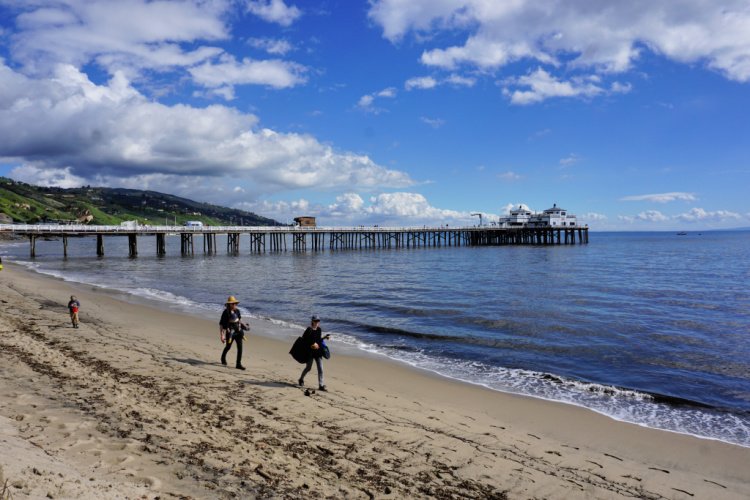 El Porto (Manhattan Beach)
A great beginner and intermediate spot, El Porto is well-known for its fast and powerful break, three to ten feet swells, and sandy bottom, making it a fun place to spend time in. 
What makes this place stand out is the reliability of the waves, which though not large, are fairly consistent. The best time to surf here is during autumn, especially in the month of October when the waves are clean and regular. The best swell directions are from NW to WNW as Porto gets closed out if the waves are in one direction.
El Porto is located in the northern area of Manhattan Beach.  Surfers can also be found in the north and south sections of the city's pier.
Surf Shops
Surf Lessons
Places to Eat
Manhattan Beach is one of the best places to eat in the South Bay.  If you want to indulge in fine dining, you can visit places such as Manhattan Beach Post, Fishing with Dynamite, The Arthur J, and Love & Salt.
If you are looking for more affordable options, check out the following:
North Manhattan Beach (near El Porto)
Downtown Manhattan Beach
Off the Coast
Where to Stay: The Wave Hotel (Check prices here) and the Seahorse Inn (Check prices here) are top picks.
Check hotel prices in Manhattan Beach here!
Read More: Things to Do in Manhattan Beach
Hermosa Beach – Surf Spots in California
The Hermosa Beach and Pier in Los Angeles County is an exposed beach break with fairly consistent surf with optimum conditions for riding the waves. The best period to surf here is when the swell is rideable during autumn and often in the month of June. The bottom at Hermosa is sandy and ideal for most levels of surfers, but the spot also attracts serious surfers. Surf schools are available up and down the beach where you can sign up for a private class or a surf camp.
A Surfing Hall of fame is located in the Hermosa Beach Pier.
Adjacent Redondo Beach is another great surfing beach in California.
Surf Shops
Surf Lessons
Places to Eat
Paisanos Pizza & Pasta
Jus' Poke (on Pacific Coast Highway)
Where to Stay: Hermosa is located very close to Manhattan Beach so, you can pick one of the recommendations above. Alternatively, you can stay at Holiday Inn Express (Check prices here) or Hotel Hermosa (Check prices here).
Check hotel prices in Hermosa Beach here!
Read More: Things to Do in Hermosa Beach
Redondo Beach Pier: What to Do, See and Eat
Huntington Beach
Like a number of sagging Hollywood heroes, Huntington Beach has undergone some major cosmetic changes in the past couple of years. But the mellow changes have had no effect on the waves, and still, claim its right as one of the best surfing beaches in California. 
And, if you are not aware, the city claims to be Surf City USA (a title that it disputes with Santa Cruz).  The US Open of Surfing, the world's largest surfing competition, takes place here every year (it is a crazy event with a total attendance of over 370,000).
The most popular spots here are the south and north sides of the Huntington Pier. While the north side is open all year round, city officials tend to give priority to swimmers (over surfers) in the south side during summer.
The Brookhurst Street surf spot is located next to the Santa Ana River Mouth (not recommended to visit after a rainy day). 
The Surfing Walk of Fame is located on Main Street and the International Surfing Museum is located on Olive Street.
Surfing Shops
Surfing Lessons
Places to Eat
Bruxie Original Fried Chicken & Waffles
Where to Stay: Huntington Beach is a big city with plenty of lodging options. A few miles away from the ocean, you will affordable properties such as the Ocean Surf Inn (Check prices here) and Surf City Inn (Check prices here).
Check hotel prices in Huntington Beach here!
Newport Beach
Newport Harbor, where twenty feet high waves constantly pound the Wedge, a man-made jetty, is without any doubt one of the leading bodysurfing spots in the country. In bodysurfing, a traditional surfboard is not used.  Surfers are aided by a pair of swimfins.  Traditional surfers frequent the spot as well.
There are many other surfing options on the nine-mile coastline of Newport Beach. The Little Corona area has seldom waves more than a few feet in height and is a great place for inexperienced surfers. 
Further north lies Echo Beach, which attracts serious surfers. The area north of the Newport Pier has a well-known break.
Note: Newport Beach has two piers, the Newport Pier and the Balboa Pier.  The Newport Pier is the one most visited by surfers.
Surf Shops
Surfing Lessons
Places to Eat
Where to Stay: Excellent lodging options include the Renaissance Hotel (Check price here) and Holiday Inn Express (Check prices here).
Check hotel prices in Newport Beach here!
Dana Point – Surf Spots in California
Nestled between San Diego and Los Angeles, picturesque Dana Point, is just the place to surf after a long day of work. 
The city claims to be the birthplace of US surfing culture.  This claim is sustained by historical facts such as the opening of the first Hobie surf shop (1954) and filming of the documentary "Endless Summer." 
One of the most legendary surf breaks was Killer Dana, which used to reach heights of over 12 feet, where the present harbor is located. Though the killer waves are long gone, the culture of surfing surrounding remains very much alive throughout Dana Point.
The Dana Point coastline is made up of several beaches, of which Salt Creek attracts surfers in hordes.  Doheny State Beach is the other major surfing spot.
The Surfing Heritage and Culture Center is located in nearby San Clemente but plans to be moved to Dana Point in the future.
Surf Shops
Surfing Lessons
Places to Eat
Where to Stay: Great places to stay in the city include the Best Western Plus Marina Shores Hotel (Check prices here) and Marina Inn (Check prices here).
Read More: Things to Do in Dana Point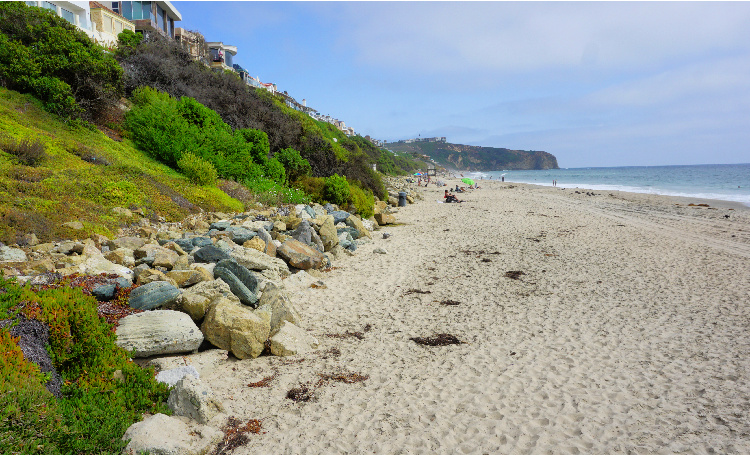 San Onofre
San Onofre surfing beach lies adjacent to Camp Pendleton in North San Diego County. Considered to have the top surf breaks for beginners in Southern California, San Onofre draws surfers from war and wide.
Today it is one of the last surfing beaches that epitomizes the true California surfing lifestyle. 
San Onofre State Beach is 3 miles long.  According to the California State Parks website, this beach has 3 districts: San Onofre Surf Beach (the north portion, day use), San Onofre Bluffs (day use and camping), and San Mateo Campground (inland campground with a trail connecting to the beach).
Locals identify three main breaks in the San Onofre Surf Beach, the Point, Dogpatch, and Old Man's, all of which work best on the strong south swell. Dogpatch is ideal for learners as during high tide it breaks into slow motion.
Famous Trestles Beach (this may be THE surfing beach in California) is located to the north of San Onofre (sometimes is considered part of the state beach).  In Trestles, you can find the following breaks (north to south):
Cottons
Uppers
Lowers
Middles
Church
The trail to Trestles Beach can be accessed from Cristianitos Road (you can reach this point from El Camino Real or from the Cristianitos Road exit on I-5).  People park on the street and then walk or bike the half-mile to the beach.
The closest town to Trestles and San Onofre is San Clemente, another beach town with a lot of surfing history.
Surf Shops
The number of businesses selling surf equipment or offering rental services in San Clemente is staggering.  I am including a partial list here:
T-Street Surf Shop
San Onofre Surf Rentals
Surfing Lessons
Places to Eat
Where to Stay: In San Clemente, there is a cool place called The Patriots Boutique Motel (Check prices here). The Casablanca Inn (Check prices here) is another gorgeous place to stay.
Check hotel prices in San Clemente here!
Read More: Things to Do in San Clemente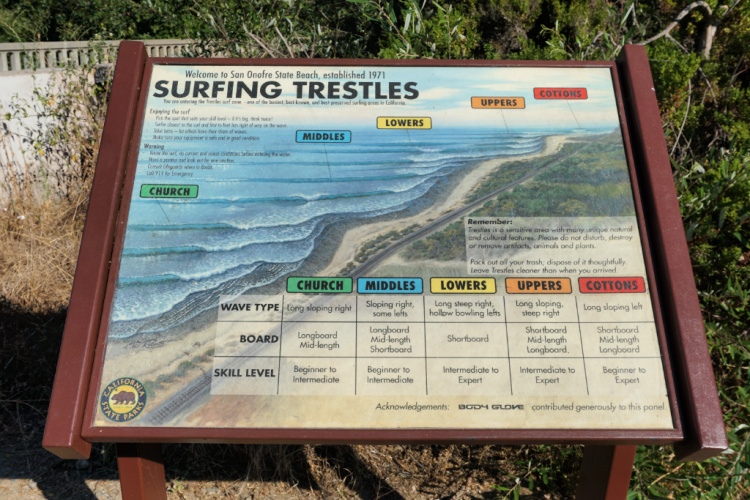 Encinitas
Situated an easy half-hour drive away from San Diego, Encinitas is one place in Southern California that offers year-round surfing. 
The city of Encinitas is composed of different communities that have retained their uniqueness even after incorporation (Leucadia, Old Encinitas, New Encinitas, Olivenhain, and Cardiff-by-the-Sea).
The hottest surfing spot in the area is Swami's, with its good mix of NW swells that are prevalent here during the spring and fall months. 
Other good surf spots include Grandview Surf Beach, Beacon's (Leucadia State Beach), Moonlight Beach (especially the D Street area), and the Cardiff Reef.  Do not miss some of the most famous surfing icons in the county: the Mai Tai Moai (Swami's) and the Cardiff Kook (which is dressed in different outfits throughout the year).
With a variety of surf shops, schools, and beautiful beaches it is no wonder that Encinitas occupies a top spot as one of the best surf towns in the US.
Surf Shops
Surfing Lessons
Places to Eat
Where to Stay: To be close to the beach, stay at the Leucadia Beach Inn (Check prices here) or Kate Stanton Inn (Check prices here).
Check hotel prices in Encinitas here!
Black's Beach, San Diego
With deep underwater canyons that add more power to the waves, Black's Beach is the undisputed jewel in the crown of all the beaches in San Diego (and considered by many as the best surf spot in San Diego). 
With innumerable left and rights, the surf here is world-class. The hollow and powerful waves at Black's are unsuitable for beginners, who are better off at the Scripps Pier. All said and done, Black's Beach is a short boarder paradise. 
The beach is accessed through a trail starting at the Torrey Pines Gliderport.  Another notorious trail (Saigon Trail) starts from the La Jolla Farms Road. Remember though, Black's is not for the faint-hearted as it is very high on the way up and a really long way down.
It is simpler to access the beach from La Jolla Shores or Torrey Pines State Beach (but you will have to walk more).  Black's is kind of isolated.  Services can be found in La Jolla.
Note:  Keep in mind Black's Beach is a clothing-optional beach.  So, do not get surprised if you visit and see people lying in the buff.
Surf Shops
Surfing Lessons
Places to Eat
Where to Stay: La Jolla Cottage (Check prices here) or La Jolla Riviera Inn (Check prices here) are good options.
Check hotel prices in San Diego here!
Other Surf Spots in California
I have provided a lot of details related to surfing spots in California, Cali surf shops, and surfing lessons.  But, that is not all.  The list of places to surf in California can go on forever.
Here are other popular surfing spots:
Stinson Beach
Bolinas
Morro Bay
Pismo Beach
Surf Beach (Lompoc)
Goleta Point
Oceanside
Carlsbad
Pacific Beach
Ocean Beach (San Diego)
Bonus: California Surfing Beaches Mentioned in Surfin' U.S.A
If you want to know even more about California Surfing, you definitely need to check out the famous Surfin' U.S.A song by the Beach Boys.  The song was recorded and released in 1963, way before California's surfing culture become the monster that it is today.
In the song, the following Surfing Beaches in California are mentioned.
Santa Cruz
Ventura County Line (County Line Beach in Malibu)
Pacific Palisades
Manhattan (Manhattan Beach)
Redondo Beach (where I live, yay!)
Haggerty's (Palos Verdes Peninsula)
Doheny (Doheny State Beach, Dana Point)
Trestles (San Onofre)
San Onofre
Swami's (Encinitas)
Del Mar (San Diego County)
La Jolla (San Diego)
In addition, "Sunset Beach" is mentioned but there is no agreement if this refers to the beach in California or Hawaii.
Beach Town Gear
If you are mentioning one of the beach towns or spots mentioned in this article, I recommend taking the right gear. See below my recommendations.
What are your thoughts about surfing in California?  Has your preferred surfing spot in California been included in the list?
Pin for later!