Most of the time we have expectations about certain situations we are about to experience.  As a traveler, I constantly try to manage my expectations. But I am not going to lie.  This past weekend. I decided to go on my first whale watching trip ever. And let me tell you, I repeated the phrase "please, I want to see whales" like more than a thousand times (and crossed my finger and everything you can cross in your body).
So, here is what happened, in summary: I expected whale watching to be cool.  However, this trip ended up being way cooler than what I expected.  And here are some of the reasons why my expectation were surpassed:
–          We went to Newport Beach for our excursion.  The captain told us to sit down and relax for 45 minutes because he was going to search for whales at about four miles from the coast.  Three minutes after he said that, he announced: "We got them".  We spotted a whale less than 2 miles from the coast.
–          I lost count of how many whales we saw.  I think the final number is among 8 to 10.  We are in the middle of the gray whale migration season.  The funny thing is that we didn't see this type of cetacean.  We ended up bumping into an area full of fin whales (which was nicer since they are bigger than gray whales).  Even the captain said he didn't know what was going on.
–          There is an opportunity to see at least 4 types of whales in the area.
–          There were tons of dolphins playing around the boat.  In fact, you can observe three types of dolphins in a trip like this.
–          And there is more… In my opinion, the best part of the trip was seeing the fin whales and the dolphins swimming together and playing.  This was awesome!!! The captain was able to spot some of the whale locations by observing the dolphins' behavior.
Take a look at the following video where I was able to catch a fin whale and dolphin swimming together (try to see if you can determine who is who).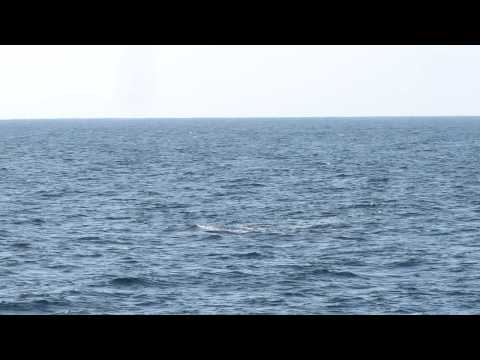 Here is another video of a fin whale final surfacing before taking a deep dive (they can be under water for up to 20 minutes!!!).  Be patient with the video and wait till second 10 for the action to start.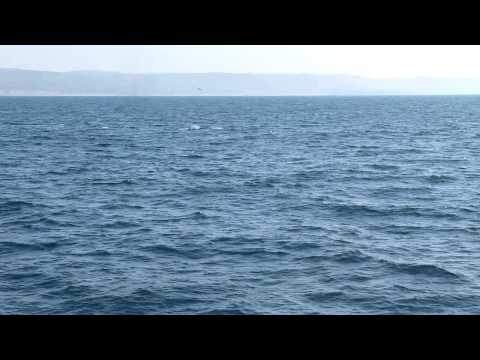 Another cool thing about the company we used is that there were two naturalists on the boat.  They really gave us a lot of information on the whales and other sea creatures.  I think this is an intelligent move because all this information really helps you appreciate this natural spectacle (and makes you understand why is important to protect the whales).  We are talking about the longest migration a mammal performs in the entire planet. Here are some interesting facts I learned:
–          Most types of whales were hunted almost to extinction.  The gray whale migration is at a healthy point today because Canada, Mexico and the United States protect these animals and their habitats.
–          Some whales are so fast that it was almost impossible to hunt them before the invention of the mechanized harpoon.
–          The food sources are way up in Alaska.  Whales can lose up to one third of their weight during the migration.
–          Pregnant females migrate first.
–          Gray whale females take care of their babies ferociously.
–          Young males go to Mexico to see if they can mate.  Usually, older males get all the ladies.
–          Dolphins are whales too.
–          Gray whales will return north at the end of March and the beginning of April (good time to go on a trip).
–          Blue whales (the largest animal on earth) migrate during summer.  It is possible to go on a similar trip on July and August (I didn't know that).
Wow, I just loved this trip.  I urge you to have a similar experience.  You have to see all the grown up adults jumping and giggling like little kids when a whale is in sight.  Even the Grinch wouldn't resist something like this.
Here are some photos taken that day:
Video of sea lions playing: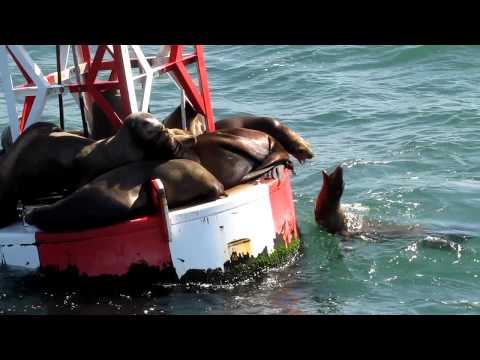 Additional notes
We went with a company called David Locker located close to the Balboa Pier in Newport Beach.  I had a great experience and I highly recommend them.
Tip: Don't pay full price.  Go to this page to get a coupon (more than half off): http://www.daveyslocker.com/coupon.html
I want to go whale watching again tomorrow.  Who's with me?  Not really, I think I am going on another trip to see if I can spot some gray whales.  Definitely, I will go back in summer for the blue whales.
Have you been in a whale watching trip? Let me know in the comments section below.